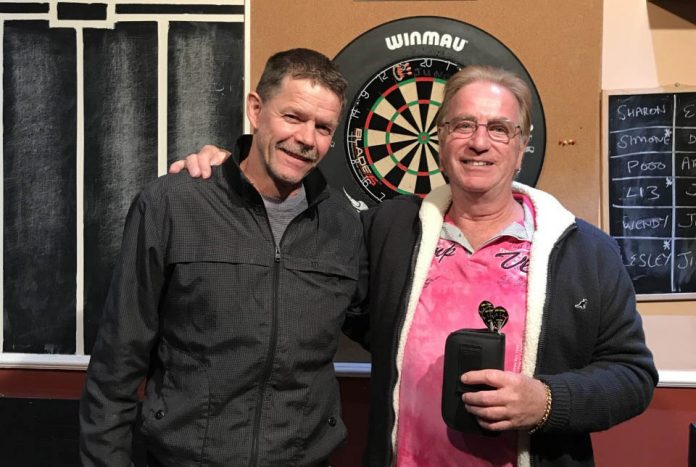 | | | | |
| --- | --- | --- | --- |
| Junction Jaguars | 1 | 11 | El Capitan (2) |
| Hub Hyenas (2) | 11 | 1 | Amigos Misfits |
| Angels (2) | 8 | 4 | Hen's Teeth |
| Pint depot Queens | 3 | 9 | Junction Jackals (2) |
| Tavern Oldies (2) | 8 | 4 | Porter House Bees |
| Las Rosas (2) | 9 | 3 | Hub Hellraisers |
| Ale House (2) | 7 | 5 | Wee Rockers |
| | | | |
| --- | --- | --- | --- |
| | Played | Match points | legs |
| Hub Hyenas | 9 | 18 | 85 |
| Porter House | 8 | 14 | 67 |
| Junction Jackals | 8 | 14 | 66 |
| El Capitan | 8 | 13 | 70 |
| Las Rosas | 9 | 13 | 67 |
| Tavern Oldies | 9 | 11 | 61 |
| Angels | 8 | 11 | 58 |
| Ale House | 9 | 10 | 50 |
| Wee Rockers | 8 | 6 | 40 |
| Junction Jaguars | 9 | 5 | 41 |
| Hen's Teeth | 9 | 3 | 37 |
| Amigo's Misfits | 8 | 3 | 31 |
| Porter House Bees | 8 | 2 | 33 |
| Pint Depot Queens | 8 | 2 | 27 |
| Hub Hellraisers | 8 | 1 | 19 |
180's John Walker (El Capitan); Joe Miller (Hub Hyenas); Harvey Lane (Porter House Bees); Aroldas Klimonis (El Capitan), Eugene Gillespie (Tavern); Paul Durrant (Hyenas) Jeff Ward (Porter House); Andy Rutter (Junction Jackals); Angela Garside (Tavern Oldies)
Highest Check-out: Jordan Johnson (Ale House) 141 (t20-t19-d12)
Hub Hyenas v Amigos Misfits 11-1
Unbeaten Hyenas entertained Sonya Cooper's Amigos, both teams missing vital players. Current champions Hyenas comfortably took the first four legs via John Eyre twice converting d20, Del McCauley d9, and Alex Nikolov d2, before Amigos responded courtesy of Billy Naylor and Paul Chick, the former banging in 2×100 plus d9. Sadly.
That was to be Amigos only victory of the evening, although 3 double 1's for the Hyenas in the singles suggests the score could well have been closer. Eyre's contribution of 3 game shots, plus a 140, earned the flu-ridden Hyena the man of match award for the home side, whist Naylor deservedly gained the visitors accolade. Report by Paul Durrant.
Las Rosas v Hub Hellraisers
A big thanks to the bunch of ladies that made the night one of the best fun games we had so far! It started with a win for las Rosas captain Carlos who was playing with Steph Simpson and John Spencer. Carlos checked out on 72 with John throwing in a few good scores including a 140.
In retaliation, Hellraisers Sue Speirs, Lesley Dolling and captain Cheryl McGlynn clicky-clacked to the ockey in their stilettos to equalize the score with Cheryl checking out on d10. Las Rosas took the 3rd triple to bring the score to 2-1.
Onto the pairs and John and Lee Walters played Linda and Sarah who were very close to winning another point for the ladies but hopes were dashed when John check out d1. It was OK though as Joy Gormon and Lesley won their game against Alan 'get orf' Preston (140) and Fred. Carlos and Adrian Buitkhat were up last in the pairs and faced the formidable duo of Cheryl and Sue Speirs.
Cheryl got 130 but Carlos replied with 100 and then checked out on 16 in what was a very good match. Half time score was 4-2 leaving the door slightly open for the ladies going into the singles. Alas in quick succession Adrian, Dave and Alan won their games with John nailing another 140 and checking out on d20.
Captain Carlos played Sue Speirs, who played brilliantly. She scored 100 only for Carlos to answer with a 121, but the pressure got to him and he could not finish his d1 and finally Sue won it! Steph then won his game against Cheryl. (I count only 5 singles results here) but never the less the end score was 9-3 and was a good, fun night, thanks girls! Man of match Carlos Montes; Woman of match Sue Speirs
Report by Carlos Montes (with a little help from Simone)
Junction Jaguars v El Capitan 1-11
'Didn't we have a loverly time the day we played El Capo's?' Not that the score reflects it for us but as always, a lot of laughs with the chaps from the back of beyond. Patty Poo declared it our worst performance ever with not a single 100 plus score from the Jags and only one leg going our way courtesy of Simone and Lelly Bears pairs efforts, Lelly checking out on d5.
The lads didn't appear to be on top form either with only Aroldas (121, 140), Ed Klimonis (100, 129) and John Walker (121, 100, 100) achieving 3-figuire scores. But as they say, scores for show and doubles for dough and there was some fine finishing from Jim Storey and Den Hall but best of all was Ed Klimonis' 3-darter t60-s19-bull for a 129 out.
The team were elated and then it dawned on them that Ed had just toppled John's highest check-out to date of 128- which he had achieved twice this season. How the Lithuanians laughed! But sorry Ed, your 129 was trumped by a 141 check-out from the Ale House on the same night! Special thanks to John walker for doing some chalking for us, he's a lovely, lovely man.
Christmas Mixed Pairs competition
Come on lads and lasses, we have extended deadline to Wednesday 13th December to get your entries in for the Christmas Mixed Pairs comp.
This is a new thing this year for a bit of fun whilst the league is inactive over the Christmas period. We are holding it at Georgiou's (Blue Lagoon) who have offered their venue for our exclusive use on the night as well as laying on a buffet for us. We have two free-standing boards and they already have one up (and could put up another) so there is plenty of room and equipment for the whole comp to be played on one night.
There are cash prizes for the winners and runners up and semi-finalists, courtesy of our sponsor, Paul Lock, The Locksmith.
There will be a themed raffle and a bit of Christmas music in the background to put us all into the festive mood. Who knows, it may even be time to dig out your Christmas jumper and reindeer antlers, as there will be Secretary Sim's prize for the best Christmas Outfit!
Lads, if there are a few of you out there that want to take part but couldn't nab one of the league ladies to partner up with, worry not, we can have up to 32 pairs and ladies who have played in earlier rounds and have been knocked out, can pair up again with the bachelor boys.
At just 2eu per person to enter, your names will be pulled out of the hat to fill in the remaining spaces. Please let us know if you intend to come along to watch or take part as we need to let Georgiou's know the numbers to cater for. It's going to be one hell of a night!