On 1st of July 12 members of the On Course Foundation arrived for a week Golf and Entertainment hosted by the proprietors of Playa Flamenca's Clarke's Bar, Tommy and Mary, along with the members of the Golf Society.
The OCF's aim is to reignite the futures of wounded Service Personnel and Veterans through golf, many of whom it is actually able to place in employment.
Our first pleasure was to have a meet and greet held at the Bar where, we were very fortunate to have four members of the Chelsea Pensioners in attendance. Wayne, Skippy, Dennis and Joe had arrived in Spain a week earlier to celebrate Armed Forces Day with The Royakl British Legion. It was a time for both organisations to get the chance to swop stories and experiences.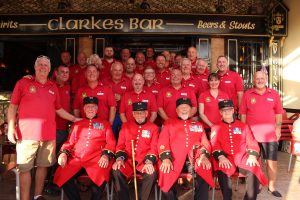 The Charity Golf Day was held at Vistabella on Thursday and we had a fantastic turnout of 72 players. The competition was a team game and the winners were: Kenny Forest, Andy Haddon, Dan Tranmer OCF and Ian Boswell OCF
My thanks on the day go to Vistabella Golf, Albatross Golf, Devere Spain and Mick "The Grip" Reeves for their kind donations.
The presentation night was held at the Bar where, we held Raffles and Auctions and were brilliantly entertained by "Just Ollie".
Saturday Night saw the group once more in the Bar for our "Stars in their Eyes" Show.
We had 9 great acts and the one that drew the most votes was Justine singing Eva Cassidy. In second place was Ian Boswell as Neil Diamond and third was our own "Quizzy Mando" as Vanilla Ice.
A great audience saw a wonderful show compered by the ever young Johhny Zeller.
The OCF's time here continues until Wednesday and the final total of the money raised will not be known until then, however, last years total of 3200 euros has already been passed, so a big thank you goes to everyone who has supported this great cause.
My special thanks go to Mary and Tommy Clarke and all of their team, Quizzy Mando, Roy and Tony Welburn and not least of all, Marie McBride, for all their hard work.
We are already planning next years trip which will coincide with the RBL Armed Forces Day at Orihuela Cathedral toward the end of June.