By Andrew Atkinson
CAPTAIN Jack's top the Torrevieja summer pool league first division after three games – despite losing away at Iglesias A 5-4, who sit in second spot.
Fire Station (b/w) in third place, lost at home to Vista 5-4, with the latter in fifth place. Fourth placed Casa Ventura racked up an impressive 7-2 frame win against Fire Station (g/w).
In division two The Courtyard B team racked up an emphatic 8-1 result against Washington. Irish Abbey and Britannia B went nip and tuck over the nine frames, with Britannia grinding out a 5-4 win.
Santana lost narrowly to Iglesias B 5-4, with Mi Sol gaining the upper hand in edging out 5-4 victors against The Courtyard A.
Torrevieja summer pool league week 3 results: Division 1. Britannia A v St James Gate (p). Casa Ventura 7 F/station (gw) 2; Iglesias A 5 Capt Jack's 4;  F/station (bw) 4  Vista 5.
Division 2: Courtyard B 8 Washington 1; Irish Abbey 4 Britannia B 5; Santana 4 Iglesias B 5; Mi Sol 5 Courtyard A 4.
Results week 2: Div 1. F/station (gw) 2 Britannia A 7;
Capt Jack's 9 St James Gate 0; Vista 1 Casa Ventura 8; Iglesias A 4 F/station (bw) 5.
Div 2: Washington 7 Courtyard A 2;  Mi Sol 6 Santana 3; Britannia B 6 Iglesias B 3;  Courtyard B 6 Irish Abbey 3.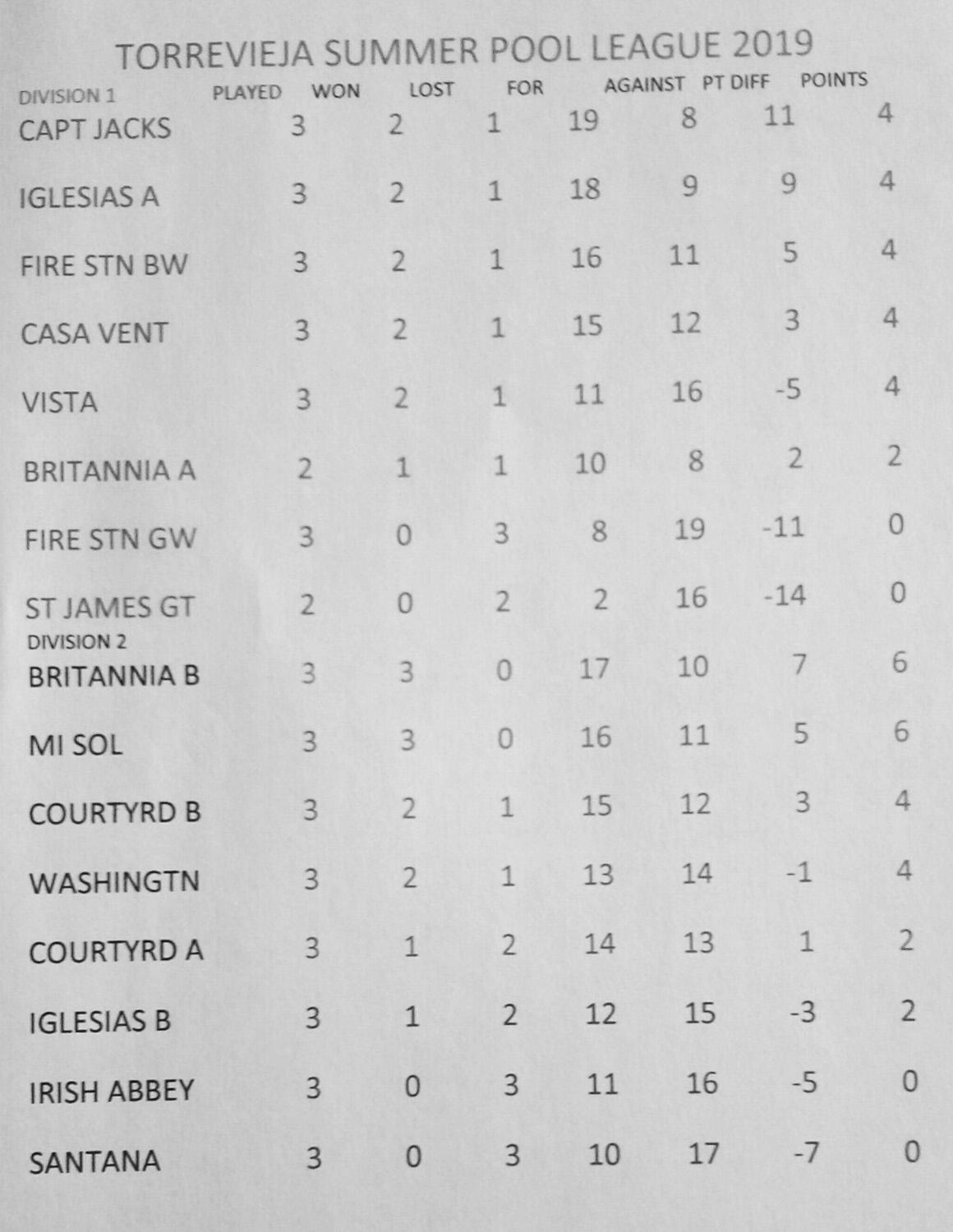 Torrevieja summer pool league division 1 and division 2 tables.