Sunday saw Monte travel, again, to their adopted "home" for the time being, at Racing San Miguel's ground, to face Hondon Nieves in the continuing struggle to avoid the dreaded drop.
Several enforced changes, either through injury or suspension, meant that Dimitry and Pastor found themselves in the starting XI along with the returning Alex. The bench was bolstered by youth recruits Oscar and the diminutive Omar as well as a welcome return of veteran midfielder Maccan, back from a long term injury.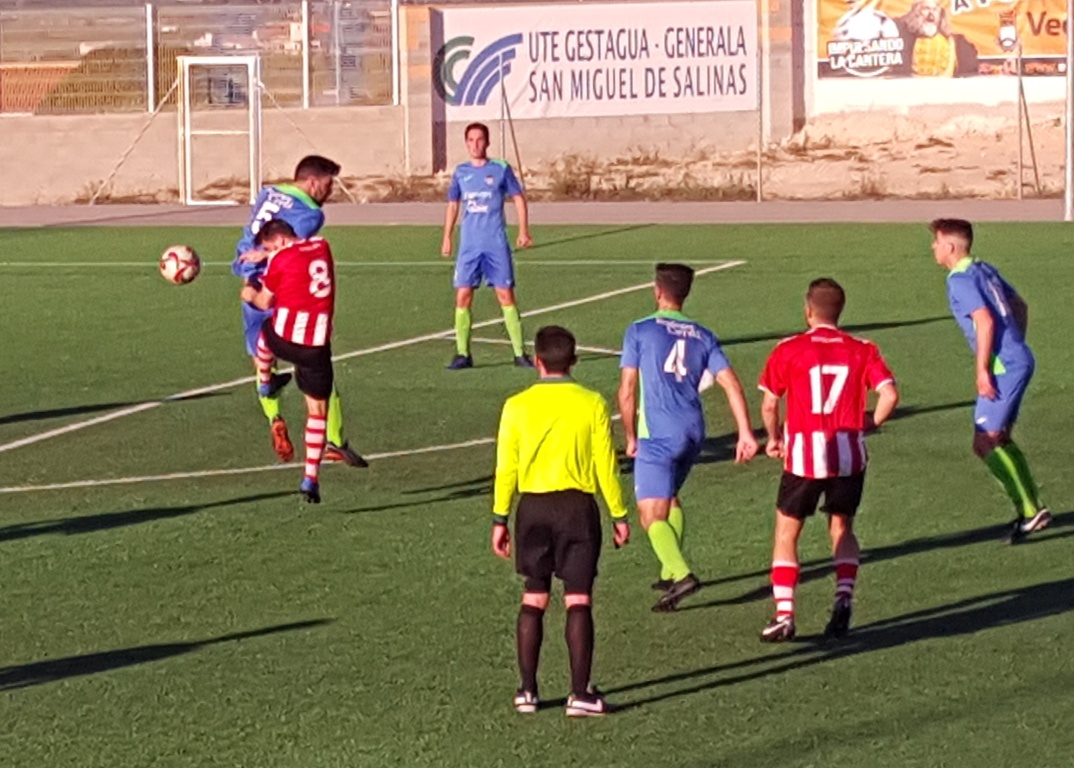 Before the match, there was a well observed minutes silence in honour of the passing of long time CD Montesinos supporter and Montesinos resident, Chris Jenkins or "Welsh Chris" as he was known.
The game itself started brightly enough with both sides showing attacking intent as well as solid defence. Monte, as with previous games, were hunting in packs in midfield, any through balls, however, were ruthlessly dealt with by a largely immobile but physical Hondon back three who, more than once, were forced to wrestle their opponents in order to gain advantage.
A couple of bookings in fairly quick succession meant that they were walking a tightrope. Hondon showed some proficiency themselves, but problems were largely snuffed out before 'keeper Carlos had to intervene.
On the half hour though, all of Monte's best laid plans were shattered when a headed, attempted back-pass by the normally reliable Manuel fell short and was pounced on by a lurking Hondon forward, who stroked the ball into the net. Disaster! Despite this setback, Monte did not appear downhearted and continued about their task with some gusto, battling away in midfield and German having one fierce drive tipped over by the keeper.
However, setback was about to become disaster just before the break. The referee who, up to that point hadn't enamoured himself to both sets of supporters with his fussy and pernickety decisions, missed the most glaring offside decision I have seen in a very long time watching all levels of the game.
Even taking into account the fact that for most games, referees don't have assistants to rely on, when the attacking player is standing GOALSIDE of the defender when he STARTS to run for the ball over the top, should give you a clue as to what the decision should be.
The Hondon forward lobbed Carlos and turned to face what he thought might have been a booking for playing on (as many in the crowd thought might have happened) he was greeted by the "man in the middle" signalling a goal! The crowd of largely Monte fans were furious, the Montesinos players were incensed (resulting in yet more yellows) and Hondon were ecstatic. Two up and having not seriously troubled their opponents for 45 minutes.
The half finished with the referee surrounded by players and officials as they left the pitch as some sections of the crowd voiced their anger in his direction.
Half Time: CD Montesinos 0 – 2 Hondon Nieves
The second half recommenced and if the half-time cuppa was meant to calm things down, then it didn't work. Surely, the game wouldn't finish with both teams at full strength with this ref'?
Without wishing to concentrate on one man rather than the game, the referee continued to make laughably fundamental errors of judgement. Blatant pushing and holding went unpunished, while the slightest contact was met with an ear-splitting cry of anguish and some theatrical writhing about by the player. He handed out cards like sweets at a carnival, sometimes for what appeared to be for no discernible reason at all. The game as a contest had descended into a farce.
On the hour, Coach Ruben began making his now predictable substitutions, with Maccan replacing David, Omar replacing Dario and Manuel Siguenza replacing Pastor over a ten minute period, all attempting to gain a foothold in the match. Hondon made changes also, looking to hold onto their lead. All of which had the effect of breaking what flow in the game remained after the man in charge had finished his tour of the "Laws of the Game" as he saw them.
As the game sadly, inevitably, fizzled out and Monte pushed forward in an attempt to get something from the game, it was obvious that tired legs at the back would lead to chances and keeper Carlos was called on on more than one occasion to make smart saves from Hondon, who looked to gain advantage on the break. Monte attacking had to look at barely half chances for all their efforts.
Almost on the dot, the referee blew time on a game that could have offered so much, but was brought down to the level of absurdity (not for the first time, I might add) by ridiculously inept officiating.
Final Score: CD Montesinos 0 – 2 Hondon Nieves
It has been said before, that Monte's position in this division could go down to the wire and probably will, but, there is still football to play and points to win and the belief amongst some is that CD Montesinos will prevail despite the efforts of some to make that task more difficult.
TEAM- Carlos, Dimitry, Fernando, Manuel, Angel Alexis, Pastor, David Fabas, Dario, German, Vaz, Daniel. Sub's- Sergio, Garcia, Omar, Maccan, Manuel Siguenza.
Vamos Los Rojos! Vamos Monte!
MATCH 24…..
CD Montesinos are away to play C.D. Dolores, at Campo Municipal "La Alameda" F-11, Dolores, on Sunday 10th March 2019, kick-off 4.30pm.
Don't forget your forecasts on JJ's Predictor League.