A beautiful day and a course in excellent condition, especially the greens, greeted the 44 members and accompanying guests making the trip to Font de Llop for the first round in the society's 2018/19 season President's Trophy, which this year is sponsored by MoneyCorp.
With a fairly long set-up, especially it seems on any hole where water had to be crossed that wasn't a par three, the difficulties of scoring well were starkly highlighted by the cards returned at the end of the round. As expected, Bronze category (higher handicappers) had lower overall winning scores than Silver, Silver lower than Gold.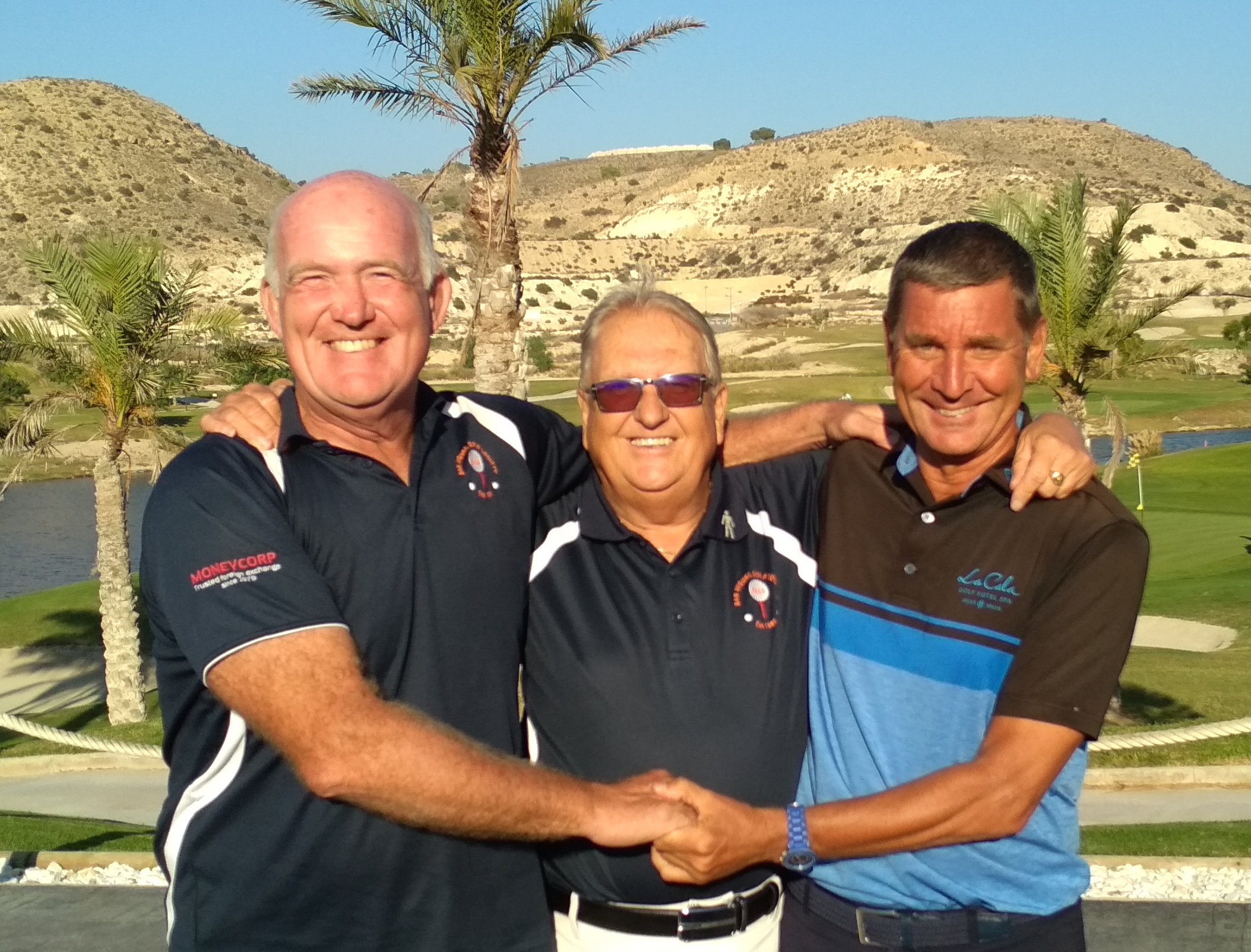 Andy Shaw (37 points) took home the sponsor's golf shirt for the day's best round, only beating Humphrey Kelleher on countback, and so leads the President's trophy standings after round one of five. At the other end of the scale, Paul Kavanagh received the Gordon Wilson sponsored bottle of a delicious red wine for propping up the field.
Results, by Category and in reverse order were the following:
Bronze Category: 5th Charlie Harkin (29), 4th Ron Stenhouse (30 on CB), 3rd Neil Sheldon (30 on CB), 2nd Mike Jordan (31 on CB) and 1st Carmel McCann, also with 31 points.
Silver Category: 5th Chris Wren (29), 4th Ken Flaherty (31), 3rd Hugh Reilly (33), 2nd Phil de Lacy (36) and, with the best score of the day on CB, Andy Shaw with 37 points.
Gold Category: 5th Barry Roehrig (34), 4th Steve Higgins (35), 3rd Richard McCann (36 on CB), 2nd John Osbourne (36 on CB) and 1st Humphrey Kelleher with 37 points.
Nearest the pins: Hole 3 Chris Hamblett, Hole 8 Humphrey Kelleher, Hole 12 Mark Pope, Hole 16 John Osbourne, and Hole 17 Hugh Reily.
Abacus: Paul Kavanagh, Best Guest Winner: Ali Gordon
Our thanks go to all Font del Llop staff for their contribution to a very enjoyable day. Next week we will be at Altoreal, then on following weeks at La Serena and Mar Menor. Keep up to date with all SMGS matters by logging on to our website www.smgs.org or simply give Captain Tony Smale a call on 628 227 687.