Bahia Santa Pola 2 CD Montesinos 0
After Monte's 2 first games of the season, hopes were high, but this game was no high point for Monte. They were simply outclassed in every department.
Monte's passing was virtually non-existant, Bahia Santa Pola just took the ball off Monte's feet at every opportunity. As a Monte supporter it's sad for me to say this, but that's how it was. (Whether this was caused by some confusion at the very start when 2 Monte players, scheduled to start failed to get to the ground on time, and the sub's were used from the kick-off). On the 4 minute mark, Bahia Santa Pola ran the ball down their right wing, and floated a pass into the centre for a fabulous headed goal.
Due to the heat both teams had a few minutes as a water break on the half-hour. But there was no change on the restart, there was just nothing coming Monte's way, there were so many mistakes and elementary errors, players not looking behind them when they had the ball, not looking before passing, and passes going wild. Bahia Santa Pola played on a different level.
Early in the second half, once again Bahia Santa Pola ran the ball down their right wing, the ball was passed to the centre, and a Bahia Santa Pola rifled the ball onto the join of the right post and cross-bar, the ball re-bounded, out for another Bahia Santa Pola player to have a shot, this struck a Monte player and then cleared, a lucky escape for Monte.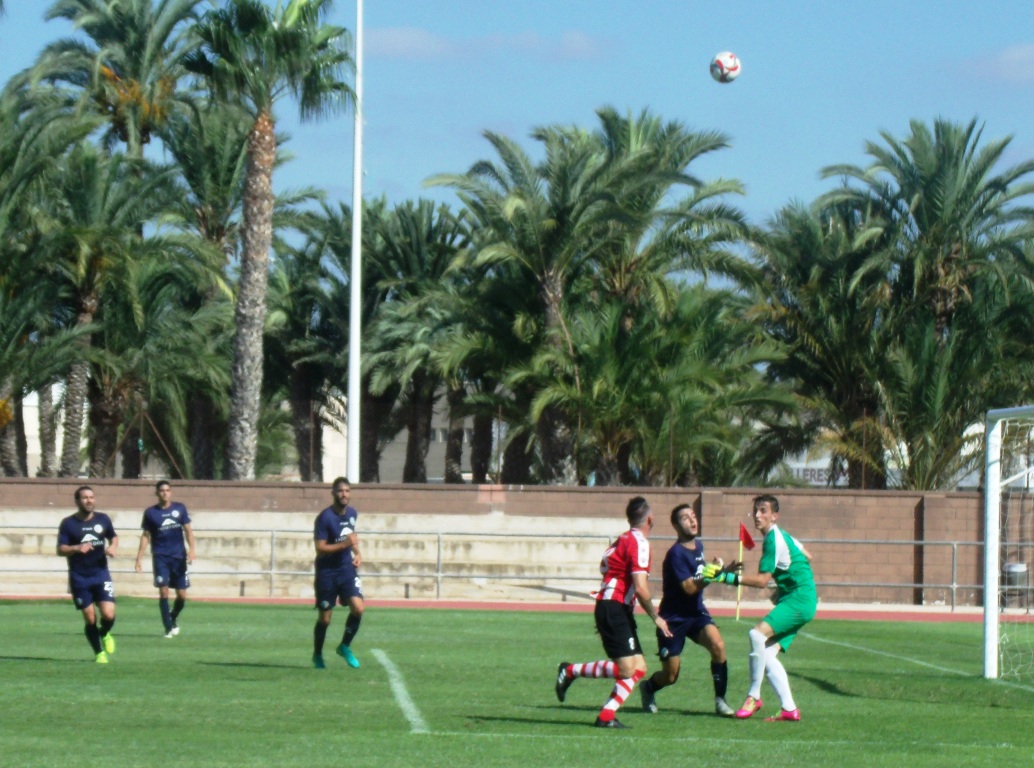 Bahia Santa Pola's second goal came from yet another cross from one player to another leaving the Monte goalie in no-mans land, and the ball was fired into the net. Monte didn't have one shot at goal throughout the match, and only had about 4 corners. The game almost descended into chaos when there was a melee, in the Bahia Santa Pola's goal area, their goalie causing most trouble, but the referee failed to act, but gave a second yellow card to Macca.
Richard of Monte was also given a yellow card for taking a free-kick before the whistle. Final result Bahia Santa Pola 2 CD Montesinos 0
TEAM:- Michael, Dimitry, Fernando, Manu, Alex, Josema, Macca, Yeray, Dario, German, Diego.
SUB'S:- Diego for Angel, Richard for German, Vaz for Yeray, Omar for Josema,
Report Alex Dunn – Photo's Terry Harris