CD El Altet (1) CD Montesinos (4)
What a game to start the new season, CD Montesinos played their hearts out, plus two super saves from goalie Michael, and a hat-trick from new signing Liam.
For those of us in the stands, it was a rather confusing first game of the season given that the home side, game, CD Altet, play in an identical kit to CD Montesino´s first kit. But the blue away strip of Monte soon showed it's true colours and within the first few minutes Liam sent a delightful shot over the head of a bemused Altet goalkeeper to put Monte 1 – 0 up.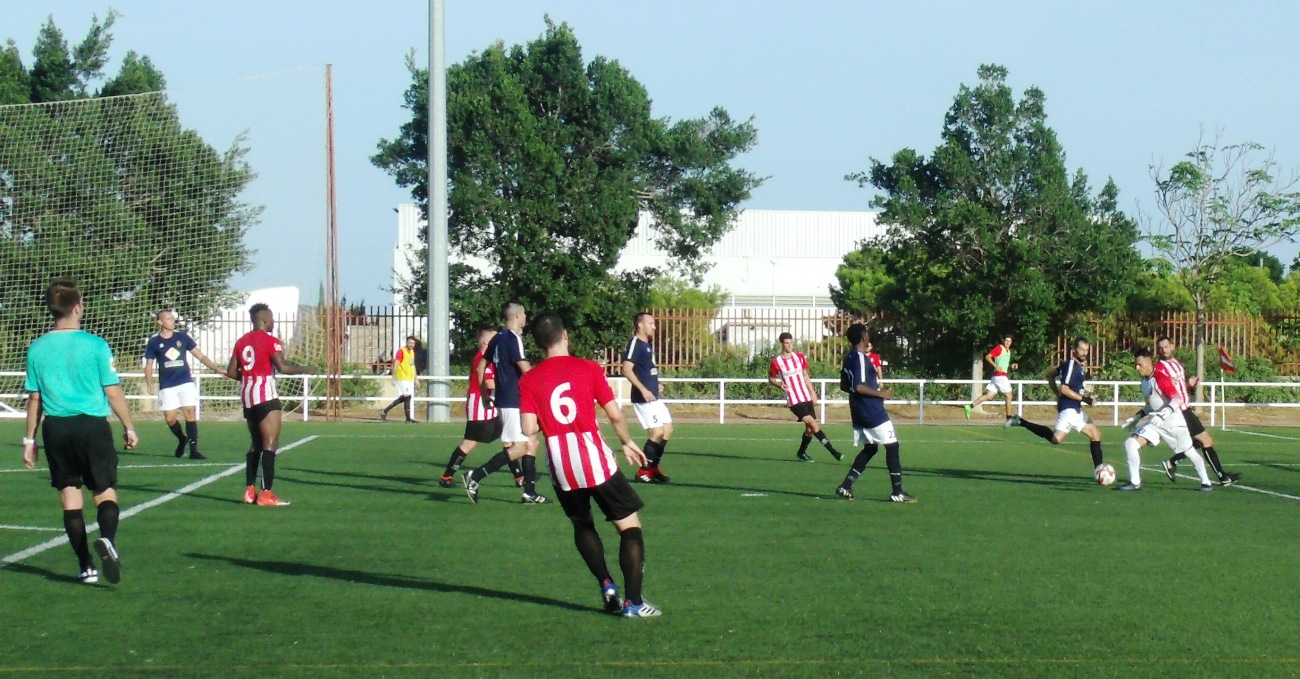 Better was to come as the same player, Liam, scored his and his team´s second of the game 5 minutes later when he intercepted a poor pass to rocket the ball past the Altet goalkeeper. 2 – 0 to Monte.
Lots of action in midfield until a loose ball went forward to an Altet player who had an easy shot at Monte's goal and scored to make it 2 – 1 to Monte. On the half hour, another of the new players, Morante, scored a stunning goal direct from a free-kick on the edge of the area to but Monte 3 – 1 ahead.
On the re-start the ball went into the Monte's half, for an Altet shot at goal, which resulted in a superhuman high leap and a fingertip save from Monte's goalie, Michael.
Early in the second half a penalty was given due to a handball in the area by a Monte player. Michael dived to his left to make a fabulous save, pushing the ball out to an Altet player who fired the ball back in, only for the ball to hit the upright, and then cleared away. Liam scored his third goal from open play to great applause from the travelling supporters which made up at least half of the crowd. 4 – 1 to Monte.
Overall, an excellent game with both sides showed a lot of commitment, but Monte were clearly the better side. Monte's tackles were hard but fair, and they dominated the whole field. Liam was class and not afraid to get stuck in, as a forward and in defence, but he was spoken to 3 times by the referee, and a booking no doubt would have been coming had he not been subbed.
Next match we are at home, this Sunday 23rd September with a 6pm kick off. This match is sponsored by Roberto Blue. Come down and watch the action at the football ground in Los Montesinos. Entry is just 3euros and kids are free!!
For additional information please look at our facebook page – cdmontesinos.
Vamos Monte!!!
You can always email us at thefullmonte2011@hotmail.com
Also, don't forget to check the predictor thread. And……check-out CD Montesinos on Facebook.
Team:- Michael, Dimitry, Fernando, Manu, Morente, Angel, Bautista, Macia, Macca, Liam, Dario. Sub's:- Carlos, Omar (for Dario), German (for Macca), Yeray (for Macia), Fran (for Liam). Bookings:- Macca, Fernando.
CDM Scorers: Liam (3) and Morante