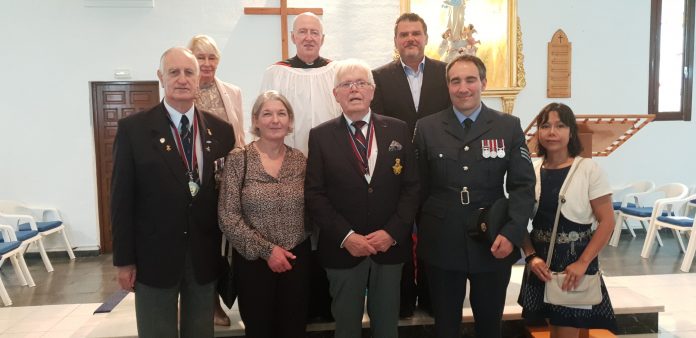 RAFA Costa Blanca held a memorial service for the 78th anniversary of the Battle of Britain on Saturday morning at La Siesta Church. Branch Chaplain Rev Terry Baxter led the service.
President Tony Laverick, Chairman John Dwyer and members of RAFA were joined by representatives of the Torrevieja and Orihuela Costa branches of the Royal British Legion, The Royal Naval Association, the Royal Marines Association and ARPO (the Association of Retired Police Officers) at the 45 minute service.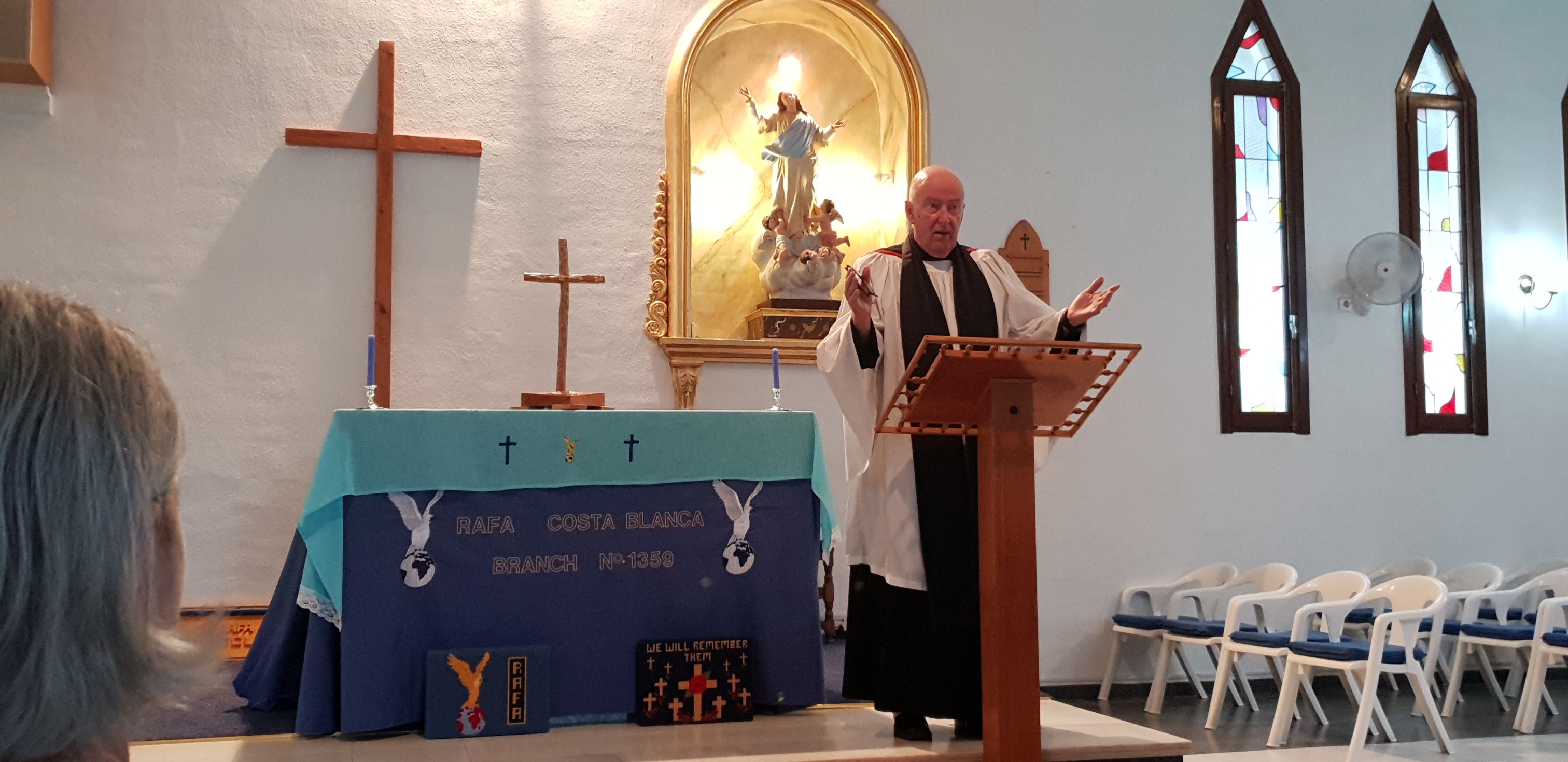 There was also representation from the Torrevieja Ayuntamiento by the director of the OARI office, Carlos González, as well as the British Embassy in Madrid, F/Sgt Tony Moya and the Alicante Assistant Consul Liz Bell.
Although the attendance was diminished by the appalling weather the service was still well attended beginning with a parade standards into the church.
Accompanying the Spanish and Union flags were the standards of RAFA, RNA, RMA and both Torrevieja and The Orihuela Costa and District Branch of the RBL.
At the conclusion of the service, the wreath laying ceremony, which would normally take place in the adjacent Garden of Remembrance, was moved inside the church because of the incessant rain. Officers and dignitaries then laid their wreaths and crosses at the church altar.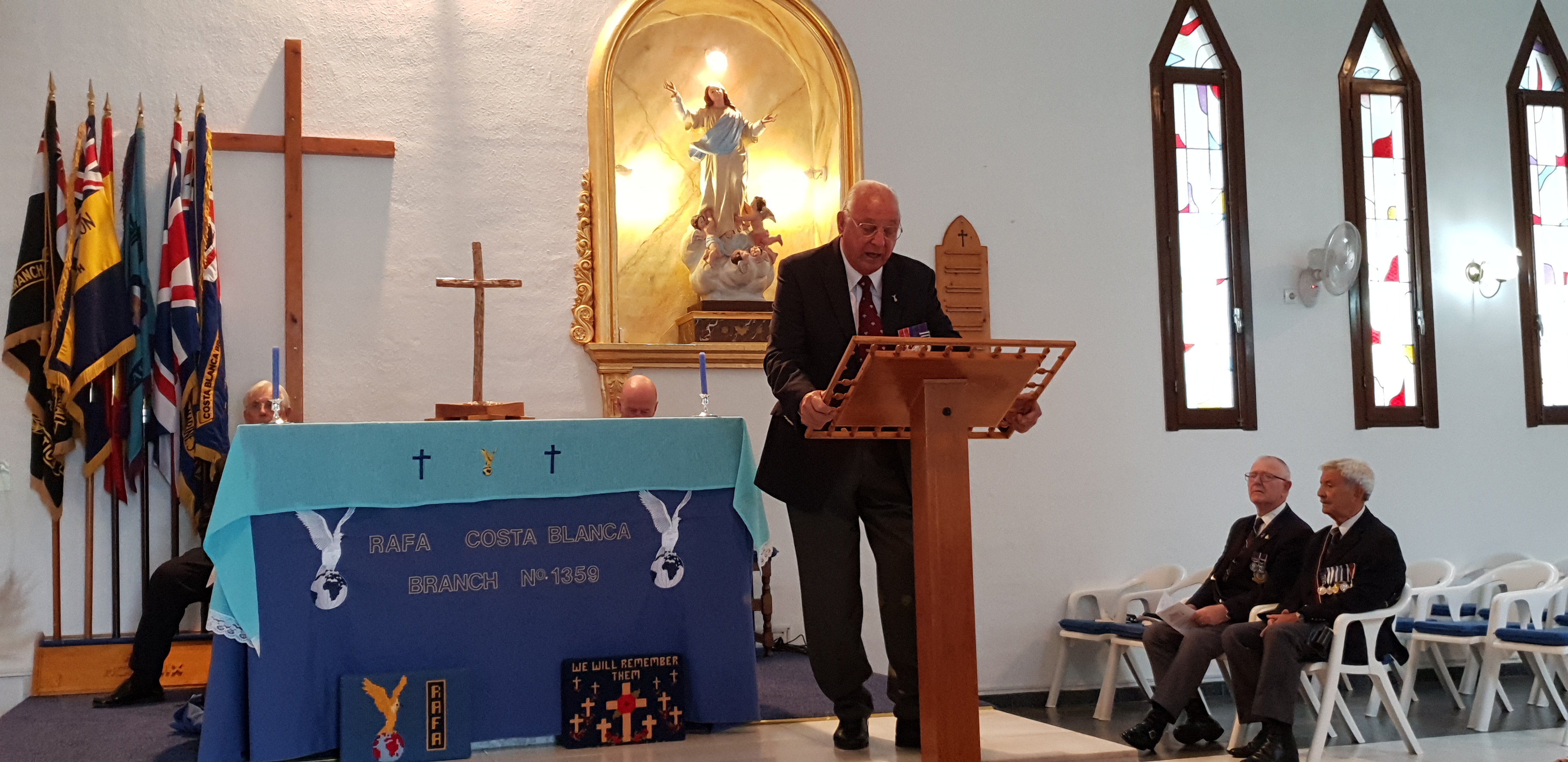 Funds raised during the offertory were donated to the Wings Appeal, the RAF Association's on-going fundraising campaign that runs throughout the year.
The service was followed by a celebratory lunch at Budapest Restaurant in Pueblo Bravo, close to Quesada.
The annual Battle of Britain Day, September 15, is dedicated to the large-scale aerial battle that took place during the Battle of Britain.
The clash was said to be described as the first major military campaign fought entirely by air forces with the British RAF deploying their fleet to tackle the 176 enemy aircraft that were destroyed during the raid.
On the day itself, two major attacks were launched on London with smaller assaults on the southern coast in Portland and Southampton.
The German aircraft were met by a fleet of RAF planes and many of the Germans reportedly turned straight around without deploying any bombs.
RAFA meet on the third Tuesday of every month at El Paraiso Restaurant, behind Carrefour Torrevieja, starting at 2.30pm.