On Friday 10th August yet another major demonstration is scheduled to take place on the Orihuela Costa.
Organised by the Movimiento Ciudadano La Zenia – Asociacion de Vecinos y Comerciantes, and supported by CLARO and many other of the groups and associations that represent the coast, the protest march will start at 6.30 pm in Avda Del Marin front of La Zenia beach and travel up Avenida de la Playa, across the N332 at the La Zenia footbridge and on to the abandoned Emergency Centre in Calle Flores, a distance of approximately one kilometre, where participants will hold a short vigil.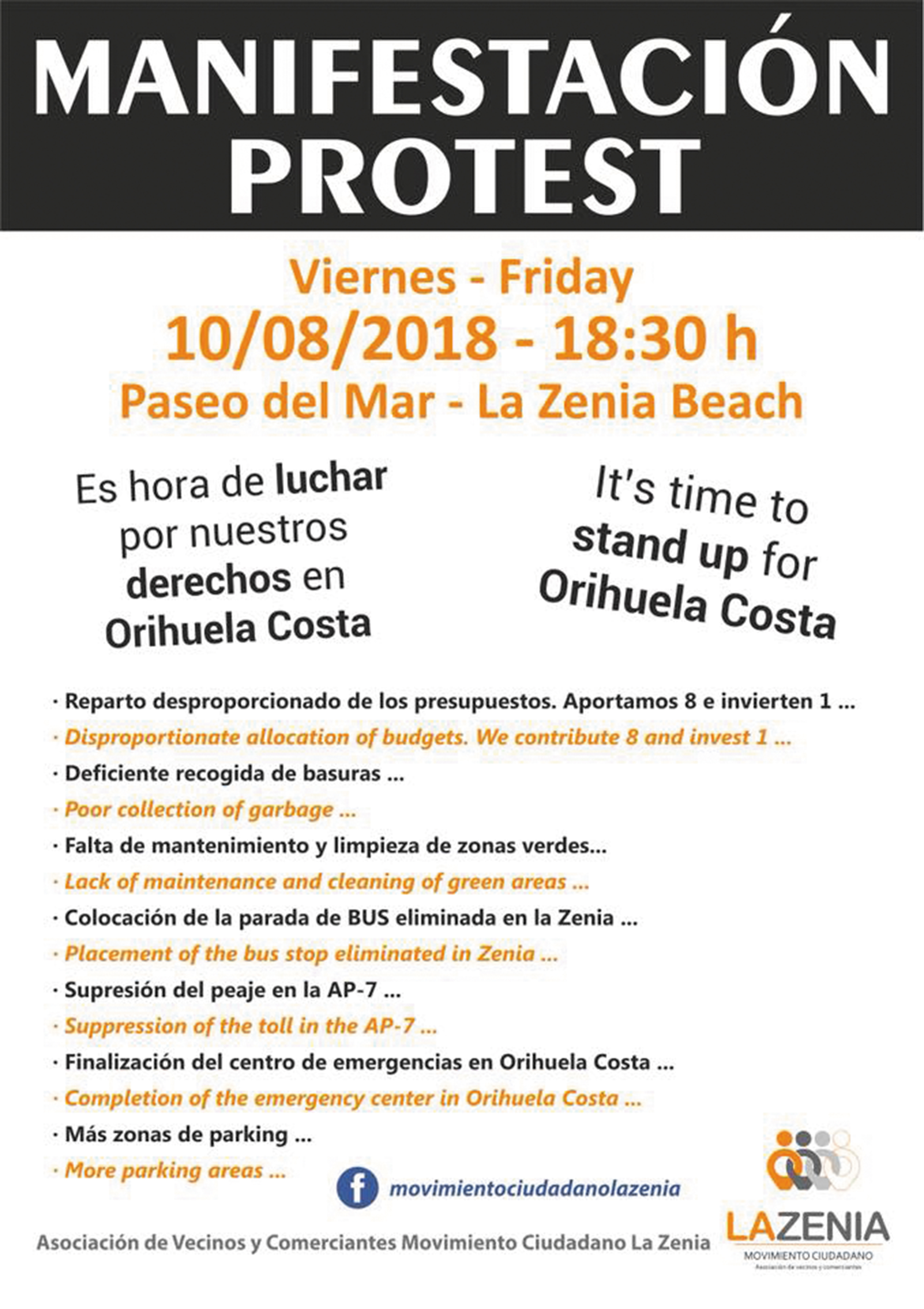 The protest is being held under the maxim "It's time to stand up for the Orihuela Costa" and in support of a better deal and improved services for coastal residents.
Movimiento Ciudadano La Zenia President Félix Arenas said that the residents are increasingly outraged at the lack of basic services afforded by Orihuela to the coast where the budgetary allocation shows a total imbalance with the city.
He said that despite the presence of CLARO there is no allegiance to any political party by the march organisers or by most of the participants who will be marching simply because they feel that the coast deserves a much better deal by the municipal authorities.
Organisers are appealing to the many hundreds of their supporters taking part in the march, asking them to bring along rattles, drums, trumpets, horns and anything that will make a loud noise 'and that will be heard in Orihuela City'.
Arenas added that the demonstration has received permission to march by the Alicante authorities and that all participants should do so peacefully.
They are asking for anyone at all who is interested in the future of the Orihuela Costa to lend their support and join in with the march which they are hoping will put additional pressure on Orihuela's politicians prior to the 2019 municipal elections.