After Saturday´s great day of golf Sunday evening was the time for over a hundred supporters to put on their glad rags and head out to Las Ramblas Golf Club in support of the charity Prostate Cancer UK.
Whilst mingling on the terrace prior to the meal guests enjoyed a cava reception before moving through to the main dining room where a three course meal with, plenty of beer and wine, was served by a great team of staff.
John Brownless (UK Ambassador for the charity) addressed the group with a short presentation about Prostate Cancer. This was followed by Jim Scott, auctioneer extraordinaire, who encouraged everyone in the room to dig deep for donated memorabilia and golf equipment.
Thanks must go to all the kind people who donated football shirts, UB40 concert tickets, a Cold Play tour jacket and a Titleist Golf Bag amongst other things. Thanks also to those who generously bid on the items, helping to boost the funds even more.
The auction was followed by a raffle where we must again thank the numerous kind people who donated prizes and purchased tickets
Following a drumroll we then had the announcement of the total amount raised during three days of magnificent efforts by a multitude of supporters, a wopping 7176 € which was immediately handed over PC UK. Quite rightly the announcement was met by rapturous applause (and a few tears), a huge community effort.
What a pity that the charity doesn't have an arm in Spain so that the money could stay in the country where it was all raised, but with many expats still choosing to travel back to UK for treatment, and with even more of us having relatives that have been directly affected by the disease, in one way or another we will still all benefit wherever we reside.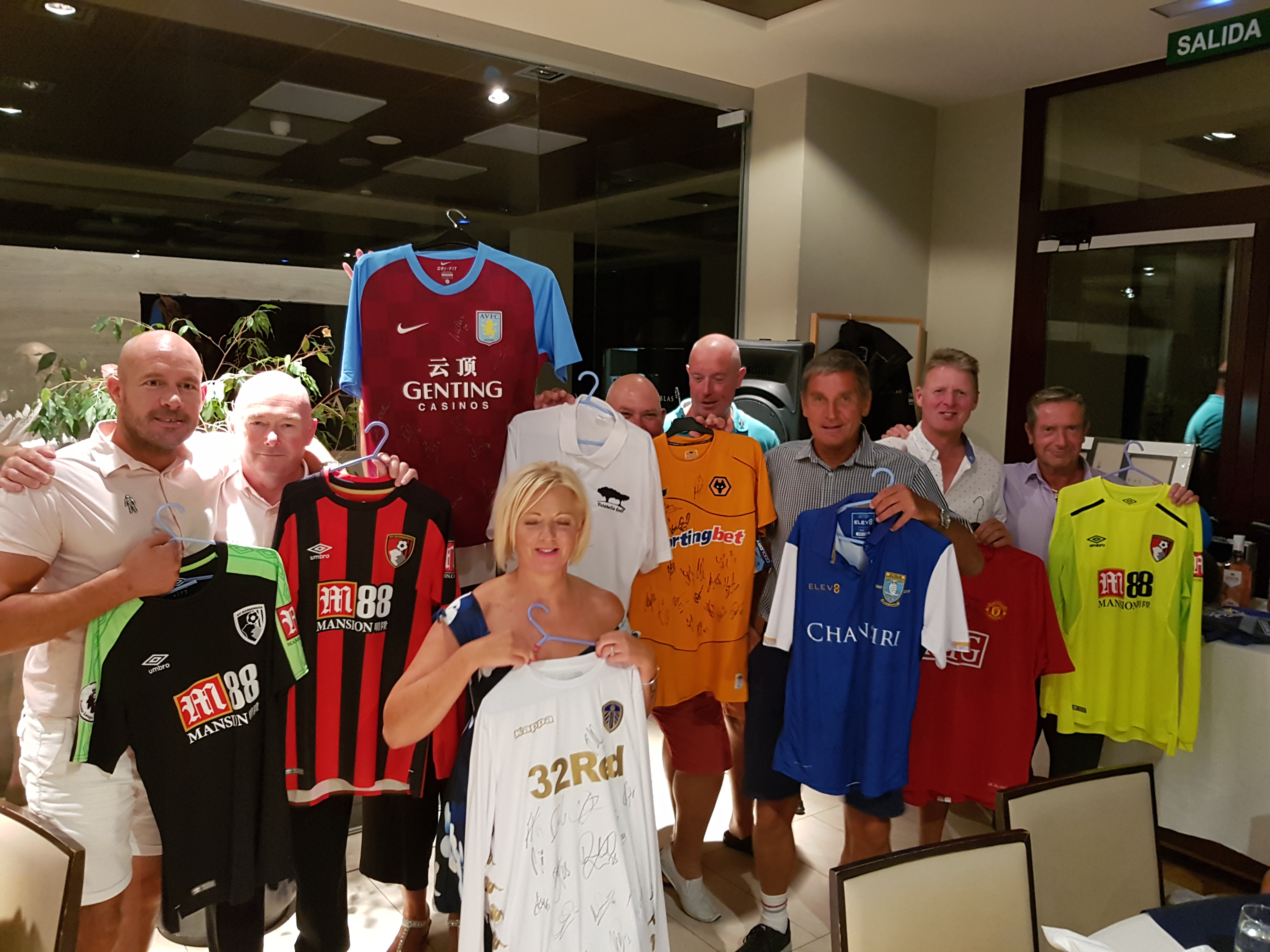 Thank you to those who supported the fundraising efforts hardly seem enough, but acknowledgements need to go to the following:
Debbie & Dave Euronics Blue Lagoon, Gavin Albatross Golf, John Brownless Prostate Cancer UK, Alison & Trevor PJ Rental Cars, Richard Morgans No Grow Grass, Simon Williams The Hub Sports Bar, Adrian Rudge, Joaquin & Robin Vista Bella Golf, Alberto & Staff Las Ramblas Golf, John Khan Heatwave Promotions, Jeanette & Dave Gossip Bar Rioja, Richard Welcome Estates La Finca , John Galaxy Golf, Bob Chambers & Team Lighthouse IFA, Drivers Bar Villa Martin, Dave´s Coaches, Yvonne WH Travel, Manisha Indian Restaurant, Market Street San Miguel, Tiger Feet La Fuente, Gleam Team Property, Chemies Lounge Villa Martin, Maria & The Pink Ladies, Spain Property Shop La Fuente, Ken & Aileen, San Miguel GS, Crystals La Fuente, Team Scotland, The non-golfing ladies who helped on Saturday and Sunday AND anyone else we may have missed (sorry)
Prostate Cancer is the third biggest cancer killer in the UK which is why it is so important to raise funds and awareness on the Costa Blanca. We want all golfers to be aware of the disease which kills one man every 45 minutes in the UK. "That's six men across the average round of golf," said James Beeby, Director of Fundraising for Prostate Cancer UK.
"Golf is a hugely important audience for us given the average age of men who play the game and sadly prostate cancer is not out of bounds for many of them.
"From tee to green and in the clubhouse afterwards, we want to tackle this issue head on and make sure more men take responsibility of their health – and play a part in saving lives as well.
"We know this is a disease that exists in every golf club, whether that's in the UK or Spain and there is no doubt that by holding golf days like this, golfers like John and the other members of local societies will play a valuable role in making sure golfers know their risk of prostate cancer, and raise money to fund research."
To find out more about Prostate Cancer UK's work in golf, buy a Prostate Cancer UK pin badge, enter the Prostate Cancer UK Golf Championship or go to the website at: https://prostatecanceruk.org/