Paradise Rescue Kennels, is based at Benferri and run by Colleen and Peter Jay, helped by Mary-Ann Dunning and a dedicated team of volunteers. Like all rescue organisations they do an amazing job on a shoestring budget and work endless hours saving dogs and puppies from awful situations and kill stations.
At Christmas they had 38 puppies, plus 80 adult dogs to care for. The upside is that so many animals are happily re-homed – but then they get a situation like this:
Three days ago a man with a supposedly, terminally ill family member, desperate for his lifelong friend, Duque, to be cared for, brought him to Paradise. Of course, Colleen took him in. It was such a sad situation, who wouldn't? But in the cold light of the following day, for dying, you might read lying.
Mary-Ann and the team decided they needed to get Duque in to foster as quickly as possible so she went to Paradise, took photos and appealed through Facebook for a new home for the dog. But by the afternoon, when Colleen had the chance to have a good look at him, it was very obvious that this dog was very ill. Not only was he hardly able to use his back legs, he also had a mouth full of rotten teeth,
Colleen cut off his collar, under which was an inch of caked mud covering awful sores on his neck. His back end was also caked with mud. This boy was not the beloved 11 year old family pet they had been led to believe. He was a very old, very poorly dog who had an outdoor existence, chained up, enduring the dreadful storms we've had and he was a dog who was about to incur some hefty vet bills. So the owner decided to take the easy route, dumped him on a charity to pick up the bill, and walked away.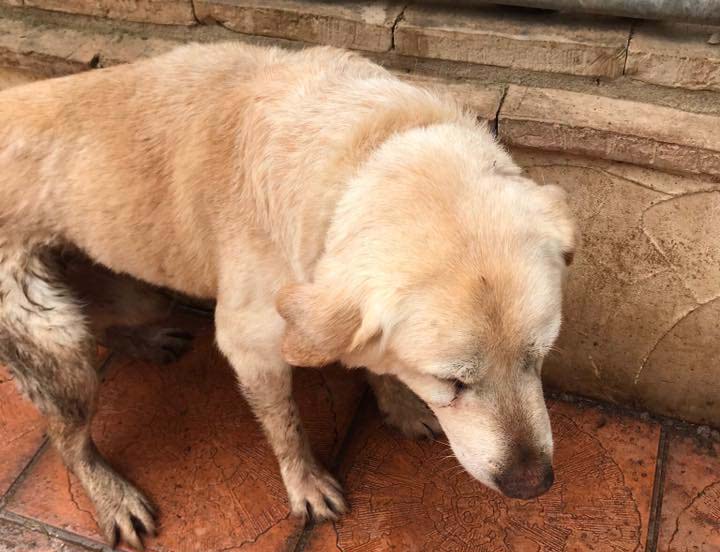 Unfortunately the dog did not survive, but the vet bills were paid by Paradise when it was thought that it still had a chance. This money had been set aside to pay for the next pallet of food for the other animals. This despicable individual told lies and played on the good nature of people who work so hard to save dogs.
Paradise Rescue Kennels would be deeply grateful for any donations, which can be paid to Paypal: paradisekennels@live.com and if your company would like to sponsor a page in their 2019 'Calendar Dogs' and have your photo with a rescue dog included in the photos, please contact Mary-Ann Dunning by…..email: mary-ann@paradiserescuekennels.com or through their Facebook Page, Paradise Rescue Kennels.