'Mike Probert talks Golf (Sponsored by Costa Blanca Green Fee Services).
Here on the Costa's golf is one of the biggest leisure time activities for both tourists and resident alike and with this in mind we have secured the services of Mike Probert of Costa Blanca Green Fee Services to provide a weekly round up of local golfing events and topics and in conjunction with us at THE LEADER will provide discounted golf prices to all of our readers and run our golf competitions.
Around and About the Courses – Vistabella II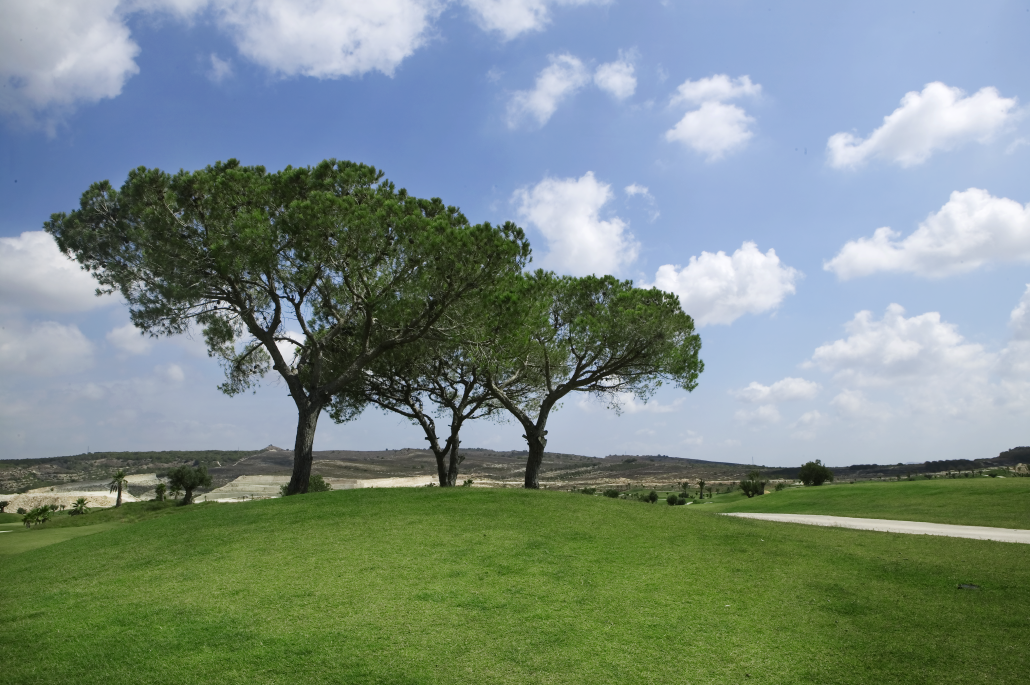 In the last article we informed you that as from 2nd January 2018 the Vistabella course designed by Manuel Pinero and originally opened to the public on 26th September 2009 as an 11 hole courses will finally open the additional 7 holes.
We promised a full review of the new holes but as of the date of writing this article the new scorecard with the par,slope and hole lengths is still unavailable but we will give you a brief review of each hole to give you the flavour of the changes to the course and how it will play.
Hole 1 (par 3) – Played from a slightly elevated tee to a well bunkered undulating green most players will need a mid iron and some of the pin positions could proved troublesome.
Hole 2 (par 4) – Again played slightly down hill this very slight left to right hole is of medium length but all the trouble starts at the green which is almost an island green surrounded by water with only a small run on area to the right of the green.
Hole 3 (par 4) – Slightly down hill with a slight dog leg to the right the landing area on the fairway is small and narrow and players must select a club to stay short of a large water hazard without leaving too much club to carry the water with the second shot played slightly up hill to an elevated well bunkered green with opportunities for some tricky pin positions.
Hole 4 (Par 5)This hole is a very long par 5 hole played all up hill with a fairway turning right to left to a slightly elevated well bunkered green and will be a monster into any head wind.
Hole 5 (Par 4) – Played down hill with a fairway turning left to right this will require a mid iron second shot for most players and distance control on the second shot will be the key to good scoring on this whole which again can be made difficult with certain pin positions
Hole 6 (Par 3) -Most unusually this par 3 played down hill from an elevated tee doesn't have any bunkers but there are water hazards right and left for the really errant tee shot.
Hole 7 (Par 4) – This shortish par 4 finishing hole turns left to right and uphill for the second shot to an elevated,small well bunkered green with numerous difficult pin positions and no chance to see the bottom of the flag and this applies also to many of the other new holes.
The slope is still to be calculated and for those golfers with hand held distance measurement gadgets these are still to be updated so you will have to rely on the good old distance markers on the side of the fairways.
Without doubt this will prove a difficult test of golf for all standards of golfer and will become one of the best courses on the area and will be busy but we can offer a price of €86 for 2 players and buggy until 28/02/18 so get your booking in early by calling 661345931
We at THE LEADER are committed to providing to our golfing readers affordable golf without the need to join a club or apply for a card but simply contact the number below to have instant access to discounted golf prices, many of which are exclusive to us.
The deals shown in the table are some of the best currently available to you until 31/01/18:
| | | |
| --- | --- | --- |
| Golf Course | Price | Comments |
| Alenda | €108 | Two Players and Buggy |
| Alicante | €57 | Single Green Fee and Buggy |
| Altorreal | €90 | Two Players and Buggy |
| Bonalba | €90 | Two Players and Buggy |
| Don Cayo (Altea) | €94 | Two Players and Buggy |
| El Plantio | €112 | Two Players and Buggy (after 12pm) |
| Font Del Llop | €86 | Two Players and Buggy |
| La Finca | €110 | Two Players and Buggy |
| La Marquesa | €45 | Single Green Fee |
| La Serena | €112 | Two Players and Buggy |
| Las Colinas | €144 | Two Players and Buggy |
| Las Ramblas | €94 | Two Players and Buggy |
| Lo Romero | €136 | Two Players and Buggy |
| New Sierra Golf | €95 | Two Green Fees and Buggy |
| Roda | €96 | Two Players and Buggy |
| Villamartin | €102 | Two Players and Buggy |
| Villaitana Poniente | €57 | Single Green Fee and Buggy |
| Vistabella | €86 | Two Players and Buggy (weekends) |
For Bookings and more information contact Mike at info@costa-blanca-greenfees.com or direct on 966 704 752 or 661 345 931 quoting reference LEADER.