With Baroque Hightlights Especially For Chrismas
Last out of 4 live concerts in 2017
On Saturday, December 9th at 20:00h, the Christmas Candlelight Concert begins at The Lifestyle Company Jessica Bataille in Jávea.
"A growing number of music lovers came to our live concerts in completely different music genres this year", says the organizer of 'Jessica's Concerts'. Prior to each concert, Jessica's team transforms the interior design showroom into a cozy theater, where much can be seen in the field of living and lifestyle decorations. "This creates an intimate atmosphere during the concerts allowing the professional musicians to have direct contact with their audience", according to the music promotor Adrián van Dongen from Valencia.
The Frescobaldi Ensemble plays a tasteful Christmas program that expresses both the reflective and the festive side of Christmas. A program with highlights from the Barogue period and some beautiful arias by the soprano María Estal Vera (picture). Music by Bach, Vivaldi , Tartini, Corelli en Händel, interspersed with Christmas Carols. The performing instrumentalists are Amparo Camps Contreras, violin, José Duce Chenoll, harpsichord and Adrián van Dongen, cello.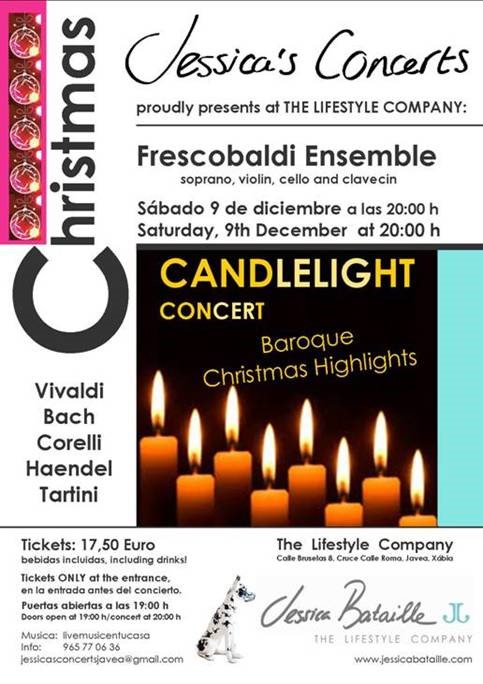 When asked why she gives concerts in her spacious interior studio, Jessica answers as follows: "I started a concert a while ago, by accident actually, because I got involved in a beautiful project related to young talents in music.
My father loved music and he was my big inspiration. He encouraged me to ballet dancing and to play the piano. As a young student, he always drove me to any performance that I wanted to go to. I lost my father when I was only 11 years old. His early death made me stop doing everything he had encouraged me to do, particularly music.
Years later, when I created my studio, I wanted to name it 'the lifestyle company'. Yet I could not decide what I was going to do with it. Who knows what one might be doing by the time you get to be 30? So I started many actvities in the studio simultaneously: a work space, an interior decorating shop, a gallery, a shop, a theater stage with curtains and a grand piano. Unlimited areas in which I could become creative.
It took me years to realize that my dream of music is never going to go away. So I might as well give it everything I've got…now! Helping young talented children into music, was the most fulfilling experience I have ever encountered. Their illusion together with their innocence is probably the strongest drive to achieve their dreams.
And here we are… 22 years after opening my first shop, I am ready to share this with all of you.
To friends of music: you are welcome to all these aspects that I love. Just come to 'my livingroom' at
The Lifestyle Company which we transform into a theater for the evenings of our concerts!
On the 9th of December, the magic of classical barroque Christmas highlights will be played by a group of outstanding professional musicians from Valencia. Let's give them a podium to perform for us at The Lifestyle Company in Jávea! In 2018, I would like to continue with a new beautiful program."
Het theater address of The Lifestyle Company is: Calle Bruselas 8, hoek Calle Roma in Jávea. Tickets are available at 17,50 Euro as of 19:00h at the door, one hour prior to the concert. Drinks are included.
The Christmas Candlelight concert starts on Saturday, December 9th at 20:00h.