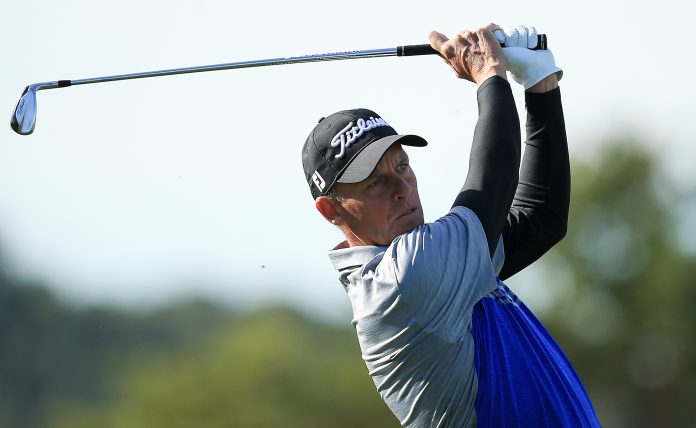 Tournament: European Tour Qualifying School Final Stage, Venue: Lumine Golf Club, Tarragona, Spain
Round Five Report
Experience told on the fifth day of Qualifying School Final Stage as European Tour winners Gonzalo Fernandez-Castaño and Anders Hansen moved within touching distance of regaining their Race to Dubai status for next season.
Just 18 holes remain at Lumine Golf Club, with the top 25 and ties after tomorrow's final round earning European Tour cards at the end of a gruelling six-round marathon in Tarragona.
Impressively leading the way is Sam Horsfield, the Englishman who has already come through First and Second Stage. By close of play tomorrow, he will have played a mammoth 252 holes and ended the day three shots clear on 19 under par after a fifth successive sub-70 round.
His nearest rival is Jeff Winther, who earned his card through Final Stage 12 months ago. The Dane's seven under par 64 was the joint lowest round of the day and took him to 16 under par.
Four players trail Winther by one shot in a share of third place, including Connor Syme. The Scot shone again on Day Five with a four under par 67 and could crown an impressive start to his professional career by securing European Tour status tomorrow.
Matthew Baldwin, Kristoffer Broberg and Charlie Ford are alongside him while Hansen, three times a winner on the European Tour, is one shot further back in a share of seventh place following an excellent round of 65.
Fernandez-Castaño – who has Alvaro Quiros caddying for him this week – matched that score and sits in a tie for tenth on 13 under par, with exactly 25 players currently at 11 under par or better in Spain, but with much drama sure to come in tomorrow's final round.
Player quotes: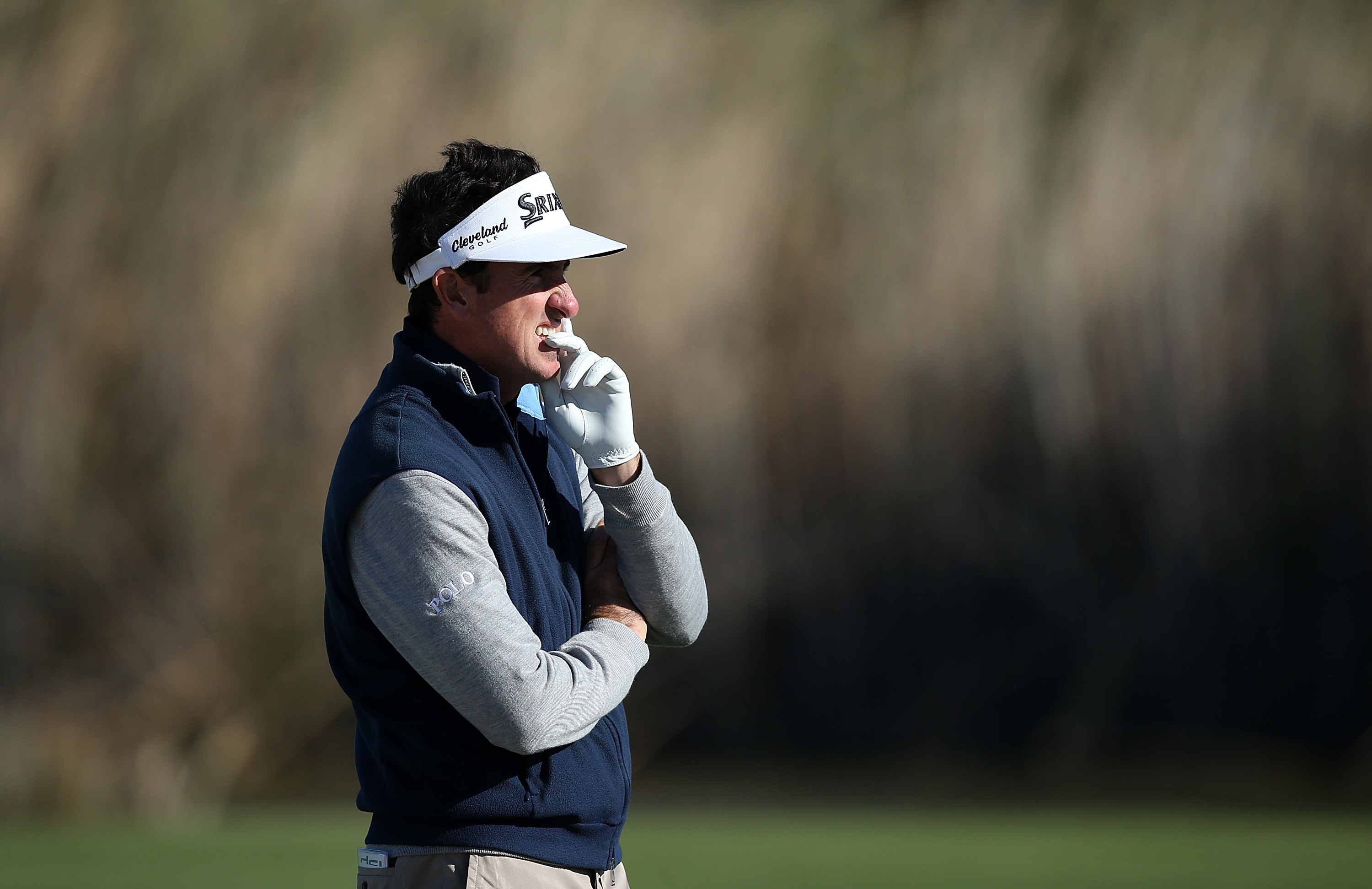 Gonzalo Fernández-Castaño
"Conditions were a little easier today – the wind wasn't blowing as hard – but I also played very well. I hit the ball probably the best I have so far this week, and I gave myself a lot of birdie chances.
"Six under today was a phenomenal result and it takes a bit of the pressure off for tomorrow. Hopefully I can go super low tomorrow and make sure that I get my card back.
"I am feeling extremely relaxed. Last time I played at Q-School was in 2004 where it very much felt like a case or 'all or nothing'.
"But now I have status somewhere else, on the Web.com Tour, and having that back-up plan has put me at ease a bit.
"I think that having Alvaro on the bag has made me feel good too. I remember Q-School as a really stressful experience from before, but I think we have managed our practice sessions really well – we didn't too overdo it at the beginning of the week with our drills and routines.
"I am now excited about tomorrow and hopefully we can put another good round together."
Connor Syme
"It has been a great last three rounds. I didn't quite play as well as I had over the last couple of days but that is what you have to expect at a six-round event.
"It was the first time that I have had a scorecard in my hands for five days in a row but I am delighted with the position I am in and hopefully I can continue playing well tomorrow.
"It is so difficult as there are so many good players this week and all you can control is yourself. I played really well at Second Stage last week so I felt confident coming into it.
"It is not in my hands though and I can't control how anyone plays tomorrow. I need to keep doing what I am doing and that will be hopefully be enough tomorrow.
"It is going to be a very different experience tomorrow. This year I have had a lot of good experiences, playing in The Open and making a few appearances on the European Tour, but I think tomorrow is going to be a very different experience.
"If you get too much into a situation where you are overthinking everything then that can affect your game, so you just need to keep a clear head as that is when you play your best golf."
Anders Hansen
"I feel fine. I'm not too worried about it. You always want to do well, there's absolutely no doubt about that but for me it's got more to do with personal reasons for me being here.
"I had an exemption this season but I haven't really played, I just didn't have time to play enough, too many other things going on, so towards the end I thought that if I wanted to play something next year, I'd better go to Q-School.
"My game is not too bad, for an old man like me! I'm just trying to be patient and take every day as it comes and go from there. Tomorrow I'm just going to play and see what happens – I've done it for 20 years so I know what I'm doing!"
Jeff Winther
"I'm feeling quite good but I'm not hitting the ball very well, I need to go and grind it on the range for a bit – I had nine putts on the back nine today and that's what's saved me today!
"I'll try to draw on last year a little bit but I'm feeling quite loose about it. We're all here every week, I've been on the European Tour for the last two years and a lot of the guys here are the same as every week so it doesn't feel that different.
"It's nice to be in a good position going into the final round but I still need to put a good score together tomorrow and not do anything stupid.
"I've been playing really well this year but it's tough when you don't get into the big events. I think I've only missed three or four cuts all season but you just need the last putt to drop in to get those really high finishes, and that hasn't quite come to me this year."
Scores after Round Five:
338 S Horsfield (Eng) 69 68 66 68 67;
341 J Winther (Den) 67 67 72 71 64;
342 K Broberg (Swe) 70 71 67 68 66; M Baldwin (Eng) 71 69 68 68 66; C Syme (Sco) 72 73 63 67 67; C Ford (Eng) 73 69 66 64 70;
343 A Hansen (Den) 71 71 69 67 65; L Canter (Eng) 71 64 67 75 66; C Blomstrand (Swe) 72 69 67 66 69;
344 G Fernandez – Castaño (Esp) 72 70 69 68 65; P Widegren (Swe) 69 72 68 69 66; M Foster (Eng) 67 72 68 71 66; A Pavan (Ita) 65 68 71 73 67;
345 P Angles (Esp) 73 70 69 68 65; J Kruyswijk (RSA) 71 71 70 66 67; J Thomson (Eng) 67 72 68 67 71;
346 J Geary (Nzl) 72 71 72 67 64; R McGowan (Eng) 72 71 68 70 65; M Nixon (Eng) 70 71 70 69 66; R Macintyre (Sco) 67 71 71 71 66; H Sturehed (Swe) 67 71 71 70 67; K Johannessen (Nor) 71 69 67 72 67; N Geyger (Chi) 67 74 69 68 68; G Moynihan (Irl) 69 72 67 68 70; J Janewattananond (Tha) 74 71 65 65 71;
347 A Michael (RSA) 73 71 66 74 63; S Gros (Fra) 70 69 74 67 67; F Aguilar (Chi) 73 70 68 69 67; T Murray (Eng) 70 63 75 70 69; M Schwab (Aut) 71 69 67 71 69;
348 M Schneider (Ger) 68 74 71 68 67; J Walters (RSA) 75 71 66 69 67; O Lindell (Fin) 73 71 66 70 68; C Bezuidenhout (RSA) 69 69 72 70 68; T Lewis (Eng) 75 69 68 67 69; J Edfors (Swe) 70 72 70 67 69; N Kimsey (Eng) 68 73 70 68 69; D Law (Sco) 68 73 70 68 69; J Quesne (Fra) 69 72 69 69 69; A Knappe (Ger) 69 72 69 69 69; C Braeunig (Ger) 70 70 67 71 70; J Heath (Eng) 72 68 68 69 71;
349 L Gagli (Ita) 71 73 66 72 67; J Munro (Aus) 69 71 69 71 69; Ó Serna (Mex) 68 72 67 73 69; S Heisele (Ger) 72 67 70 70 70; G Stal (Fra) 64 71 73 70 71; B Evans (Eng) 69 66 68 71 75;
350 M Armitage (Eng) 71 71 74 68 66; S Vincent (Zim) 72 72 69 70 67; P Howard (Eng) 73 66 74 69 68; C Lloyd (Eng) 68 71 71 72 68; S Manley (Wal) 69 68 70 73 70; M Millar (Aus) 74 67 69 68 72;
351 P Mejow (Ger) 69 70 74 70 68; H Leon (Chi) 73 72 69 68 69; M Iten (Sui) 74 70 67 71 69;
352 S Henry (Sco) 78 69 68 69 68; J Hansen (Den) 72 73 70 69 68; R McGee (Irl) 72 73 70 67 70;
353 S Khan (Eng) 72 71 73 68 69; E Johansen (Nor) 68 73 72 70 70; E Park (Kor) 72 72 66 73 70; K Samooja (Fin) 73 69 69 70 72;
354 S Webster (Eng) 69 74 73 68 70; S Sharma (Ind) 75 73 68 67 71; P Maddy (Eng) 77 68 70 67 72; M Lafeber (Ned) 68 73 73 68 72; A Arnaus (Esp) 70 70 71 70 73;
355 A Hall (Aus) 73 69 70 71 72; J Huldahl (Den) 67 75 69 72 72; S Tiley (Eng) 72 70 68 73 72;
356 K Koivu (am) (Fin) 70 70 72 72 72;
361 A Cañizares (Esp) 73 73 70 68 77