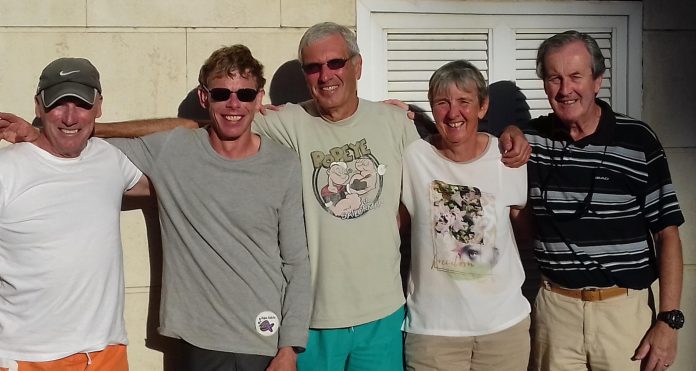 After the events of the previous week, where boats were capsizing and being blown onto the rocky reef, this week, October 29th, seemed like a stroll in the park. Race Officer John Down was scratching his head as to whether a race was even possible as not a ripple could be seen on the Mar Menor.
By 11 am there was just a sign of wind and Martin and Steve were dispatched in the support boat to lay a triangular course. By 11.40 there was enough of a breeze to get the race under way, a great sight as 11 boats made their way to the start.
Unfortunately for Janice and Derek, the crew of Mistral, they couldn't make the start line as they discovered their boat had suffered damage after going on the reef the previous week but, new guest sailors Esther and Jesus, aboard their F18 catamaran, did compete.
In the light winds the single handed boats soon developed a substantial lead whilst the 18ft and 21ft Balaton Group boats struggled to get around the course. The race was shortened to 3 laps giving the widespread crews the chance of some quick refreshment ashore before the afternoon race.
For this the course was set as a figure of eight and now, with the wind picking up, the boats rushed to get to the start line. Ashore it was good to see Bob, with his newly acquired Laser 1 (single hander), feverishly preparing it and getting it on to the water for the first time in time to join the race.
From the control tower our time keepers Carol and Rosie kept a close eye on the boats as they dodged and weaved through what had become a challenging course. As the results show the winds favoured the lighter boats but the day was enjoyed by all.
The results were
Morning Race: Topaz Duo, Julian Singleton. Shoestring Tres, Tug Wilson. Hartley 12.2, Don Clarke.
Afternoon Race: Topaz Duo, Julian Singleton. Shoestring Tres, Tug Wilson. Shoestring Uno, Dianne Hardwick/Vernon O'Byrne.
Photo: From left to right, Don Clarke, Julkian Singleton, Tug Wilson, Dianne Hardwick, Vernon O'Byrne.