For the first time in many weeks there was a good wind all day for the SAMM Pursuit Racing on October 15th, 8-10 knots for the morning race and 10-12 knots for the afternoon.
Five new people joined the regular competitors, three crewed in some of the regular boats, but a young Spanish couple, Esther Gonzales and Jesús Saura competed in their Mattia F18 catamaran. If the regular fleet were Ford Focus's or Renault Magans then the F19 is a formula 1 race car.
A pursuit race lasts 90 minutes with the slowest boat starting first, fastest last and, if all things were equal they would all be neck and neck at the end of the 90 minutes.
Nine boats came to the morning start and all the fleet stared within 17 minutes of the first boat except the F18, which is so fast its start was 45 minutes later.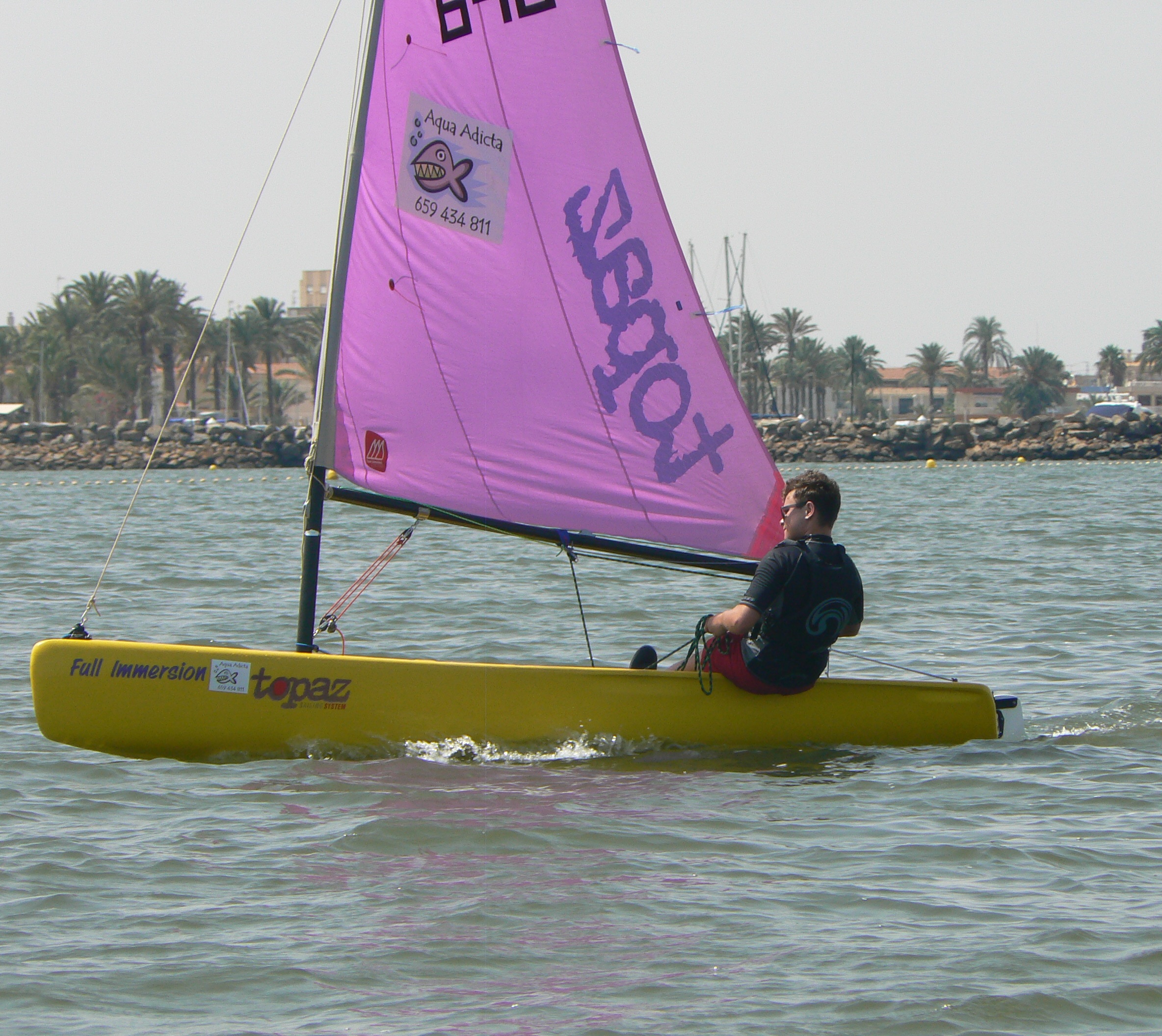 A good race ensued and gradually the first away were being caught and passed by the chasers so that with 7 ½ minutes to go the fifth boat to start, the Topaz Duo, rounded the mark to start the 5th lap followed by the F18, which had been steaming round the course, just 45 seconds later. That last 6 ½ minutes was enough for the F18 to take the lead just before the finish gun sounded.
Esther and Jesús were both surprised and jubilant but could not stay for the afternoon race.
With one other skipper going home to watch a football match only seven boats started the afternoon race. The Sailfish 18's "Sirocco" and "Mistral" were first away and "Sirocco" held this lead for 3 laps but had been passed by the Gamba "Shoestring Uno" and the Topaz by the end of lap 4.
The Topaz had started 4th but made up a place every lap so 4th, 3rd, 2nd, and 1st and held the lead until the finish signal. It later transpired that the Topaz had capsized at one time but recovered to continue, so an excellent performance to finish in the lead.
Final positions:
Morning race 1st Mattia F18, 2nd Topaz Duo, 3rd Gamba, 4th Laser 2000 "Dos", 5th Sailfish 18 "Mistral"
Afternoon race 1st Topaz Duo, 2nd Gamba, 3rd Laser 2000 "Tres", 4th Sailfish 18 "Mistral", 5th Laser 2000 "Dos"