The RBL were in the brass last Friday evening, Just Brass in fact, with the assistance of JB Brass Band, under the direction of Jane Illingworth.
Over 300 people attended the outdoor concert, billed as the 'Best of Brass' which was held in the beautiful outdoor setting of the Olympia Restaurant in Mil Palmeras for what was an evening of music, flamenco and fun, the primary aim of which was to raise funds for The Royal British Legion.
The event was hosted by the President of the Orihuela Costa and District Branch, Pastor Keith Brown although for the two JB Brass Band segments he handed over to band compere Ian Gibson who, with his own brand of humour, guided the audience through the sessions of military marches, traditional British and Spanish standards, as well as music from the classics, theatre and films.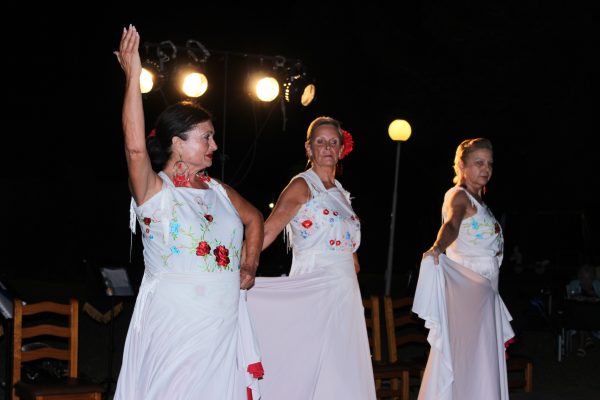 While the band took a well-deserved break the Francisca Samper Flamenco Troupe took to the stage with their own very emotional style of dance. As the ladies expressed their emotions in a wonderful test of stamina, most of the troupe being of advancing years, they provided us all with a masterful taste of Spain. As we watched the ladies perform their routine there was absolutely no need to speak the language to get drawn into their captivating performances — or set your toes tapping.
Such a pity that Francisca was unable to dance herself but nevertheless a wonderful performance by her troupe. "Flamenco, Flamenco."
The event itself raised almost 1800 euros for the Royal British Legion thanks to the hard work of many Branch members and it is certainly an evening that must be repeated in the future.
The combination of the two, JB Just Brass and the Flamenco troupe was pure entertainment. A magnificent evening of brass and flamenco with music to stir every soul.
And a remark made to me by one audience member summarised the feelings, as she said: 'An enjoyable evening packed full of entertainment; I hope to see Just Brass performing here again in the future!'
JB Just Brass include in their ranks players from many of the top UK brass bands, including Black Dyke and Fodens, with two players from Brighouse and Rastrick and Faireys Brass bands travelling out from England just for the night.
Next up for JB Brass Band are two Charity Proms concerts on Friday 13th and Saturday 14th October. For information and details of how you can obtain tickets pop into TPS Homes in San Miguel or email: stuart_justbrass@yahoo.co.uk