Reduced to ashes in just two hours, an industrial warehouse of 2,100 metres located in the hamlet of Arneva (Orihuela), completely devastated by fire.
Although firemen from the Provincial Consortium of Firefighters, together with helicopter support, were unable to save the carpentry workshop from total destruction, they were able to stop the fire spreading beyond its immediate vicinity, which included a large fuel store situated just 200 metres from the blaze.
The fire took hold at 1245 hours in the storage yard. Only five minutes later, the firefighters from the Parque de Orihuela had arrived on the scene, with all the employees safely evacuated with one family also evicted from a nearby home as a precaution.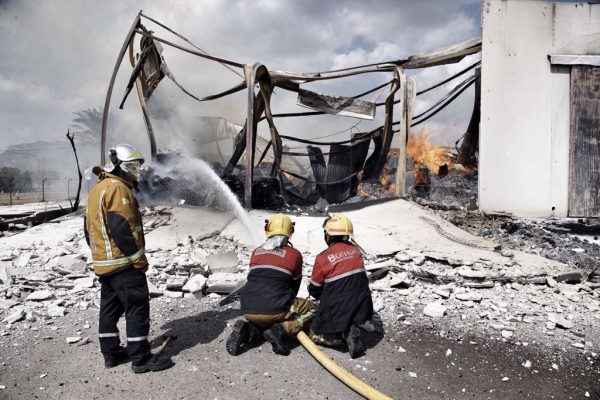 According to consortium sources, the company Hijos de Antonio Huertas SL was dedicated to the production of wooden products, mainly containers and packing cases, as a result of which the fire spread quickly throughout the industrial warehouse, where hundreds of pallets were stored. Firefighters from Torrevieja, Almoradí and Pilar de la Horadada were also deployed to the scene.
Although initial hopes were that the fire could be put out it soon became evident that this would not be possible because of the intensity of the flames and the rapid combustion of the wooden products. Once firefighters realised this to be the case they then set about ensuring that the fire could not spread beyond the immediate perimeter of the woodyard.
Efforts were focused on preventing the fire from reaching a fuel storage facility that was located just beyond the perimeter of the yard that was also at risk of an explosion. The column of smoke as a result of the fire was visible from several miles around
In the meantime, Local Police agents were busy diverting traffic to Arneva-Hurchillo, in the area of "El Tanque".
Firefighters eventually gained control of the fire by about 3 pm with the danger significantly reduced by about 5pm, at which time the aerial support was withdrawn. Firefighters then continued to work at the site for several more hours to prevent the flames regaining hold.