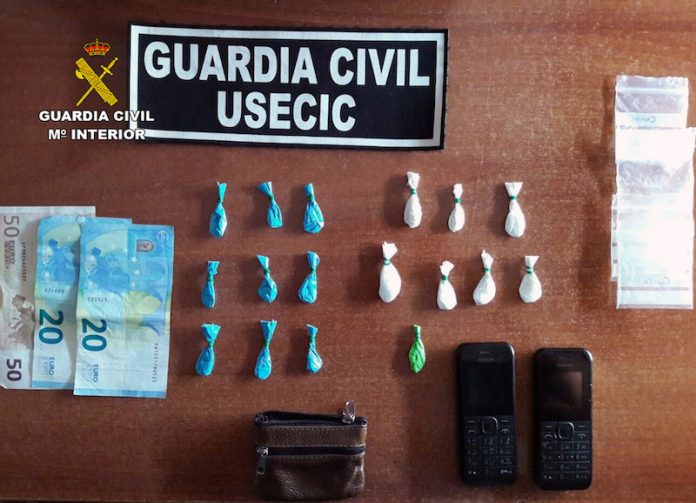 The break-up of drug retailing networks remains one of the main targets of the Civil Guard as the San Javier detachment expressed delight as it made its third arrest in recent days of an individual for retailing narcotics in the vicinity of a recreational area of ​​the town. The most recent arrest was of a dealer who had six different types of drugs in his possession, described by one officer as "a real walking supermarket."
The Civil Guard say that they have developed an action plan which is aimed at preventing and prosecuting drug trafficking, which began when members of their Citizen Security Unit established a series of preventive measures developed in the 'Coastal Reinforcement Plan 2017', serving the Municipality of San Javier.
A spokesman said that surveillance units were set up in the vicinity of late night leisure establishments frequented by young people. They were mainly aimed at monitoring car parks in those areas.
One early success was on Friday evening when officers saw a man walk into one the car parks, and on realising that he was being observed, quickly through a package toward the sea.
This immediately generated suspicion which resulted in officers requesting identification. After searching the individual, the agents found a purse on the sea front containing six different narcotic substances. The man was immediately arrested and charged with drug trafficking offences.
The purse contained three methamphetamine (crystal) packages, ten ketamine packs and four speed packages. They also confiscated two mobile phones and cash.
The detainee was a 40 year old Spaniard, resident of La Unión and has since been made available to the Court of Instruction number 5 of San Javier (Murcia).