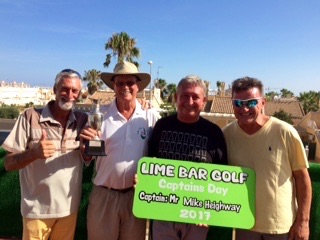 The Competition was held at La Torre Golf Club on Wednesday the 24th July 2017.
On a scorching hot day 26 players turned up at La Torre Golf Club for Captain's Day. The day began with a putting competition with each player having to down a stiff tot before attempting the challenge of a 20m putt across and down an undulating putting green. All was going well until the last putt of the day by Captain Mike Heighway ( who had to use a left handed putter). Mike did what he does best…..and putted the ball straight into the hole!!! Some people have all the luck!!!
Unknown teams of 4 players set out in different groups playing the Stableford format. The course was in great condition although the bunkers proved to be a problem for many and this was reflected in the scores. A fantastic day was had by all and all players returned to the Lime Bar for prize giving and drinks and buffet very kindly provided by the Lime Bar. Many thanks to Pete and the Lime Bar Team.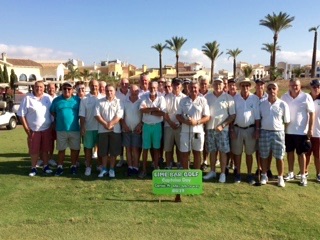 Results were as follows:-
Putting Competition – Mike Heighway
Front 9 Winner – J Nicholls 19pts
Back 9 Winner – M Heighway 15pts (Who very kindly donated his prize to 2nd place K Farrow)
Nearest to Captain's Drive – J Roberts
Nearest the Pin no. 3. – M Heighway
Nearest the Pin no. 5. – J McGregor
Nearest the Pin no. 9. – D Wilkinson
Nearest the Pin no. 15 – A Thorpe
Nearest the Pin no. 17 – D Da Silva
Team Winners
1st place – E Alfred, J McGregor, G Mitchell (124 pts) 2nd place – P Gillespie, J Nicholl, D Wilkinson, R Johnstone (117 pts) 3rd place – K Farrow, E Allen, J Curley, J Williams (116 pts)