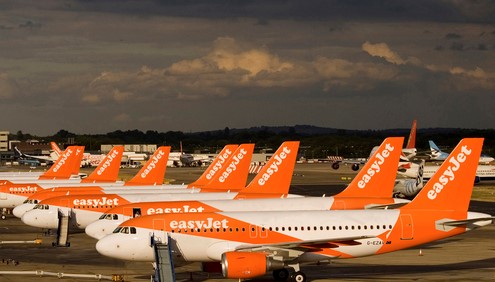 easyJet flew 74m passengers in 2016 with record 468,300 passengers requiring special assistance – a doubling since 2010
easyJet, Europe's leading airline, will welcome over 11,500,000 passengers on its flights this summer and of those 67,000 will require some form of assistance during their travels.
In 2016, easyJet welcomed over 74m passengers on its flights and of those 468,343 required some form of assistance during their travels. This was a 10% growth from 2015 when 426,282 passengers requiring some form of assistance travelled and a doubling since 2010 when 232,703 passengers requiring some form of assistance travelled.
Whilst easyJet carries nearly half a million passengers who require some form of assistance every year many passengers requiring special assistance are still deterred from flying through concerns around how well they will be looked after.
easyJet has a range of measures for passengers who require special assistance including a customer contact centre team who are fully-trained in special assistance issues as well as on-board wheelchairs on all aircraft. Additionally, easyJet crew and its ground agents are trained on special assistance, including how to identify and support passengers with 'hidden disabilities'.
The airline has recently improved it's Help pages for customers with a disability but we know that there is more to do, particularly for people with less visibly obvious disabilities. We've started to talk to leading charities which represent people with a range of such disabilities and will be working with them over the coming months to see how we can make travel with us easier. It's important for any customer requiring special assistance to let us know at least 48 hours before they fly so we can make the necessary arrangements.
The customer satisfaction amongst easyJet passengers with reduced mobility was 84% in the 2016 calendar year, which was higher than for customers in general.
As societies across Europe age it is very likely that more people will need some form of assistance when travelling in the future and easyJet has a range of assistance options available to support passengers with disabilities and those facing challenges which means that they require additional support.
In 2012 easyJet established a committee of European experts (ESAAG – the easyJet Special Assistance Advisory Group) to provide guidance and advice to the airline on the services it provides to passengers who require special assistance. The group is chaired by Lord David Blunkett and is made up of experts in disability issues and accessible travel. It meets regularly with easyJet managers to discuss the company's proposals, best practice and emerging issues.
Speaking about this Lord Blunkett commented; "A record number of passengers are due to travel with easyJet over summer 2017 to a range of destinations across Europe including passengers who will require some form of assistance and this number continues to grow.
"The services offered by airlines and airports for travellers requiring special assistance have greatly improved. ESAAG has been able to provide feedback and guidance to easyJet on the services it provides to passengers who require special assistance. Through this we have delivered real improvements for passengers which is borne out by customer research which shows satisfaction to those provided with special assistance is very high.
"Passengers who need some extra help should feel confident to travel, as there is a range of assistance available. It is important to remember to contact the airline on-line or by phone the airline prior to departure so they can be fully prepared for your arrival and provide the best support possible to ensure your holiday or business trip gets off to a flying start.
"However, there are still major challenges, not least the interface between the airline and airports here and on the European continent, including the responsibility of airports to provide assistance before boarding the flight and baggage handling have often critical equipment. We are still working on this. "
James Fremantle, Consumer Enforcement Manager at the Civil Aviation Authority, said: "The legal rights of air passengers with a disability or reduced mobility mean they are entitled to free assistance when passing through an airport and on board an aircraft.
"These rights have helped ensure thousands more people now have the confidence to fly, in the knowledge they will be supported and can enjoy positive new travel experiences as a result.
"This year we expect more than two and a half million passengers with a disability or reduced mobility will take flights in and out of the UK. We will continue to work with airports and airlines to ensure that assistance is of a high quality and trips are completed as smoothly as possible."
easyJet has reviewed all stages in its passengers' journey to ensure that it is as easy as possible and the airline has invested significantly in providing assistance for all needs and in the training of its crew and ground operations staff who provide special assistance to our passengers. Details on assistance available can be viewed at http://www.easyjet.com/en/help/preparing-to-fly/special-assistance
ESAAG is seeking to improve the whole journey, in the airport and on the aircraft, for passengers who need special assistance. As a proof of a lasting commitment, the ESAAG launched in April 2015 its Pan-European Charter on Meeting the Needs of Disabled Air Travellers at a roundtable in the European Parliament and it has since been discussed at a UK aviation industry session jointly hosted by ESAAG and the UK CAA. The Charter recommends best practice for all aspects of aviation special assistance.
ESAAG has also helped easyJet to introduce on-board wheelchairs across its fleet and has been involved in changes to cabin layout, which includes a newly designed accessible toilet. ESAAG has also had a role in wider easyJet projects, such as the consolidation of easyJet operations at London Gatwick into the North Terminal and digital developments such as improved information and advice, the on-going reconfiguration of the easyJet website and apps for use in navigating airports.