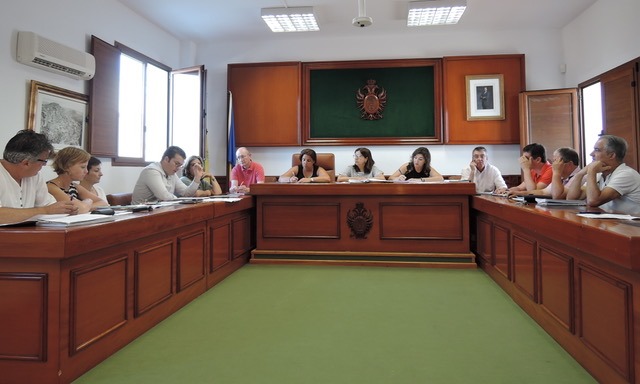 Mojácar Council recently held an extraordinary plenary session at the request of the Corporation's opposition members to discuss their aim of modifying the layout of the next phase of Mojácar's promenade. Also, a request was made to revoke the original project's approved expropriations and, to ask the Dirección General de Costas to make an alternative route.
The opposition presented a plan they had made, which envisaged reducing the width of the promenade and moving the cycle path to the area by the road, with the object of reducing the impact on the beach bars.
In turn, Rosa María Cano, Mojácar's Mayor, expressed her surprise at the opposition for not raising any objections during the legal deadline for doing so. The plans were publicly available in July last year and they did not come forward with any complaint or alternative during the year, before its approval by the Costas.
The PP (Popular Party) group of Mojácar's Municipal Government believes that the plan submitted through the Dirección General de Costas is the best possible, in order to continue with the same structural line as the previous sections, whilst maintaining the aesthetics and achieving the concept of the Paseo Marítimo extension.
Rosa María Cano assured the bar owners that the chiringuitos will not, under any circumstances, be below the level of the promenade wall or lose their sea views, as the plan will be scaled to a height so that this situation cannot arise.
With regard to the relocation of the cycle path to pass in front of the entrances to the beach bars alongside the road traffic, the Mayor stated that the engineers have advised against this on the grounds of danger to both cyclists and pedestrians.
As for the fear that many workers could possibly lose their job, she said that the Paseo Marítimo's new section "will not take away anyone's job, on the contrary, it will be much more attractive for people to enter as at the moment they are not visible from the road" citing those chiringuitos that are functioning perfectly well in the existing stretches of promenade as an example.
On the subject of the alleged lack of dialogue with those affected, the Mayor stressed that she is continuing to hold meetings to reach agreements on the expropriations, which she hopes will continue through further discussions.
The motion submitted by the opposition groups was rejected, by five votes in favour and eight against.
Another burning item on the agenda was the controversy raised by a group of professional DJs due to their conceived impossibility of being able to work in Mojácar. The Mayor reminded them of the need for premises to have the appropriate license and adequate facilities for hiring them, an essential legal requirement.