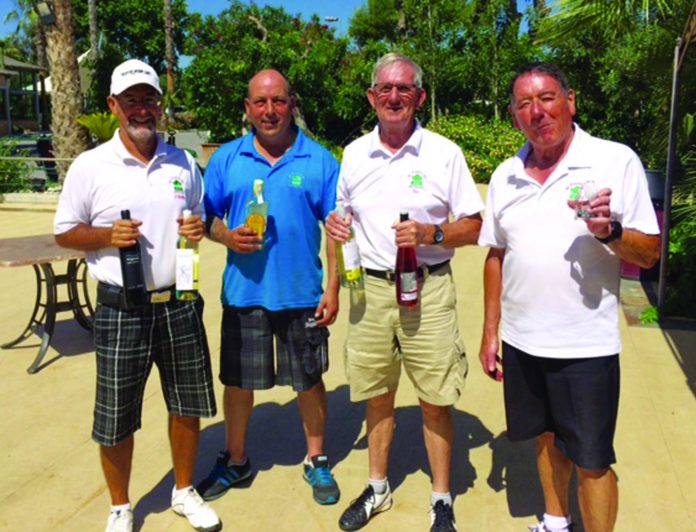 On Tuesday 23rd May, 14 members and a guest competed in a tricky individual competition involving the use of 2 clubs and a putter – each player choosing the clubs to be used before play commenced.
The winner turned out to be the solo guest, Jason Mainwaring, who had a very creditable return of 37 Stableford points and will be rewarded for his efforts with a handicap cut.
Competing in his first club competition since returning to Spain for the summer from Dubai – TO GET OUT OF THE HEAT – was John Wilby, who very nearly scooped the prizes with 2 nearest the pins and 3rd place. Pride of place, however, must go to Bryan Watson, who recorded a Hole-in-One on Hole 8 – the 2nd time he has performed the feat on this hole.
Nearest the Pin, Holes 2 & 5 – John Wilby. 3rd Place, Handicap 3 – John Wilby, 33 points.
2nd Place, Handicap 7 – Ian Henderson, 34 points. 1st Place, Handicap 14 – Jason Mainwaring, 37 points.
The picture shows from left to right – John Wilby – Jason Mainwaring – Ian Henderson – Bryan Watson.
If anyone would like to join our Society, we play at El Plantio Golf Club on Tuesday, Friday and Sunday. We use both courses – the Par 3 nine hole course and the main 18 hole course, so we cater for all abilities. The membership rates are very competitive, so call for more details. Anyone who wishes to play in the Society as a guest or join as a new member, contact Ian Henderson on 966 716 616 or 636 116 230
David Swann