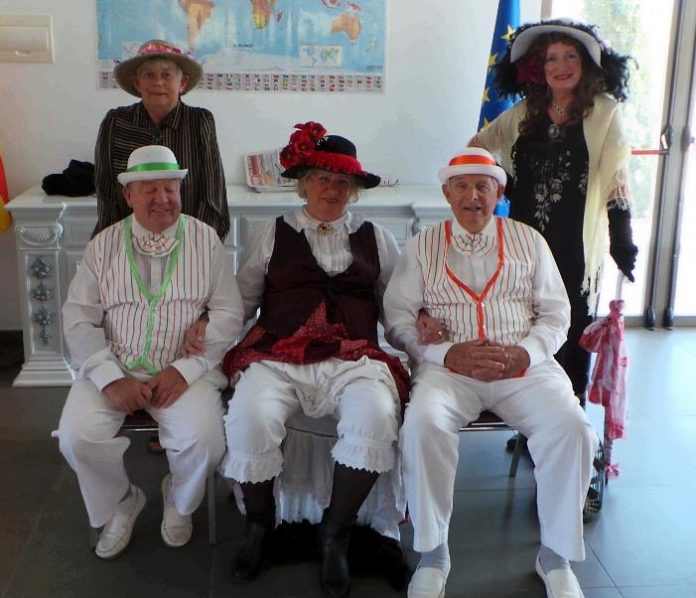 The members of Campoverde Theatre Group are pleased to offer another great evening of entertainment. Come and enjoy our supper show, when we will pay homage to that classic BBC programme The Good Old Days, which is currently being broadcast on BB4 television every Friday evening. Just like the television programme our compare who has been busy finding long words and flowery language, just like Leonard Sachs.
The show is full of famous Olde Time songs that you will have learnt from your parents and grandparents, and you will be encouraged to join the company and have a good sing along to these old standards. The show will have something for everyone, singing, dancing, humour and even a little magic. Olde Tyme Music Hall was one a classic type of British theatre that made many stars house hold names in the days before television.
Help at Home has been selected as the chosen charity for this show. This excellent local charity provides invaluable help to local people in times of acute need. People supported by Help at Home include those who are ill, people who need short term help, transport to health services, hospital visiting; and much more. Come along and help us raise funds for this very worthwhile charity.
Although it is not essential, it is hoped that people get into the spirit of music hall and dress up in their own interpretation of Old Tyme costume, there will be a prize for the best outfit!
The supper show will be performed on Wednesday 3rd, Thursday 4th and Friday 5th May at the Fiesta Plaza formally known as Breakaways, Calle Republica Dominica, Urb. Pueblo Principe. Tickets cost 10€ which includes a meal and the show. Tickets are available from the Ticket Line: ctgticketline@gmail.com or telephone : 626 772 256. You can also purchase tickets directly from The Book Shop, San Miguel or why not drop into the Community Centre, Blue Lagoon (Monday and Wednesday (1-3pm).