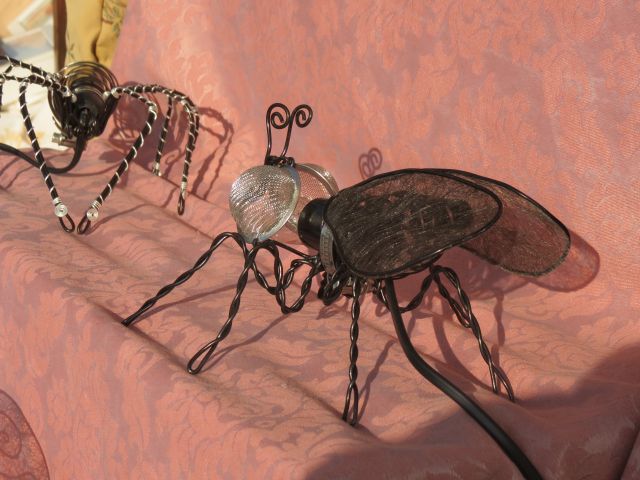 If you like to watch skilled craftsmen and women at work, you should perhaps make a note in your diary of the Craft Fair that will be held in Calpe on the weekend of 28th of April to the 1st of May. That's when about thirty craft people will set up shop around the church in the middle of Calpe Old Town.
Not only will they show (and sell) what they have made, you can also watch most of them at work, ask questions on techniques, tools and materials, and quite a few even speak some English (or French or German). Glass blower José, who was here at Christmas, will come again and Susana will run workshops on actually making paper. Then there will be people working with leather, wood and paper, people modelling clay, painting or getting knotted (macramé) and making jewelry, all people who love their work and want you to share the pleasure.
There will also be workshops for children, a small Ferris wheel, old-fashioned table games and a few stalls with traditional regional delicacies: Felipe sells pan de higos, made from dried figs and almonds, and will show you how arrop i tallaetes is made, a Valencian speciality made from grape syrup and pieces of pumpkin. Several times a day Luisa makes fresh cheese. And all this with soft background music, nice tunes from all over the world. A charming acrobat will enliven the fair with her surprising acts and give a lively fire show in the evenings.
The fair is organised by Amata, the regional craft association that has spent the last 20 years organising the few real craft markets to be found in this part of Spain. Everything on the stalls has to be made by hand and has to be made by the person actually on the stall. It's not easy to make a living in this fashion, when there is so much competition from people selling mainly imported goods, but it can be done.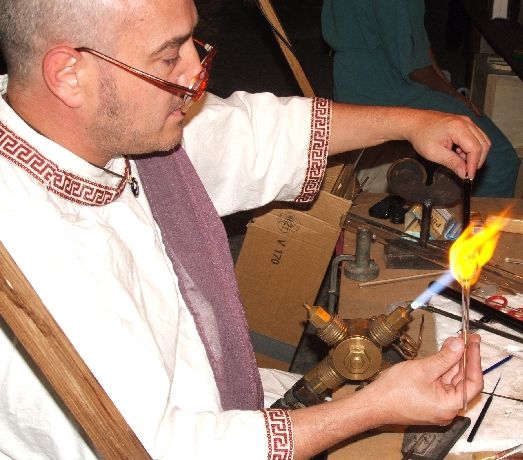 Calpe is mainly known for its Peñón de Ifach, the big rock in the sea that can be seen from miles away and is often used as a promotional image for the Costa Blanca. But Calpe also has a nice old town centre with part of the original town walls, narrow streets with flowerpots on the gaily painted steps, and many bars and restaurants who put out their tables out in the street or on tiny little squares.
The Craft Fair will be held right in the middle of all this, around the church, and opens on Friday the 28th of April at about 6 pm; on Saturday and Sunday the opening times are from 11am till 9 pm or later and on Monday (bank holiday) the stalls stay open till (Spanish) lunchtime.
For more information, ring 639 979 678, we even speak English. You can find photographs of the Christmas market in Calpe (different theme, but with the same quality crafts) at http://www.amata.es/Calpe16.html.