The Spring Fair at MJ's Bar Restaurant in Quesada, just by the Arches, gets underway at 11am on Tuesday 11 April.
The occasion kicks off at 12 noon with a Fashion Show which will be followed by a whole series of events during the course of the day.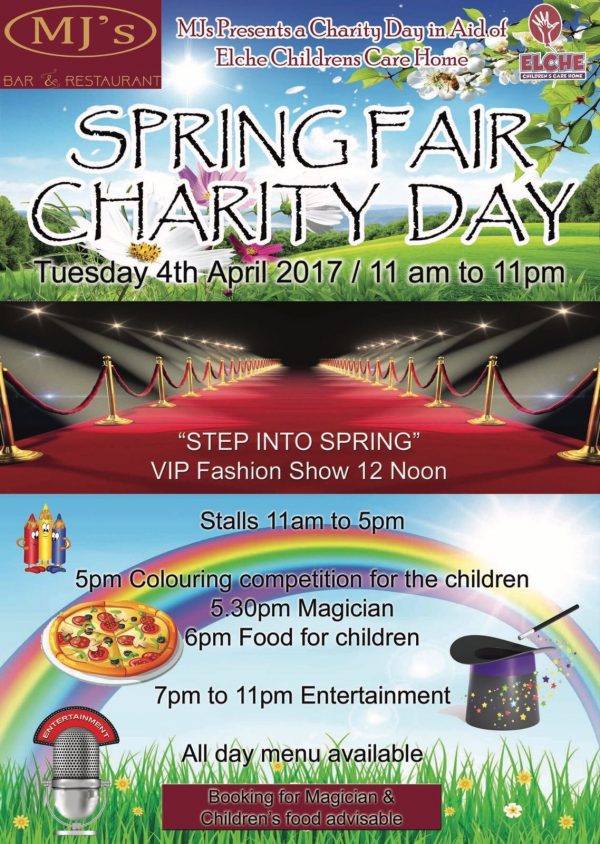 If you would like a Free VIP Ticket/s for the Step into Spring Fashion Show you need to email sueinthesun@hotmail.co.uk wo will send you validation numbers – you can then either print the tickets yourself or they can be left for you to collect from MJ's Bar Restaurant by The Aches in Quesada
Pat a Cake Pat a Cake Baker's Man can you bake me a cake just as fast as you can! You are also invited to be Mary Berry for the Day at The Quesada Bakeaway!! If you would like to enter a Victoria Sandwich Cake then, once again contact sueinthesun@hotmail.co.uk
This is a team effort and will be hosted by MJ's at their 11am 'till 11pm Spring Fair, orchestrated by Julie and judged during the morning with a meal for two as a prize for the winner – a cookery lesson for the runner up and a mystery prize for 3rd place….. it will be a fun competition and during the whole day there will be FREE TEA and A TASTE OF CAKE for everyone – you will need a voucher number for the free tea and cake and you can get this by sending an email to sueinthesun@hotmail.co.uk or by calling in to MJ's which is at the Arches in Quesada.
There will be two raffles for ECCH one during the day and one for the evening and a voluntary €1 donation for Elche Children's Care Home is requested on the door.
A fun filled day is planned – doors open at 11.00 with a Fashion Show with complimentary cava at 12.00 this will be followed by demonstrations during the afternoon – Hopi Ear Candling, Flower Arranging, Painting, Threading and Tinting of eyebrows and even spray tanning for the very brave!