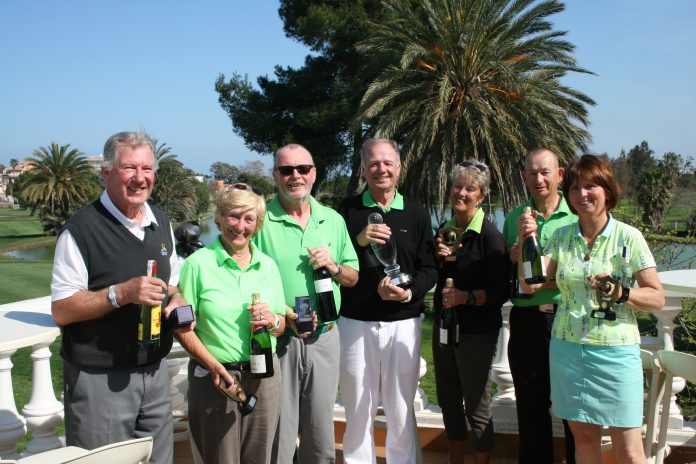 On Friday 17th March Montgo Golf Society played a stableford competition at Oliva Nova for the St Patrick's Day Trophy, sponsored by John and Mary Feek. After a slightly hazy start we were treated to a lovely sunny day, however there was a distinctly cool edge to the breeze which ensured jumpers stayed on for the duration of the round.
With the sunshine and recent rain has come some rapid growth, and whilst the fairways were beautifully cut the rough was extremely challenging although this did not stop the usual suspects from returning some highly respectable scores.
In first place was the impressive John Snelling with an excellent 38 points off 10.7, taking another step towards a single figure handicap by winning his third competition of the year. In second place was Dennis Coe (16.1), continuing his fine return to form with the same score but missing out on countback.
In third place was another consistent performer, Gerian van Ooijen, with 36 points off 7.2 however the biggest cheer was reserved for Bob Marsden who defied his recent ill health with a battling 35 points off 27.9 to take fourth place. Nearest the pins prizes were won by Geoff Willcock on the 3rd, Jan Jones on the 11th, and Penny Barden on the 16th, whilst the longest drive on the 8th trophies went to John Snelling for the men and Gerian van Ooijen for the ladies.
Our stock of Montgo balls took a real hammering with Barry Butler, Jan Jones, Roy Jones, John Feek, Ros Fletcher, Colin Foster, and Gerian van Ooijen all recording two's.
Our next event is on the 31st March when we will be playing a bogey competition at Oliva Nova, sponsored by Brian and Feli Baybut.