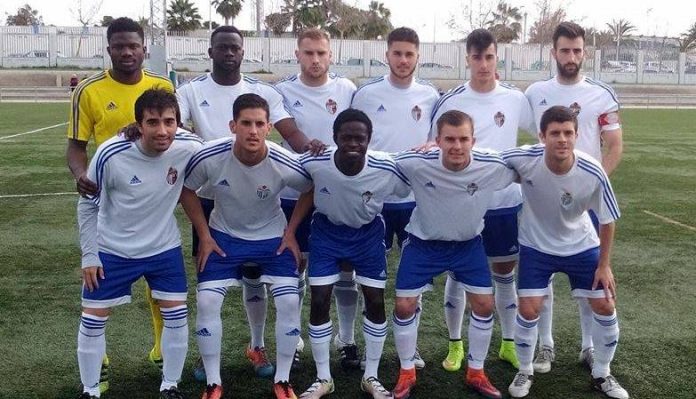 CD TORREVIEJA – 0 ONTENIENTE CF – 2
Time is running out for Pedreno and his not so merry men, for this latest defeat has firmly struck another nail in their div 3 survival coffin!! It´s over 10 years since Torry last saw action in the Preferente division, but a return to local Alicante based football is now very much a reality.
As they have not won since November, combined with goals having dried up completely, it´s no surprise really. Having said all that, arbitro Romero Perez won few friends inside Nelson Mandela Stadium yesterday, when he controversially gifted Onteniente their 2 goals.
High flying Onteniente threatened early on when Rafeta executed an audacious 30 yard lob, which only just evaded the bar with keeper Buba well off his line. On 13 mins Torry should have equalised, but Lewis failed to find the target from an inch perfect Beltran right wing cross. Arbitro Perez bloomer numero uno arrived on 15 mins.
How he failed to spot a blatant push on Torry midfielder Nica is beyond me, then within a blink of the eye Vicente had deflected an Ivan shot into his own net. It was cruel, but hey, Spanish refs at this level are not the best!! To make matters worse, 15 mins later he completely broke the hearts of home players and fans alike.
A thunderous shot from the right struck Lewis high on the arm inside the penalty area, and to everyone´s horror Perez awarded a penalty. There was no way Lewis could have prevented it striking his arm, and was justifiable devastated at the injustice. Up stepped Domenech to firmly strike the spot kick, brilliantly saved by penalty specialist Buba, before heading home the rebound to once more rub salt into Torry´s gaping wounds.
Buba came to his sides rescue again moments later, superbly tipping behind another accurately placed long distance chip shot, this time by Juanan. A Lewis cross from the left on 37 mins, found Luis Carlos at the far post, but alas he too failed to hit the target.
The visitors were prepared to sit back in the 2nd half, safe in the knowledge that their hosts did not have the wherewithal to break a firm rear guard. And so it proved. Pastor provided the one and only moment to remember.
Latching onto a through ball on 49 mins, he faced a 1 on 1 with keeper Raul managing a shot on target, only to see it cleared off the line by a defender. Bookings for Vicente, Martin and Javi Meca added to Torry´s woe, who now have the small matter of a lengthy trip to 2nd in the table Castellon next weekend. Vamos Torry.
BY STEVE HIBBERD