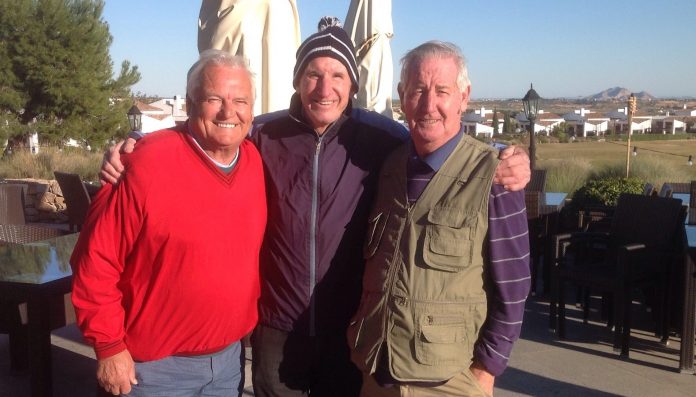 Forty-six members and one guest turned up to the Jack Nicklaus designed El Valle, and a number probably wished they hadn't by the round's end. A cold north-westerly wind blowing at around 30 km/hr, but with gusts well over 40, made life difficult, especially on the first and half of the back 9 holes which were played straight in to it.
Balls oscillating when being stood over to putt, a battle just to stand over them, some pin positions close to slopes leading off the greens and the profusion of bunkers caused havoc to the score cards.
Whilst there was no prize for the highest number of blobs, and many players were up near double figures, the low scoring in all categories reflects how hard it was. Only John Aitchison with his 30 points got anywhere near mastering the conditions.
The stableford competition results were the following:
Bronze Category: 5th Eva Leidstrom (21), 4th Hayden Williams (24 on CB), 3rd Grattan Forber (24 on CB), 2nd Chris Hamblett (25 on CB) and 1st, for the second week in a row, Norman McBride also with 25 pts.
Silver Category: 5th Norman Cahill (24), 4th Ken Flaherty (26 on CB), 3rd Paula Haggart (26 on CB), 2nd William Fenn (26 on CB), and 1st David Wright with 27 pts.
Gold Category: 5th Robin Eastman (25), 4th Keven Mitchell (27), 3rd Bjorn Pettersson (29), 2nd Tony Smale (30) and 1st, easily with the day's best score, John Aitchison with 33 pts.
Keep up to date with all SMGS matters by logging on to our website www.smgs.org or simply give Theo Boelhouwer a call on 694494824 to find out more about the society and its weekly golf get-togethers. Next Wednesday, Feb 15th, we will be at Las Colinas.