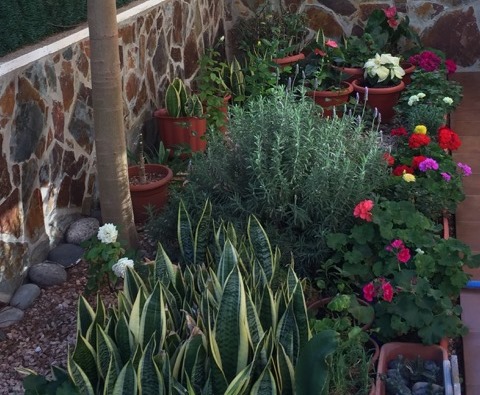 I have always enjoyed gardening. I don't mean the heavy-duty grind of growing vegetables, cutting hedges or mowing the lawn, but setting and growing plants that actually do something to lift the spirit.
I like looking at, and admiring other people's gardens, visiting National Trust and other gardens in the UK and finding out more about particular plants that take my fancy.
Of course, when we moved to Spain, my gardening habits had to abruptly change. Initially, I was faced with a barren plot, and mostly covered with those dreaded reddish-brown outdoor tiles that the Spanish love so much. I was fortunate, because there was a soil border where I could indulge my gardening fancies, and where a helpful neighbour encouraged me to install an underground watering system to ensure survival of most of my newly acquired plants during some of those blistering hot summer months in the Costa Blanca.
Later, when we moved to the Canary Islands, we had another problem. I was faced with the torment of living in an apartment with no outdoor space. The best that I could achieve was a few, mostly miserable looking pot plants on a table close to one of the few windows that had some light.
Although it was only planned as a temporary move, I think it was one of my most miserable experiences in Spain. How I craved for an outdoor space where I could grow a few plants. It was at that point that I realised how much plants and the opportunity for a little light gardening meant to me.
When we finally moved to our present home, we were fortunate in finding a property where we could have a garden with shrubs and maybe plant a small tree or two. Once again, the builders had unhelpfully laid most of the outdoor space with those wretched patio tiles, but these were quite easily removed and replaced with soil. Beneath the soil we installed a watering system, and covered the soil with plastic sheeting to cut down on the weeding, and after a final layer of stones, we began to create our garden.
I am not a great lover of pots on patios, since we are surrounded by neighbours who, in an initial surge of gardening enthusiasm, buy a collection of those shiny blue, concrete pots, install a few beautiful plants and then forget to water them.
Many patios that I see are little more than graveyards for stumps of plants withering in these blue, shiny concrete planters. Whilst it is a huge generalisation, there is some truth in the fact that many Spanish people have little patience or understanding of plants and gardens. Their first inclination when they see bare soil is to concrete it over and lay yet more patio tiles.
Over the years that we have lived in Spain, I have learned not to grow plants that I used to love in the UK. It took me several years to finally understand the need to grow plants that suit local growing conditions. I don't mean cactus either; I don't mind some of the non-prickly, flowering varieties, but they are not really my favourite plants. For me, this has meant moving away from growing azaleas, rhododendrons and camellias that were my favourites when I lived in Dorset.
I now grow plants that include lavender, roses, anthuriums, aloe vera and even geraniums, which I always detested in the UK, to ensure all round colour and interest, as well as the ability to survive the excessive heat, dust and windy conditions that are now part of life in our Canarian garden.
Roses grow exceptionally well here, and I have several that are many years old and need to be replaced. However, when trying to find new roses in local garden centres I am told that they rarely stock roses, since they do not grow well in the Canary Islands. Well, they do grow well in our garden and although I feed them from time to time, I never have to spray them against black spot and other conditions that can be the bane of gardeners in the UK.
Although many of our UK and Irish friends understand and appreciate our small garden, the reaction from our Spanish friends and neighbours is usually one of amused tolerance, and with great concern expressed about what they perceive as a large water bill, as well as all the extra work that they think is necessary in maintaining even a small garden.
Too much is often made of national characteristics and cultural differences; however, for me, the love or hate of gardening is one of the big differences that I see between British and Spanish people. For me, it is time and money well spent. Our dog, Bella, enjoys helping me in the garden too.
If you enjoyed this article, take a look at Barrie's websites: http://barriemahoney.com and http://thecanaryislander.com or read his latest book, 'Footprints in the Sand' (ISBN: 9780995602717). Available in paperback, as well as Kindle editions.
© Barrie Mahoney