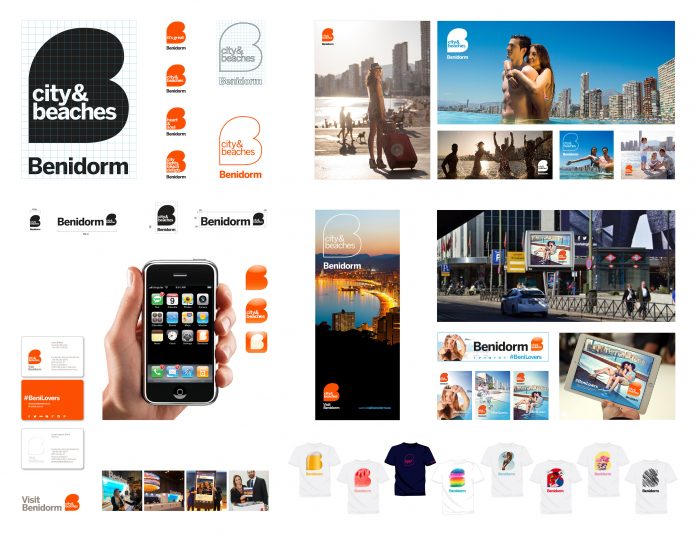 Hot on the heels of topping a crowdsourced public tender for freshly branding the famous holiday resort of Benidorm, the small but sharp-thinking Spanish agency, Fluentis, has started 2017 with two international awards for its sunny, highly engaging logo package.
The Gold award in the destinations category of the INTERNATIONAL VISUAL IDENTITY AWARDS 2016 brings confirmation from global experts of the charm and efficiency of designer Juan Ais's proposal for making Benidorm easier to promote. This competition sets out to provide a truly independent assessment of good design across all countries, and is free of ties with either the media or communication, advertising and design firms.
In addition, the sexy, exciting Benidorm 'B', complete with its range of smart buzzwords and slogans, picked up the runners-up prize in the Europe and Russia category of the 2016 BEST BRAND AWARDS.
FLUENTIS would like to thank the 'Visit Benidorm' Foundation for the enthusiasm it has shown throughout the process of defining and developing the graphics for this brand.
"My intention was to find the most concise and talismanic visual message for the joys of holidaying in a resort offering beach attractions together with all the comforts of a pulsating city," says Aís.
"I am delighted with this acknowledgement of our work," he adds. "It confirms the possibilities offered by this new visual identity, and answers the doubts and criticisms initially raised by politicians, tourism professionals, and fellow designers when we were ajudged to have provided the most appealing work from among the crowdsourced tender."
For more information on FLUENTIS Branding and Communications (in spanish):
www.fluentis.es
email: juan.ais@fluentis.es