The Orihuela Costa branch of the Royal British Legion would like to thank all the customers of Iceland San Javier branch who gave so generously to the Poppy Appeal this year and achieved a fantastic total of €3421, eclipsing last year's total by over €1000. We would also like to thank Iceland's manager Lisa Perry and all her staff, who were so helpful to us.
A team of volunteers was put together by Diana Wiltshire, who worked out a rota, with 16 people giving up their time, some working alone and some in couples, for over 3 weeks, for up to 6 hours a day. The weather was also very helpful, being sunny and warm for most of the time, so that volunteers could sit or stand outside, and hence were able to chat to customers, some of whom have since become members of RBL locally.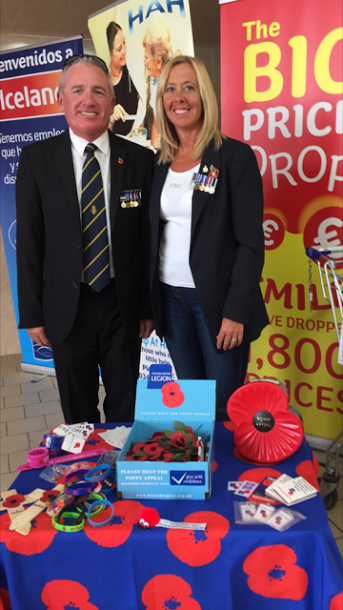 The photo alongside shows Nicola and Carl Louden, looking very smart, on duty outside the store. They are two of our younger members, proving that RBL is not just for "older people". The main photo shows members Walter and Sue Shatford, flanking Lisa Perry and some of her staff.
Orihuela Costa Branch meets at the Olympia restaurant, Mil Palmeras, on the 3rd Thursday of each month at 7.00 for 7.30pm. We also have many social functions, and everyone is welcome. You do not need to be ex-services to join.
Diana Wiltshire