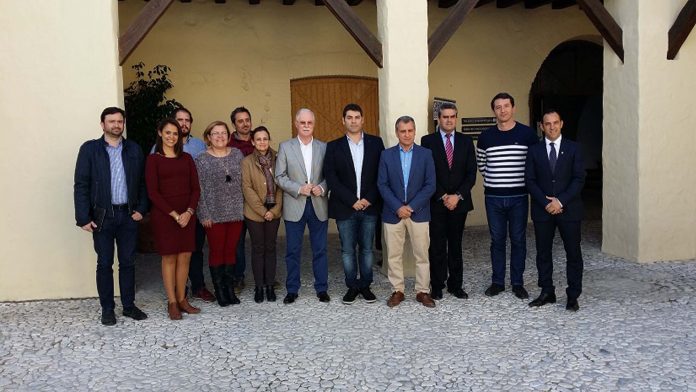 The Second Assembly of the Southern Region of the Association of the Most Beautiful Towns and Villages of Spain was held in the town of Frigiliana in Malaga, attended by Emmanuel Agüero, Mojácar Councillor for Tourism and Secretary of the Southern Assembly. Also present were representatives of Pampaneira, Lucainena de las Torres, Tejeda, Zuheros, Vejer de la Frontera, Castell de Guadalest and Frigiliana.
This reunion was part of the framework of meetings which, area by area, are maintained among the municipalities that make up the most beautiful towns in Spain. During the meeting, activities to be carried out in 2017 in the southern region were proposed, highlighting the cultural and gastronomic events, taking into account new trends in the tourism sector and events of greatest media interest.
Gastronomic festivals, photography contests, joint attendance at tourism fairs, creation of themed routes between towns in the same area and the launching of "The most romantic night of the year", as a special attraction for the summer solstice were amongst the ideas discussed.
The Southern Assembly has taken the initiative of presenting its candidacy as the venue for the Assembly of the World's Most Beautiful Places, to be held in Spain next year, as well as for the celebration of the Fifth Spanish National Assembly, scheduled for 2018.
It is noteworthy that, for the second consecutive year, "The Most Beautiful Towns in Spain" is the most read page in the País Viajero (Country Traveller) magazine, and that the "'Wonderbox' Gift Boxes", promoted by this Association, have been one of the most popular in 2016, an increase in sales of 15% over the previous year. Also the guide, which is published in three languages, has had great success and has contributed to the spectacular growth of the Website, which has been visited by many thousands of people around the world.
Mojácar Councillor Emmanuel Agüero has expressed his pleasure at the positioning of the brand "The Most Beautiful Peoples of Spain" which is proving very successful, and has undoubtedly contributed to an increase of visitors to the historic village of Mojácar by 13% last year. The benefit of being attached to the network is enormous, confirms Mr. Agüero, as individually they could not afford the large presence that the Association is achieving.