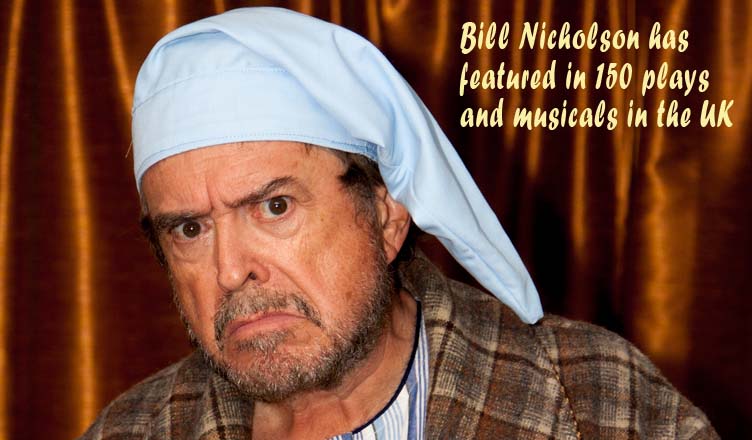 It's only 4 weeks to go until Studio32's production of "A Christmas Carol" hits town, and this talented company are into the final stages of rehearsals. Tickets are selling fast, with only limited availability for Friday and Saturday so be sure to book your seat for this festive extravaganza.
The role of Scrooge is being played by experienced actor Bill Nicholson (pictured). Before moving to Spain in 2000, Bill had taken principal roles in around 150 or so plays and musicals in the North West of England. Amongst his favourite musicals have been "Chicago", "La Cage Aux Folles", "Guys and Dolls", "Sweeney Todd", and "A Chorus Line". Bill recently added "Fiddler On The Roof" to his list of favourite shows, playing the lead role of Tevye in Studio32's last production.
"A Christmas Carol" is set on Christmas Eve, when everyone – except Ebenezer Scrooge – is preparing to make merry and celebrate Christmas. Scrooge is visited by three ghosts: the Ghosts of Christmas Past, Present and Future. Each in turn takes Scrooge through a part of his life that has been or is yet to be, in order to encourage him to mend his miserly ways. This Broadway musical version of Dickens' classic tale features a fabulous mix of song and dance, and brings to fruition the company's aim to focus entirely on full-scale musical theatre.
Tickets are selling fast, so be sure to book your seat for this original entertaining show. Show dates are Wednesday November 30th to Saturday December 3rd at the Cardenal Belluga Theatre in San Fulgencio, all performances start at 7.30pm with doors open 7pm. Reserved seating tickets are now on sale, priced at 9 euros, and Studio32 will be supporting the Alzheimer's Association once again. Call 642 080 258 or email tickets@studiothirtytwo.org.
And if you're interested in theatre and theatrical costumes why not consider working with Studio32 in wardrobe? The company currently are looking to recruit a wardrobe supervisor for their expanding collection of costumes. Contact them via their website for more information. You will also find full details of their productions past and present, including theatre seating plan and reserved ticket status – visit www.studiothirtytwo.org.
Tickets are also available from:
Tourist Information, La Marina                  966 790 021
Cards & More, La Marina                            966 790 954
The Card Place, Benijofar                          966 713 266
Kennedy Supermarket, Los Montesinos             966 720 006