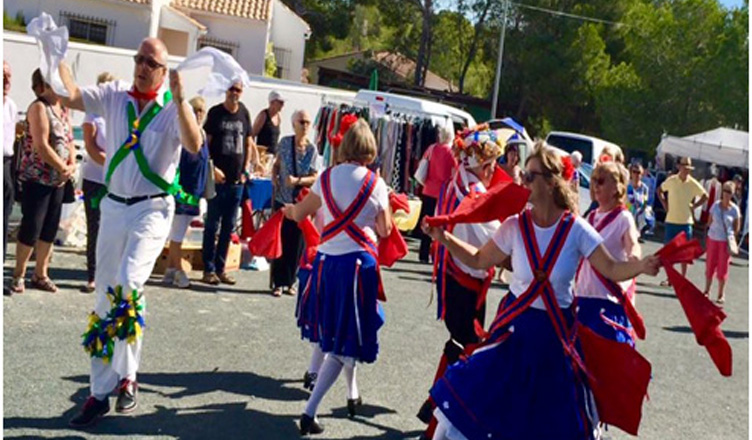 Morris dancing recently at  Campoverde Church Fayre, in aid of  Church funds and The Anglican Chaplaincy.
The Terri Hovarth Morris Dancers perform at many venues, mainly Charitable events, or for requested performances and Fiesta's etc and the group was recently asked to perform at the Los Montesinos Mediaeval Market Fiesta.
The Morris Dancing group was founded by Terri Hovarth, originally as a ladies group known as Jingle Belles and then changed to Belles and Beaux when men joined the group.  Sadly Terri passed away in 2012 and the group was renamed Terri Horvath Morris in her honour.
The group has a live band for music both at rehearsals and dances out which consist of four regular and several transient musicians. The Morris dancing consists of many kinds of English Traditional dances from North West, Cotswold, Border and many other mixed dances.
The group is always looking for more dancers, with or without prior experience.  If you would like to find out more about the Morris group, either to join, learn the dances or enquire for booking performances for your venue, please contact:  Sue Walters     suzi.inspain@gmail.com