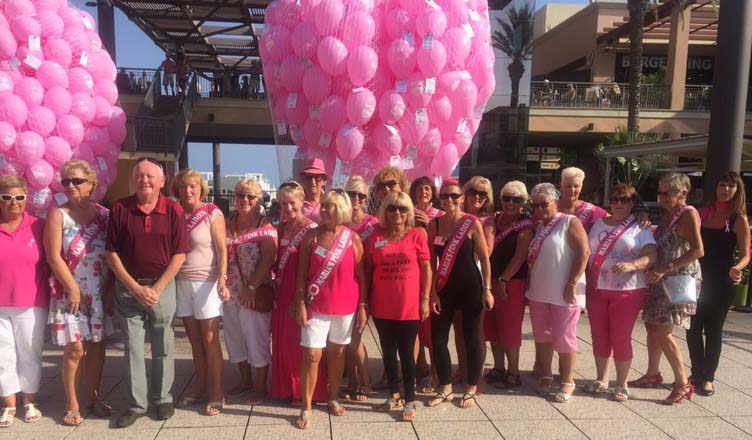 Sunday the 9th of October saw the fourth AECC, Maria and the Pink Ladies balloon release to mark Breast cancer awareness day. This year was the third of four balloon races, kindly hosted by Zenia Boulevard, huge supporters of the AECC. It's impossible to put a number on how many people attend this event each year as it is a massive amount.
The Pink Ladies and Panthers set up at 10am when the Boulevard opened, the entertainment started at midday and carried on through to 6.30pm when the balloons were released to Kylie Burggazzy singing a fantastic rendition of Nessun Dorma. The release of balloons is the biggest attraction of the day as it is highly emotional for many people, the stage area and upstairs galleries were brimming with spectators.
Each year we estimate that there is around two thousand balloons that are released which creates an amazing sight. The flowing crowds are entertained all day by Dan Davy,  Just Ollie, Nikki G, Kylie Burgazzy, No Limit, Jay Markwick and his dancers, Kevin Tyler, Johnny Lee, JJ, Janelle; Stevie Spit presenting the show and the whole day supported by Simon Morton and Sunshine FM.
Each entertainer happily gives up their time to perform to the crowds, free of charge, something the charity are always extremely grateful for.
All the money raised on the day was from people buying a helium filled pink balloon and attaching a card to it with a message to a loved one who may have lost their battle to cancer.
The message which is found the furthest away will receive a prize of 100€ and 20€ for the person who sends in the message. Money raised on the day also came from personal donations from the public and from a newly released CD recorded by local artists called 'Run for Life'. This will be adopted by the Pink Ladies as their new anthem.
The moneys raised will be used by the AECC early detection program, to buy state of the art machinery for early detection, to bring down the costs of these tests and towards research to find cures for all forms of cancer.  To date Maria and the Pink Ladies and Panthers have raised €294,281.10 a record in the Alicante region. Maria would like to thank all the artistes, especially Stevie Spit and Sunshine FM, for their continual support and to all the Pink Ladies and Panthers for all of their hard work.