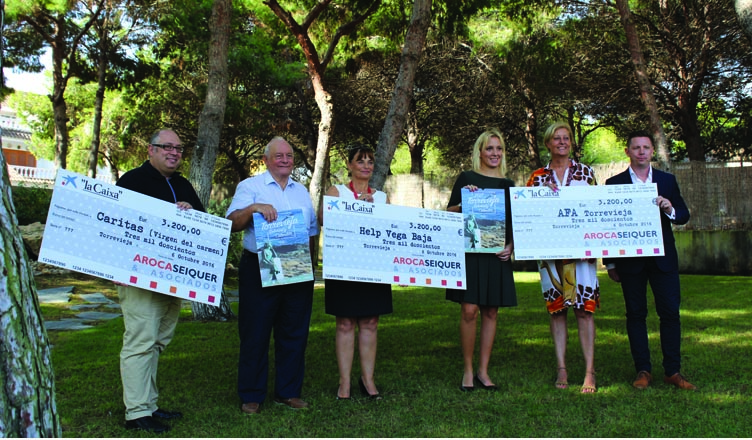 The 2017 Torrevieja Solidarity calendar this year follows the same format as in recent years. A 16-page bound A-3 size, full coloured, with over 70 photos and the theme is "Women in the Community".  Several photographers have kindly donated their photos for this calendar enriching the whole project.
This is the 11th calendar produced by Andy Ormiston with a print run of 2,000 calendars that are distributed among several NGO's and associations. Again it is free to solidarity organizations that then sell it on to supplement their own funds, so there are no middlemen involved with a recommended selling price of five Euros.
Once again the printing and design has been paid for by generous donations from local businesses – Aroca Sequier Abogados, Alamo Costa Blanca Real Estate, Brithol MAPFRE Seguros, Currency Direct, and Atlas Insurance Brokers.
Andy Ormiston is responsible for the text while the distribution of the calendar is through many NGOs whose volunteers do such wonderful work.
Representatives of many of the groups were present at the press presentation and they underline the vast assortment of voluntary assistance in the Vega Baja that covers the poor and homeless, the sick both in and out of hospital, those with deadly illnesses, the old and young, orphans, people in distress, broken families, ex-servicemen, animals and our environment; then we have our entertainers who bring us a smile as their performances raise money for so many charities.
The audience comprised of a dozen or more charities who will all benefit from the calendar by selling it to their members and supporters, the proceeds from which will be donated to their funds. Charities attending included The Royal British Legion, Age Concern, HELP, AECC , TAABS, AFA, K9, Reach Out, Rascals, Stagestruck, and La Mata Natural Park Volunteers and others.
The event took place in the stunning grounds of the offices of ArocaSequier Abogados in Rocajuna who also laid on a tapas and refreshments.
Finally a company representative made a presentation of three cheques, each of 3200 euro, to HELP, AFA and Caritas, in appreciation for the splendid work they have done throughout the year within the community. The sum was provided jointly by Aroca Sequier Abogados and Currencies Direct.
The photograph shows Keith Carter thanking Andy Ormiston for his contribution on behalf of The Orihuela Costa Branch of the Royal British Legion where the calendars are now on sale.