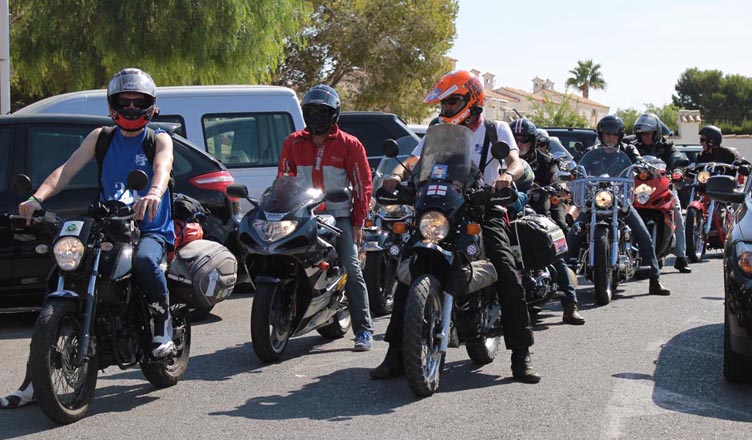 Dave and Mitch Bull are currently knocking spots off the 7,500 kilometres they will cover as they complete their ride around Spain to raise funds for cancer research and awareness of the work of Samaritans in Spain. To put it all into perspective, by the time they return to their homes in Gran Alacant on 20th October, they'll have ridden the equivalent of two return trips from Alicante to Calais.
And the boys are not taking the easy route either – motorways are off limits, and only coastal roads and border routes will be used. Each day, Dave and Mitch will ride 375 kilometres, which is like driving from London to York, with a bit more thrown in for luck, so with just two scheduled rest days in Seville and Granada, that's a lot of riding. Essential luggage and equipment will add 50 kilos to the weight on the bikes, so this is a real challenge in all senses of the word.
They are visiting most of the major cities in Spain along the way, and meeting up with people from all walks of life in Spain to publicise the challenge and raise as much money as possible during the course of their journey. And they are taking in the border of Portugal too, as well as calling into Gibraltar. And Jared the Bear, from Star Bright Angels, will be riding pillion in memory of children lost to cancer.
After 9 months of planning and pleading, all the costs for the trip have been covered by the generosity of business and private sponsors, and these are being acknowledged everywhere they go by the colourful stickers the Bull Boys are sporting on their bikes. As well as taking in the sights as they go, Dave and Mitch are also meeting up with locals and chatting on local media about the journey. The information on their is updated daily on social media, so wherever you are in Spain you can share their journey.
With a budget of just €5 a day each for food, the guys will be glad of any hospitality as they ride around Spain, and Ali Meehan, founder of business and social networking organisation Costa Women, is helping to organise meals, drinks and places to stay en route.
Historian and broadcaster Simon Harris welcomed the boys to Barcelona and chatted to them on 'This Week in Catalonia' on Barcelona City FM Radio. Barcelona is famous for Gaudi's architecture, but there wasn't much time for the boys to appreciate it, although they did call in at Cadaques, where Salvador Dali lived with his wife Gala.
So they enjoyed a bit of art and culture before spending three days travelling through the natural beauty of the Pyrenees. For those who'd prefer a more leisurely exploration of the border between France and Spain, there are lots of camp sites and hotels to choose from.
Pamplona is famous for the Festival of San Fermin – the running of the bulls – so it's a fitting place for the boys on the other Bull Run to touch base. It's also a major stopping place on the Camino de Santiago pilgrim trail, so there's plenty to occupy anyone who doesn't have to drive 375 kilometers a day.
As the boys leave the Pyrenees behind and head into Basque country, they'll visit San Juan de Gaztelugatxe, a hermitage on an islet on the coast of Biscay. The stunning views should be enough to even render Dave Bull speechless for a while! Then it's on to Bilbao, and a posible visit to the Guggenheim Museum, before the boys head for Galicia and A Coruna.
Halfway through the Challenge, Dave and Mitch will be in Madrid, before heading for Badajoz in Extremadura. The town is close to the Portuguese border, and it's the largest province in Spain. If history is your thing, you'll love the Arab walls and monuments here. After Badajoz, it's on to Huelva, followed by a well-earned rest in Seville. Then Gibraltar calls, via La Linea. Okay, it's strictly British, but it's still part of mainland Spain, so it counts!
The final week of the Motorbike Challenge sees Dave and Mitch ride through Malaga to Granada for another rest day. They'll be getting saddle sore by this point, as they make their way through Almeria to historic Cartagena, which dates back to 227 BC and has an illustrious naval history. Then it's through Murcia, and up to Mar Menor. The boys could take advantage of the therapeutic mud baths, but with Torrevieja and a meeting with representatives of sponsors Coy Cars less than an hour's ride  away, maybe it's not such a good idea to roll in the smelly mud first!
Just half a dozen days into their journey, however, I note that their tent has already been raided by a bear (quite probably nothing more than an overweight moggy – Dave does like to exaggerate), the pair have their ears damaged by the talkative Brigida in Sant Joan les Fonts, their livers came to no good when they met a mad Frenchman in the Pyranees……oh and Dave was suffering badly from wrist cramp  in 'Tossa del Mar!'
The Motorbike Challenge couldn't have happened without the generosity and support of our sponsors and supporters, so big thanks to everyone listed here.
Blacktower Financial Services, Starbright Angels, Goldcar Club, Club Cars La Marina, Coys Rent-a-car, Hamiltons Bakehouse, GA Construction, Vincent Real Estate, AECC, Halcyon, Global Discount Furniture Outlet, Unilingo Translation Services, Spanish Insurance Net, Gran Zafiro Alacant Tours, Gran Alacant Services, All Abroad