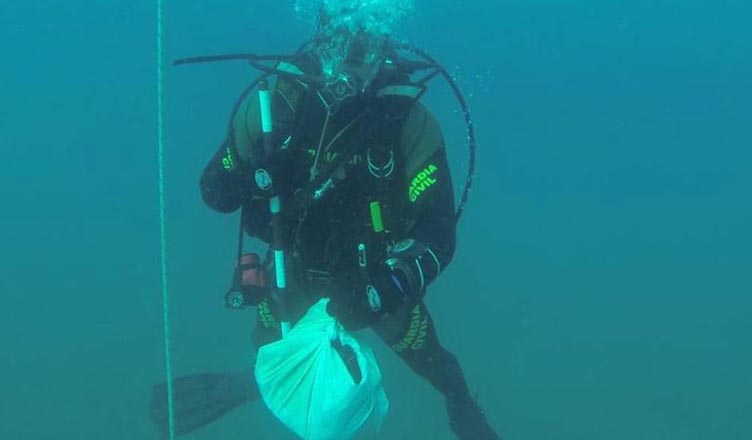 Divers from the Guardia Civil have found three bundles of human bones wrapped in sheets off the coast at Peñón de Ifach in Calpe which they are now consider could be as a result of a ritual killing.
The bundles were found last week at a depth of five to six meters and also included a skeleton and many other objects such as joss sticks and dolls.
The Guardia were alerted after a first bundle was found by chance by a professional diver containing a nearly complete human skeleton thought to be between 30 and 40 years old, which is thought to have  been dug out of the earth in recent weeks before being dumped at the bottom of the Mediterranean Sea.
The human remains, thought to be from three different skeletons, were taken to a forensic institute in Alicante for identification with results showing that the almost complete skeleton from the first bundle had been buried in the ground for 30 to 40 years before being thrown into the sea two or three days before it was discovered. The Guardia Civil say it, like the other bones, bore no signs of violence.
Other objects found include a knife, bird feathers, tree branches, a bird skeleton, a bronze statuette and a toy doll, and have led investigators to suspect that they were used in rituals associated with Santería, a syncretic religion that fuses elements of Roman Catholicism, African Yoruba mythology and native American beliefs. The theory is not going down well with followers of the religion in Spain.
Quoted in the UK Guardian newspaper, Paulino Hernández, president of the Spanish Association of Afro-Cuban Santería, sounded weary as he explained that such rituals had nothing to do with his religion.
"We bury people in our religion," he said. "Our work – and the whole point of our religion – is to avoid problems and to protect people from getting ill in their daily lives. We would never, under any circumstance do anything like that."
Hernández called for the public – and the media in particular – to be patient and let the police conclude their investigation.
The bundles also contained photographs and documents belonging to Spanish residents from several parts of the country. The documents include letters from the Tax Agency asking taxpayers for additional information regarding their income statements.
No arrests have been made, but the investigation has now been moved to the region of Extremadura and other provinces where the individuals named in the tax documentation live.