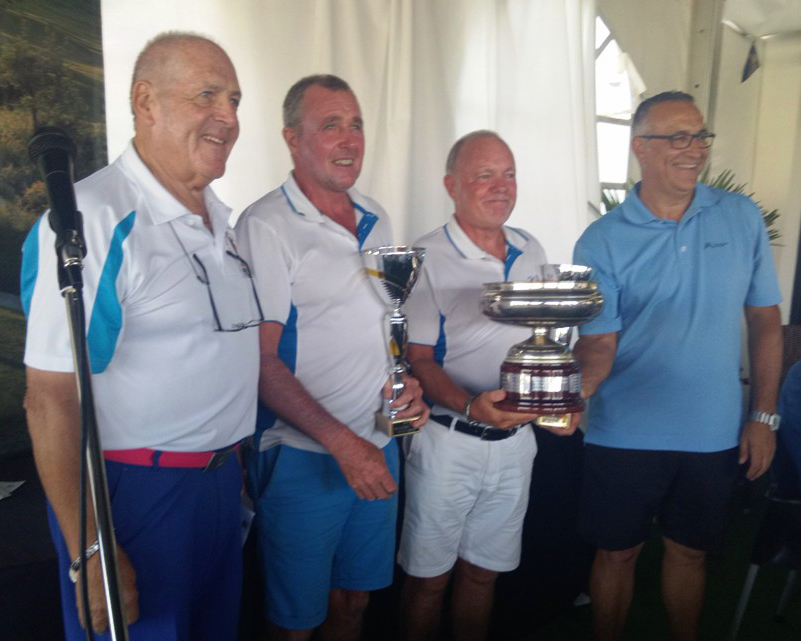 Secretary/Captain Challenge – Combined Stableford 5th August 2016
This is the oldest golf tournament at Font del Llop Golf Resort, not my words but those of the Alberto Iglesias – General Director, and it is one that attracts Golf Societies from the Costa Blanca and Costa Calida. This year there were 40 Societies competing for the Summer Cup Trophy and a table full of prizes for the event which is organised by The Vega Baja Premier Golf League.
Despite the recent prolonged heat wave there was a wind that tested the players, but no searing sun for the Costa's hardy golfers.
This was a 'shot gun' start which ensures all the players get in around the same time for the presentation meal. But to ensure they did not suffer too much on the course a "picnic" with a bottle of water, was taken out to them.
As always it was a close fought event and only 10 points covered the top six places. The results were as follows:
1st:  THE MED BAR G. S. Andy Drinkall & Ray Muttock 73 points (2 x Dunlop Tour Flight Bags)
2nd: ELITE G.S.  Jerry Coneybeare & Doug Spiring 68 points  (2 x Hybrid Tour Lob Wedges)
3rd:  QUESADA  G.S. John Dunnion & Roy Kavanagh 64 points (2 x Dunlop Shoes bags)
Joint 4th: BLACK BEAR G S, LOS CABALLEROS G.S. and GRAN ALACANT G.S.
BEST INDIVIDUAL  – Sponsored by SkyCaddie
Andy Drinkall – THE MED BAR G S         38 points   Who was presented with a SkyCaddie SW GPS Watch.
NEAREST THE PIN – Sponsors – Mick The Grip & Clubs to Hire
Hole 3: Mick Brentnall – CLUB 25 SERENA G.S.
Hole 8: Graham Palmer – HONDON VALLEY G.S.
Hole 12: David Cardno – GOLF RELLEU G.S
Hole 16: Mike Taylor – ORBA WARBLER G.S.
Hole 17: Ron Swift – LA SIESTA G.S.
2ND SHOT HOLE 13:  Jerry Coneybeare – ELITE G.S. (Dunlop Tour Align Putter)
LONGEST DRIVE
Ladies: Jan Boultbee – COSTA BLANCA G. S.        (Ladies Fairway Hybrid Club)
Men:     Jack Simpson – LOS CABALLEROS G. S.  (Tour Chipper Club)
VALUE FOR MONEY – VBPGL:
Andrew Osborne & Paul Beamish-Knight – EDITANIA G.S. (Dunlop 4 in 1 Pitch repair Tool each)
The Summer Cup Trophy and prizes were presented by Ivie Davies & Ron Nicholson – VBPGL and Alberto Iglesias, Director FDL to the competition winners.
Following the presentation there was a card draw for bottles of wine, and two seperate vouchers for a round of golf and buggy for two at Font del Llop Golf Resort.
The thank you list is a long one, but the first should go the Alberto Iglesias – General Director at Font del Llop and all his staff, caddy master and greens staff for their support and the excellent condition of the course and to Yolande and Juanjo of FDL Restaurant, for the very good 'menu del dia' and picnic.
To the continued support of The Summer Cup by, Mick The Grip, Clubs To Hire, Costa Blanca People newspaper and SkyCaddie.
The tournament has become well established and a very popular event at the Font del Llop Golf Resort, it has been booked again for 2017 scheduled for the 4th August and already Golf Societies have secured their place.
So should your Society like to reserve their place or are interested in participating in the Vega Baja Premier Golf League then contact Ivie Davies. Email: golfdavies@gmail.com or www.vegabajapremiergolfleague.com
PHOTOS: SUMMER CUP 2016 WINNERS – THE MED BAR G.S. (Andy Drinkall & Ray Muttock) with Ivie Davies and Alberta Iglesias