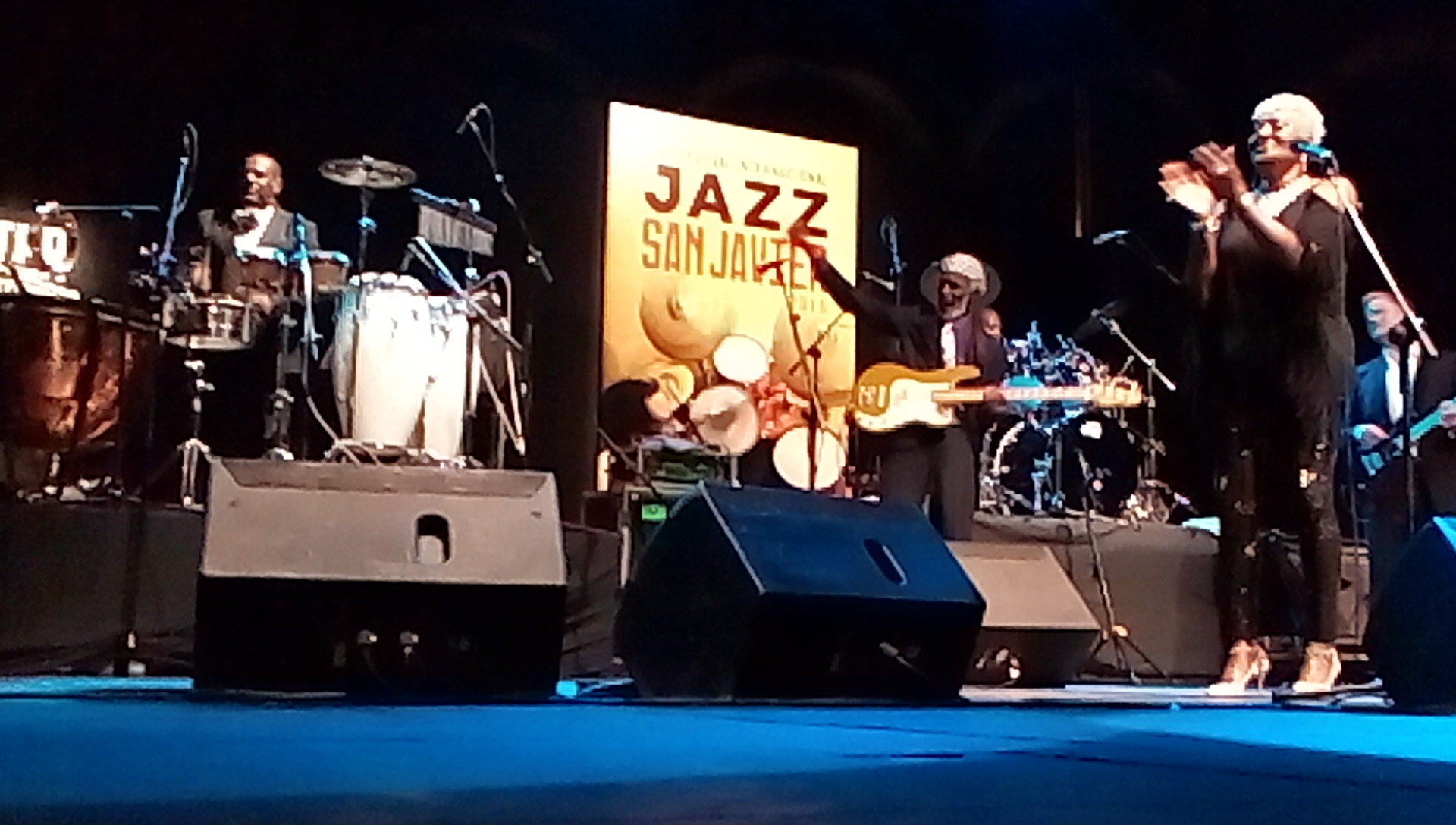 The Godfather of Soul the late, great James Brown lives on in the wake of the XIX San Javier jazz festival, Murcia, Spain, with his original backing group The JB's.
Danny Ray, James Brown's Master of ceremonies since 1960 said 'Are you ready to have a really funky good time? These times never die!'
Brown, who died a decade ago, famously sang 'Like a sex Machine', and 'I Feel Good', to name but two of his mega hits, lived on in the summer night concert.
It was as if legendary Brown was there.
The JB's, featuring Martha High, who has been with the group since 1964, and Cynthia Moore, from The Bettersweets, starred.
High, who sang from her new 2016 album 'Singing for the Good Times', born in Washington, toured with Brown in the sixties.
'It's a Man's World', I feel Good', 'Out of Sight', the king of dance, Brown, one of the world's best ever 10 artists, would have been proud, as was the fanatical European audience.
Trombonist Tyrone Jefferson, musical director of the JB's since 1976, said 've are here to remember the legend James Brown – The Godfather of soul'.
Bassist Fred Thomas, drummer Tony Cook, who contributed to the live performance of 'The Godfather of Soul', performed alongside trumpeter Hollie Ferris, trumpeter Joe Collier, saxophonist Jeff Watkins, Rob Watson on guitar, and drummer George 'spike' Nealy.
James Brown's legendary hit 'Get Up (l feel like being a sex machine)' left the appreciative audience baying for more. The JB's are legends in their own right. James Brown's Soul Train lives on.
During the course of their set Martha High requested a moments silence – in Memory of those killed in recent terrorist attacks.
'Speaking of the recent terrorist attacks can we please have a moments silence for those that have lost their lifes', Washington DC born High asked the audience, who duly obliged.
'We send our condolences to the families. All we need to do is send out a little bit of love – to show them that we love them', said High.
High, a member of the JB's – soul legend James Brown's original backing group – since 1964, sang 'Try Love', in remembrance of those that had died in recent terrorism atrocities.