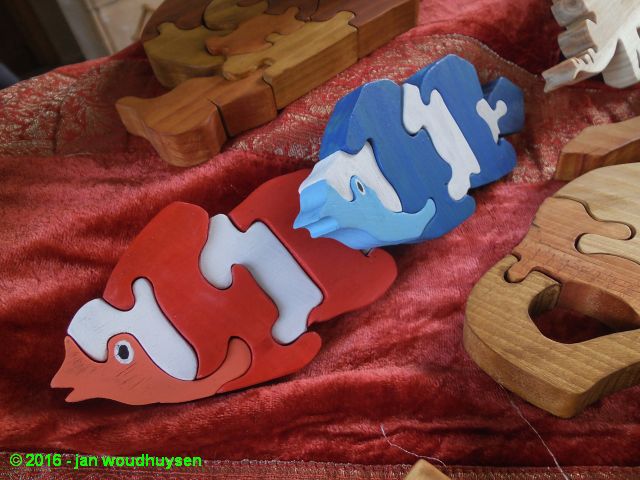 The craft Fair in Calpe Old Town started on the 11th of July with a modest 10 stalls.  But every last one of those stalls is a craft stall, with a man or woman at the stall who makes everything on the stall.  Nothing imported, nothing made in small factories, all made by hand and with attention to detail.  Amata, the regional crafts association, hopes to gradually increase this number to 15 or so this year. 
There's Chipi with jewellery made from dried orange peel – cunning confections in unlikely colours and combinations.  Alfonso has small wooden figures and puzzles, while Elba and Tino display jewelry that combines silver wire with large polished semi-precious stones. Lorena's fingers are never at rest as she creates macramé jewelry, and there's Charo who makes, while you watch, baskets out of a very coarse crochet.  All nice work, and every bit is unique.  Not something you will see everywhere.
Last in the row is a shy man from Ecuador with his miniature loom.  We've all seen those wrist bands with "your own name" on large displays, at every rastro and mercadillo.  Hundreds of names, and something like yours is bound to be there.  Dear me, no wrist band with Kevin, or Samantha or Bent?  José sits at his miniature loom, moves pedals with his feet and runs a shuttle left to right, right to left – and 4 minutes later comes a very personal wrist band.  We tried it out, and are now sporting our own bands with the logo written white on blue.  Very impressive.
That little loom is made almost entirely of wood – off-cuts and pieces of ply – and held together by string, rubber straps and a few screws.   Something that can be dismantled, put in the back of the car, and taken from fair to fair.  So simple, and yet it produces a very sophisticated product.  His wife sits beside him, and weaves, by hand (no loom this time) a different sort of name band.
Calpe craft fair starts every evening at 7 and goes on till late. Right in the middle of the old town, with four or five old and new restaurants offering a choice of supper or just a little aperitif – look for the Calle de Libertad on your GPS.  Or ring 639 979 678 and speak to Elvira in English.  You can even look at some of the work on http://www.amata.es/CalpSum16.html. Some of the participants are there every day till 11 September, others take turns and come only for one or two weeks.