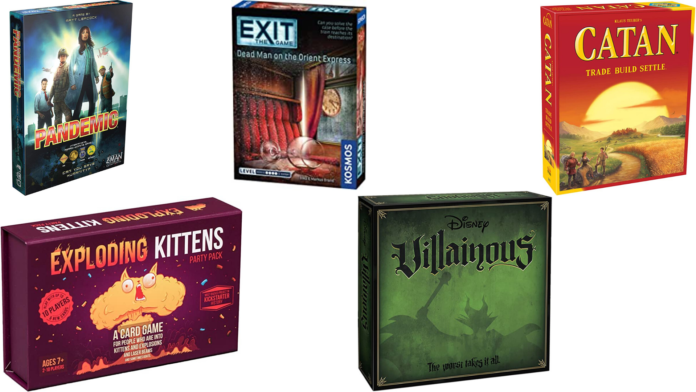 Exploding Kittens!
Starting off strong, and albeit weird is exploding kittens. Truly a 21st-century masterpiece and one to be sure to get the whole family laughing, except the cat!
Both wacky and fun this game has it all. Simply put (or not) it is a hybrid take on a highly strategic kitty powered variant of Russian Roulette. Starting to wonder why this is a kids game? Don't worry so were we, so we did the research! With some quite impressive stats to boot this game was the most-funded game in the history of Kickstarter ( a crowdfunding platform) and has cards featuring illustrations from Oatmeal (a webcomic and humour website made by cartoonist Matthew Boyd Inman).
The game goes a little like this, you keep drawing cards until someone figuratively explodes, this happens by drawing the dreaded exploding kitten card, thus you are forced out of the game. However, if you are a clever kitten bomb-defusing expert, you can lay the aptly named Defusing Card, thereby snuffing out the feline death bringer. But this is where the game gets interesting. The defusing cards are not boring men in hazmat suites braving their lives to put a stop to explosions, they are things more suited to a purring puds brain, like a laser pointer, a piece of chicken or a mouse. Never again shall you struggle with drama! Or if you feel obliged to live the easy, peaceful life you can play a skip a turn card, if you want to feel like a peaky furry blinder you can attack another player, or even secretly relocate your Exploding Kitten!
So what are you waiting for! Grab the game HERE! (Amazon.co.uk)
2. Exit – The Game Deadman on the Orient Express
The Game is a series of escape room games for the home. Players must solve riddles and puzzles and crack codes to escape from an imaginary room or environment. But the clock is ticking! Can you escape?
Escape room in a box: Bring the excitement, intensity, and team spirit of an escape room to your living room!

Teamwork: Up to 4 players work together to solve the clues and escape.

Unique themes: Each game has a different setting with clues and puzzles integrated into the storyline.

Unplugged: App not required! Everything needed to solve the riddles (including hints, if necessary) is included in the box.

One-time use: Each game can only be played once, because you must mark up, fold, and tear the game materials to crack the codes.
EXIT: Dead Man on the Orient Express
A classic tale of murder on the Orient Express reimagined. The culprit of a grisly crime is still onboard your train. It's a race against time to piece the clues together before the train reaches its destination. The case is perplexing, and you must solve it quickly so the assailant does not escape.
Ages: 12+

Players: 1-4

Playtime: 1 to 2 hours

Difficulty Level: 4 / 5
3. Z-Man Games Pandemic.
| | | | |
| --- | --- | --- | --- |
| You and your team are the last defence standing in the way of deadly diseases that threaten the world! From designer Matt Leacock, Pandemic is a cooperative game of teamwork for two to four players. | As members of an elite disease control team, you must keep four deadly diseases at bay. Work together as you travel the globe to treat infections while collecting the cards you need to discover a cure for each disease. | The clock is ticking as outbreaks and epidemics fuel the spreading plagues. As a cooperative game, players win or lose together. | Only by working together can you keep the outbreaks in check and find the cures in time! |
| | | | |
| --- | --- | --- | --- |
| Over the course of the game, players use actions to move between hotspots while treating diseases and setting up a network of research stations that help them cure diseases and make movement more efficient. | Each player manages a hand of cards matching the colours of the four diseases. These cards allow them to travel more quickly between cities or—if a single player can collect five cards of the same colour—discover a cure for a disease. | But plenty of challenges stand in their way. Outbreaks can spread diseases across the board and random epidemics can intensify a disease in a moment's notice. | Access two free scenarios available for Pandemic: Government Shutdown and Isolation. |
4. Catan
Ages 10+
Players 3 – 4
45 – 90 minutes
The women and men of your expedition build the first two settlements. Fortunately, the land is rich in natural resources. You build roads and new settlements that eventually become cities. Will you succeed in gaining supremacy on Catan?

Barter trade dominates the scene. Some resources you have in abundance, other resources are scarce. Ore for wool, brick for lumber – you trade according to what is needed for your current building projects.

Proceed strategically! If you found your settlements in the right places and cleverly trade your resources, then the odds will be in your favour. But your opponents are smart too.
Catan
5th Edition
Picture yourself in the era of discoveries: after a long voyage of great deprivation, your ships have finally reached the coast of an uncharted island. Its name shall be Catan! But you are not the only discoverer. Other fearless seafarers have also landed on the shores of Catan: the race to settle the island has begun!
Spiel des Jahres 1995 (1995 Game of the Year) [Germany]

Deutscher Spiele Preis 1995 (1995 Award for Best Adult and Family Games) – 1st place [Germany]

Essener Feder 1995 – Beste Spielregel (1995 Award for Best Rulebook) [Germany]
To begin the game, we build the game board with hexagonal terrain tiles. Catan is now born – a beautiful island with mountains, pastures, hills, fields, and forests, surrounded by the sea.

We each place two small houses on spaces where three of these terrain hexes meet, as our starting settlements.

And so it begins. I roll two dice. An "11"! Each terrain hex is marked with a die roll number. Each player who owns a settlement adjacent to a terrain hex marked with the number rolled receives a resource produced by this hex. Hills produce brick, forests produce lumber, mountains produce ore, fields produce grain, and pastures produce wool.

We use these resources to expand across Catan: we build roads and new settlements, or we upgrade our existing settlements to cities. For example, a road costs 1 brick and 1 lumber. If we do not have the necessary resources, we can acquire them by trading with our opponents.

Each settlement is worth 1 victory point and each city is worth 2 victory points. If you expand cleverly, you may be the first player to reach 10 victory points and thus win the game!
5. Disney Villainous – Which Villian Are You?
Custom Movers (from left, Prince John, Ursula, Jafar)
Perform actions on your turn to help reach your objective!
Gain Power — This action gets you power tokens!

Play A Card — Play one card per symbol on your location.

Activate — This action is used to activate certain cards.

Fate — This action allows you to play a Fate card on an opponent.

Move Item/Ally/Hero — This action allows you to move these cards one space left or right.

Vanquish –This action allows you to vanquish heroes.

Discard Cards — This action allows you to discard up to 4 cards in your hand (you'll replenish at the end of your turn!).
The Worst Takes It All!
A strategy board game fit for gamers, families, and fans!
Playing as favourite evil-doers like Maleficent, Ursula, and Captain Hook, players will take on the role of the Disney Villain and plan their schemes methodically in the way of their Disney Villain to reach their objective before everyone else. Set traps, wield curses, leverage your allies, and most importantly, be cunning!
Player Interaction: While Villains play within their own story, interaction occurs throughout the Fate Action. Using the Fate Deck, players can thwart their opponents from reaching their objectives.

Caters to a Wide Range of Skill Levels: Familiar and well-loved characters coupled with mid-level strategy makes this an approachable game for a large range of skill levels.

Replayability: Once you've mastered one Villain's strategy, try to master the other five. Numerous combinations of villains playing together make for a different game experience every time.
A Closer Look Inside Villainous —
Oversized Movers

Beautiful, custom-designed movers are inspired by their respective Villains. Players will be transporting their movers from location to location in their realm as they scheme their way through the game.

No Villain without their Protagonist

Each Villain has a Fate Deck that other players will use against them during the game.

Fate Decks include:

Familiar and beloved heroes such as Ariel, Tinkerbell, Prince Phillip, and more.

Effects and Item cards such as wishes, Pixie Dust, Stealing from the Rich, and many others that will force players to rethink their strategies.

Immersive Storytelling

Just like in the films, there are no two Villains alike! Thus, each Villain's story is fully represented in their decks and their objectives. So, whether you're trying to once and for all defeat Peter Pan as Captain Hook, or steal the Magic Lamp as Jafar, every time you play you will be reliving the magic of these films in a new and surprising way!

Each Villain Comes With a Guide To Help You Scheme!

Because each player has their own objective, the Villain Guides are key to helping you scheme, remember your goals, and leverage your Villain in the best way possible!