CLARO PRESS RELEASE
C.L.A.R.O. held its 14TH Annual General Meeting on 28 November.    The meeting, attended by 50 members and a representative of the Cambiemos-Podemos-CLARO Coalition was positive and united in its support for the proposals of the outgoing Executive Committee on Strategy, Organisation and the election of a new Executive Committee.
Six months ago in the municipal election, C.L.A.R.O. contributed nearly a thousand votes to the electoral coalition Cambiemos-Podemos-CLARO, more votes than the Popular Party and Ciudadanos together which governed Orihuela between 2015-2019.
The votes C.L.A.RO. obtained strengthened the Coalition's representation in the Orihuela Town Council but  fell just short of the number required to elect CLARO President Helene Akerman as councillor.
The Annual General Meeting unanimously approved the policy of the party to maintain and strengthen the coalition and to fight to realise the solid selection of policies included in the election programme for the coast.
The previous governing coalition of PP and Ciudadanos provided not a single significant improvement in the services and infrastructure of the coast.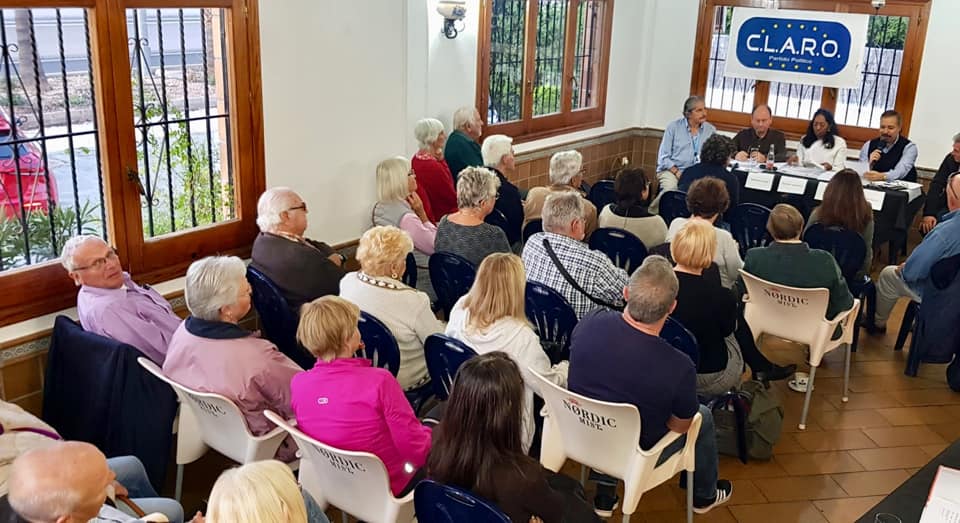 No emergency Services Centre, no multi-cultural centre, no second health centre. The inadequate basic services such as street cleaning and rubbish removal continued. The municipal sports centre has been closed for more than 6 months depriving residents of an important facility.
PP-Ciudadanos made no effort in the past 4 years to save Cala Mosca, the last green area on the coast, from the construction of 1500 new homes but they did approve the construction of some one thousand new homes which greatly increased the population and the congestion of Orihuela Costa but without a corresponding increase in municipal services.
Unfortunately for the coast, after the May 2019 municipal elections the same parties, PP and Ciudadanos, have renewed their coalition.
The Annual General Meeting welcomed the increase in members since the May elections, including many Spanish who came from the Agrupacion citizens' movement which did not take root.
C.L.A.RO. now also has a strong representation from the Scandinavian community as well as the British who are more confident of maintaining their rights, including the right to vote in municipal elections, no matter what the outcome of Brexit.   The meeting decided to reorganise and restructure the party and to create an Extended Committee alongside the Executive Committee to reflect the increase in the number of members and to enable volunteers to contribute to strengthening the party in various fields.
The underlying theme of the meeting was to recognise that on the coast there is now NO POLITICAL ALTERNATIVE TO C.L.A.R.O.
The Annual General Meeting voted unanimously for a new 7 person Executive Committee.   Helene Akerman will continue as President, Antonio Cerdan becomes Secretary General plus Paul Piccio, Huberto Canovas, Christina Belardi, Bob Houliston and Bob Hunkin.    The meeting welcomed this strong and balanced Committee with 3 Spanish members, including one internationalist, two Scandinavians and two British.