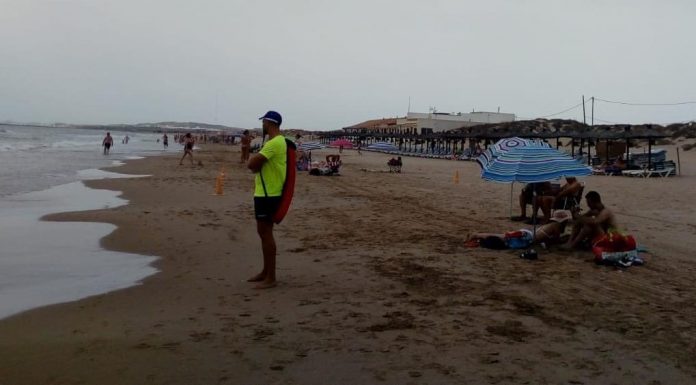 Three Elche beaches were closed on Friday at La Marina, El Pinet de Elche and Rebollo after a two children were bitten by a fish.
The children spent the afternoon receiving medical treatment while the fish that caused the injuries has still not been identified. However all three beaches were reopened on Saturday morning with the red flag replaced by yellow while the surveillance of lifeguards and local police officers in the area has been reinforced.
Related: Bites to two children in Elche were not by a shark according to authorities
The first bite was recorded at 5.30 pm, by the victim a cy year old child who was paddling close to the shore.
He was first attended to by the lifeguards at the El Pinet beach station, but later an ambulance was called and he was transferred to the emergency service at the General Hospital of Elche for further treatment of three deep wounds on his right foot.
At first, the event was not given too much importance, with bathers assuming it to be an isolated case, so lifeguards decided not to take any further action. However, half an hour later, the fish struck again, also at the same El Pinet beach.
On the second occasion the victim was a 10-year-old boy , who also came out of the sea with a bite on one foot. Like the first child, after giving him first aid, the first aid service he was transferred by ambulance to the local hospital.
At this point, with two bites in half an hour, the lifeguards and the Local Police of Elche decided to close the El Pinet and two neighbouring beaches of La Marina and Les Pesqueres-El Rebollo
The red flag was raised and it remained in situ for the remainder of the afternoon and evening indicating that the sea was prohibited as a precautionary measure.
Lifeguards and agents of the Local Police continued to patrol the shoreline, both in search of the fish that had caused the two bites, and the inform the people who were not aware of the situation.
The councillor for Public Safety, Ramón Abad, said that a decision to reopen the beaches would only be made once the bites have been identified and when it is known whether to be a common fish bite, or caused by a fish that could be poisonous.
On Saturday morning the beaches were reopened but with extra vigilance.