San Miguel Bowls Club – Barry Jones
One Monday San Miguel Moors were home to Vistabella Fairways, winning 10 – 2 (84 shots to 77) the best winning triple were Noel Davis, Bob Graham and Gail Willshire (21 – 13).San Miguel Christians were away to Quesada Blenheims, where they had a bad day at the office, losing 12 – 0 (63 shots to 108)
On Wednesday San Miguel Sherriff's were away to Quesada Lions losing 10 – 2, Ladies singles Mary Dyer lost 10 – 21, Mens singles Noel Davis lost 16 – 21, Pairs Sue Milner and Stuart Hemmings won 19 – 14, Triples Don Whitney, Carol Broomfield and Lynn Greenland lost 16 – 17, Rinks James Cutting, Brian Allen,, David Johnson and Stuart Denholm lost 15 – 18.
On Friday it was the clubs local derby where the San Miguel Moors were home to San Miguel Christians, the Moors won 10 – 2 (93 shots to 68)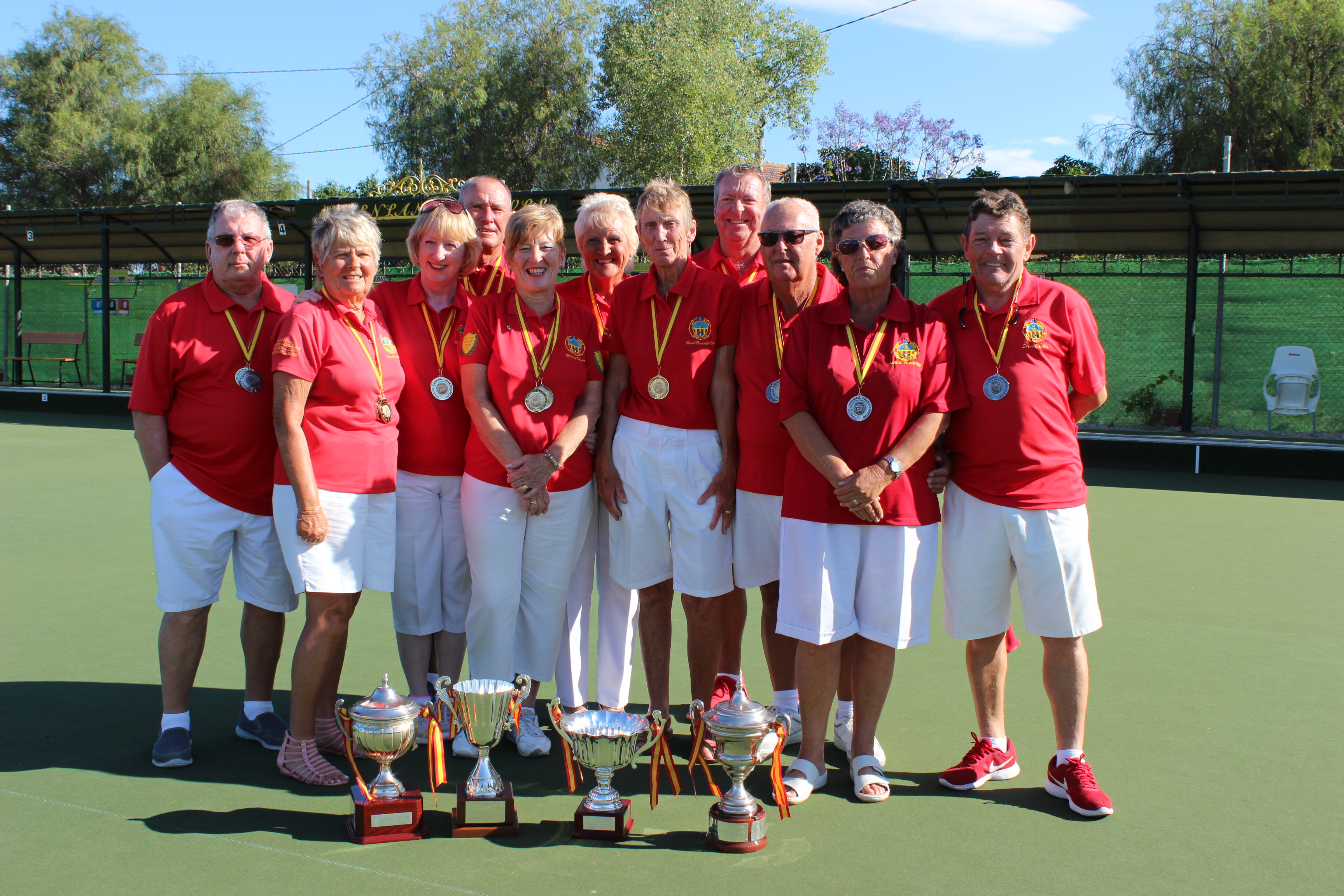 A reminder that the Wasps sessions take place Wednesdays 1:30 for 2:00 – €5 for an afternoon's bowling with shoes and woods available to borrow. Due to the popularity of the Wasps, first time bowlers are asked to attend an initial coaching session on Tuesday afternoons, starting at 1:45.
For further information on San Miguel Bowls Club please contact the President Stuart Hemmings on 965720461, or the Secretary Gail Willshire on 965020492.
SAN LUIS BOWLS CLUB REPORT 31.05.19.
Back to "work" after the Spanish National Championships; well done to our hardworking San Luis competitors and Congratulations to the new champions.
Wellingtons 27th home v Quesada Lancasters, a good result 10-2, 99shots-58. Winners: Kath Reid, Neil Morrison, Ian Kenyon 21-9, Bob White, Ann Holland, Brian Pocock 21-11, Helen Hammond, Pam Lockett, Scott Malden 26-12, Margaret Morrison, Giuseppe Galelli, Russell Marks 17-10. 31st away v EI Victors, a good result: 8-4, 86shots-64. Winners: Malcolm Ayton, Derek Barker, Neil Morrison 23-13, William Holtham, June & Keith Jones 21-9, Bob White, Pam Lockett, Scott Malden 20-9.
Hercules away v Horadada Hawks 52 shots-83, 2-10. Winners: Mags Haines, Peter Fuller, Barry Edwards 25-10. 31st home v LS Wasp, 2-10, 58shots-103. Winners: Kevin McKenna, Roger Inwards, Lyndon Johnson 17-14.
Mosquitoes away v La Siesta Hornets, a good result, 6-6, 94 shots-86. Winners: Pat Baylis, Mary Fromson, Ken Dullaway 24-12, Val Lever, Dave Tilley, Joe Kocsis 27-12.
VCLeague 29th, Falcons home v EI Dukes 6-6, 103shots-78. Winners: William Holtham, Sab & Russ Marks 39-9, Pam Lockett, Margaret Morrison, Brian Pocock, Neil Morrison 19-11.
Hawks away v EI Earls, 8-4, 85shots-72. Winners: Ros Holmes 21-9, Dot Kocsis, Dave Blackie 20-6, Kath Waywell, Terry Baylis, Steve Rossiter, Bob Bromley 20-17.
San Luis BC welcomes new members.
Anyone who has played against SLBC, will know that we are a friendly club; competitive at all levels whilst still enjoying our bowling. Despite the recently agreed (LLB) change, that a side will comprise 6 teams, we are still determined and committed to playing 4 squads in both the Monday & Friday leagues.
Next season we should have 2 squads in both Division A and Division C on both days. There will be plenty of games for everyone and opportunities for players of all levels of experience. We have an established open and fair selection policy for all divisions.
If you commit to playing for us by joining on 1st August you will have 13 months membership to 31.8.20. We also have 7 months membership from 1.10.19-30.4.20.
Come along & bowl for free on any Sunday morning at 10:00am to try the game….ask at the bar.
For further information please contact our Club Captain June Jones – 691 903 773 or Vice-Captain Ian Kenyon – 662 282 103.    We look forward to hearing from you.
Sheila Cammack
Horadada Bowls Club by Irene Graham
On Monday in the South Alicante Hurricane Division the Horadada Hawks were at home to San Luis Hercules.  The weather is heating up now and so are the results for Horadada.  We had a very comfortable win which is what we would hope for a home match.  Our winning rinks were:
Tracey Paffett, John Goddard and Roy Thomson 25 – 6
Irene Graham, Mick Kirby and Terry Hucknall 18 – 12
Carol Linehan, Mark Jukes and Bryan Eatough 20 – 9
With the overall shots going to Horadada the final result was 83 shots for to 52 against giving us 10 points to 2 against.  Week 5 and we are second in the table.  A great result.  Well played to everyone.  Halfway through the summer season and we only have one home match left.  Let's hold on to our position Team Horadada.
On Wednesday in the VCL League we were at home once more, this time to Greenlands Jasmin.  A couple of close matches which could have gone either way but sadly for our trips it went the wrong way.  Our winning disciplines were:
Gents Singles – Terry Hucknall 21 – 13.  Great result Terry, well played.
Pairs – John Goddard and John Bailey 20 – 14.  Another great result, well played Guys.
With the result of the close matches we just managed to achieve the overall shots.  The final result was 89 shots for to 87 against giving each team 6 points each for a draw.
Our position in the VCL table is not so good.  We are second from the bottom but only 1 point behind Montemar who we play on Wednesday.  Come on Team let's go for it and move up that table.  Keep 'em bowls a rollin'.
Horadada offers a warm welcome to new or experienced bowlers, and provides the necessary equipment.  Our roll-up days for this friendly club are Tuesday, Thursday and Sunday mornings.  Please contact Fred Trigwell on 659139129 for more information.
Emerald Isle Bowls with Elwyn Morris
CONGRATULATIONS to Peta Rhodes for winning the Ladies Singles Title in the Nationals, by defeating the holder Mary Dyer 21-8, enjoy Australia Peta. Also the Emerald Isle club had Drew Gerrard in Men's Singles Final, A M Robertson and Graham Shoots in Mixed Pairs Final, P Rhodes G Shoots C Smyth J Smyth in Mixed Fours Final. Well done to all that took part in tournament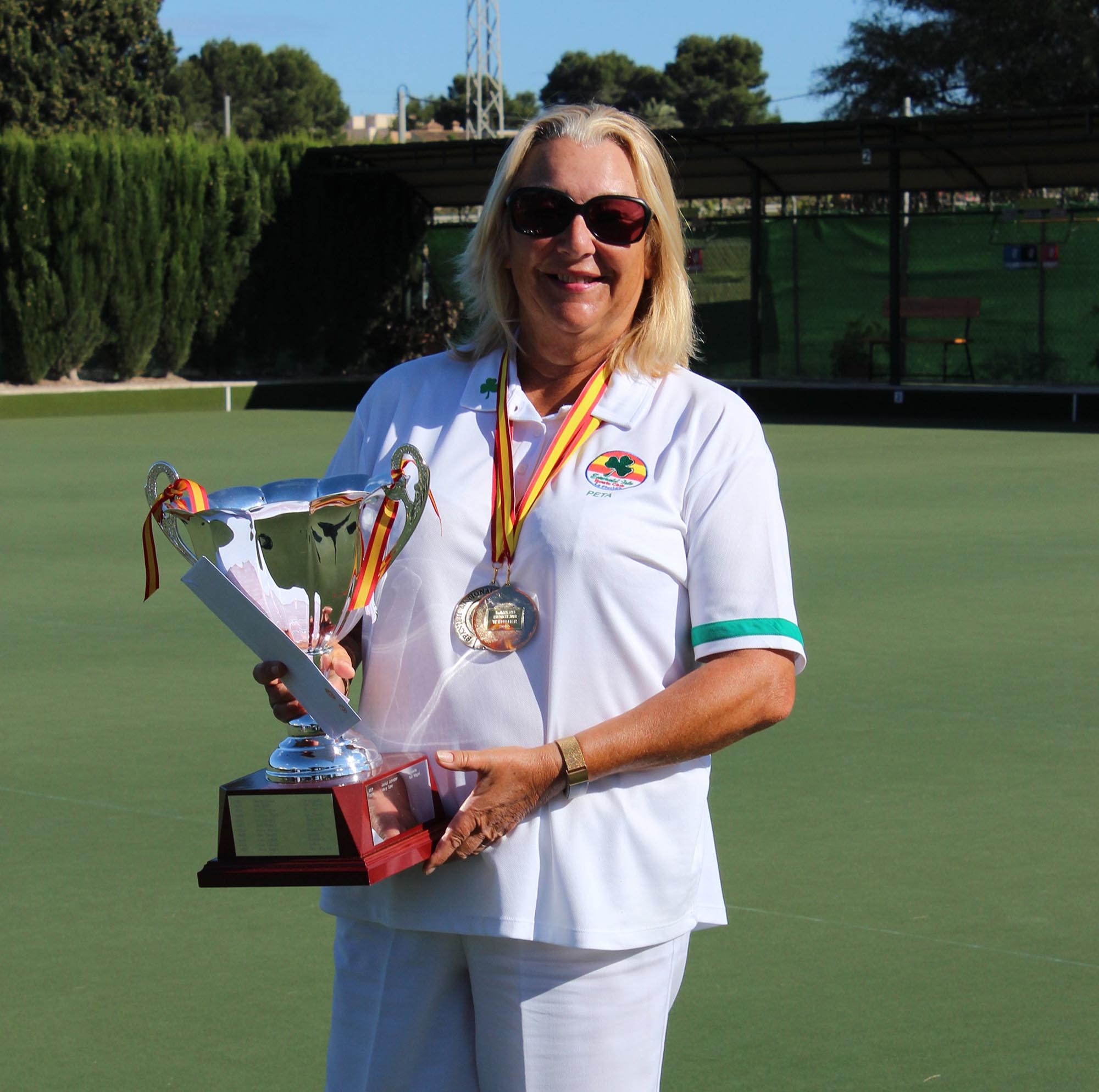 Monday brought back the league games and the Vulcans where at home to La Marina Pilots and they had a great 10-2 aggregate 91-71 win. C Thomas M Willicott D Jones 19-12, P Rhodes B Smith P Willicott 18-12, L Freeman B Eldred G Ponsford 18-12, D Leeming T Dix P Dix  22-20
Tuesday we welcomed back the Torrevieja branch of The Royal British Legion to the Isle and the game was played in a great spirit, as usual the home advantage gave the Isle a 5-2 win in trips. Good to see them again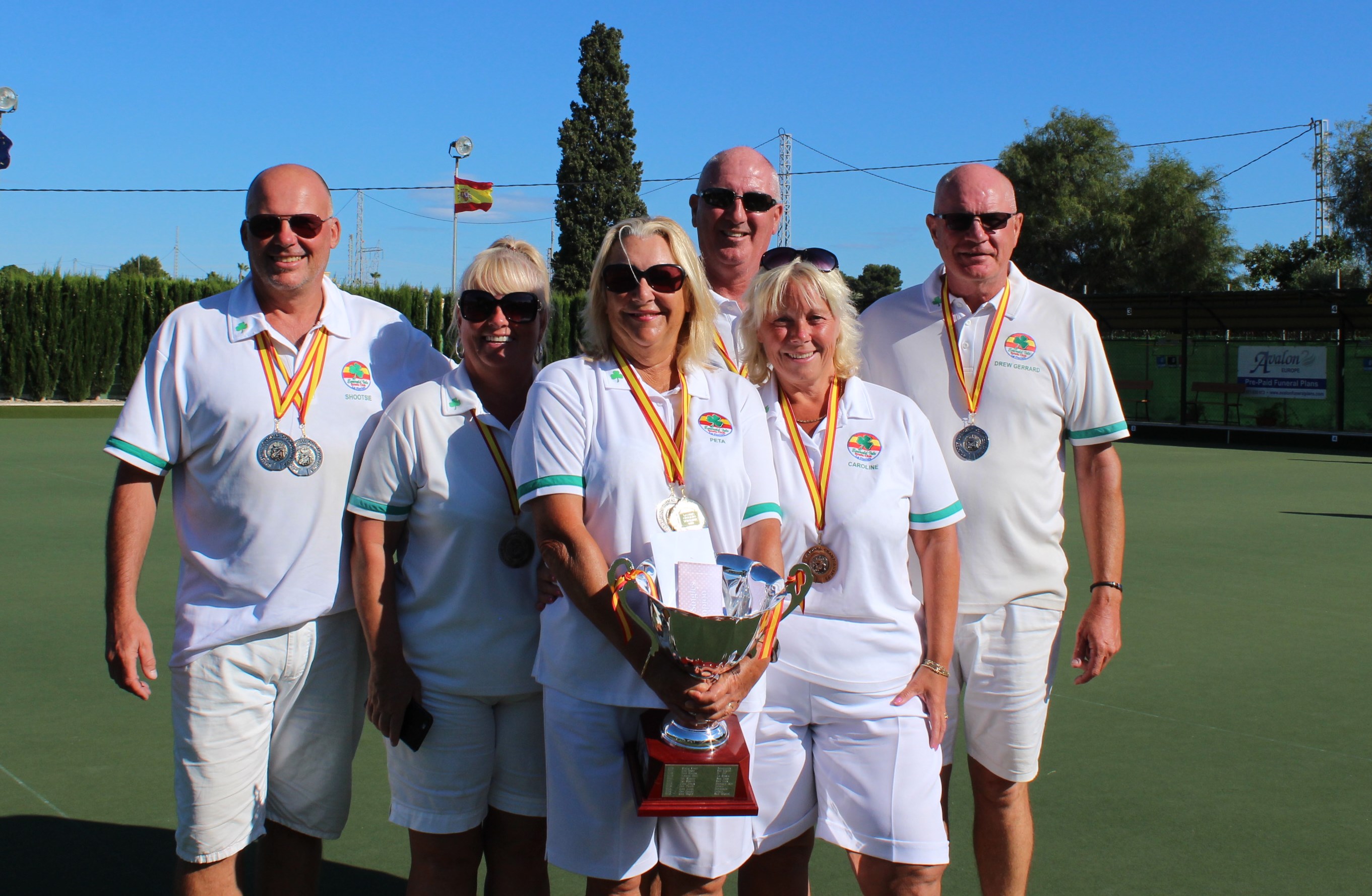 Earls played at home against San Luis Hawkes and lost 4-8 aggregate 72-85. A Miles 21-20, S Bosworth S Wickens E Shepperd 19-4
Dukes played at San Luis Falcons and got a 6-6 aggregate 78-103 draw. P Rhodes 21-13, D Gerrard 21-17, D Jones C Lindgren 16-15
Victors played at home on Friday against San Luis Wellingtons and lost 4-8, aggregate of 64-86. S Bosworth A Miles P Creswell 20-10, M Riley M Whitelock S Watson 13-12
SAPS is now on Sat mornings 10-00am. 5 Euros for 2 hours of bowling with bowls shoes and tuition supplied
El Rancho Bowls Club
How nice it was to get back to the league matches, this Monday morning, particularly at home to the very friendly Badgers from Country Bowls. I know our trip really enjoyed the match and company; the competition really could have gone either way, though the score line may not infer it. The Buckskins had a successful morning taking the rinks by 4 to 1 and the overall shots 98 to 76.
Dolly Ford, Pam Harris and Brian Harris 17-25. Janet Wright, Ron Greenstreet and Keith Longshaw 20-15. Ngaio Baldwin, Pete Baldwin and Malc Sykes 21-14. Ann Taylor, David Wright and Jim Taylor 20-8. Brian Gilham, Marion Haynes and Dave Haynes 20-14.
On Wednesday our VCL team were at Greenlands against a strong team. whilst losing in 4 of the disciplines, the rinks had a good win and Diane Yates lost the ladies singles by just the one shot. For further membership information contact Sheila Cox at micksheilacox@gmail.com or Brian Taylor on 965077093 or at elranchobowlsclub@gmail.com