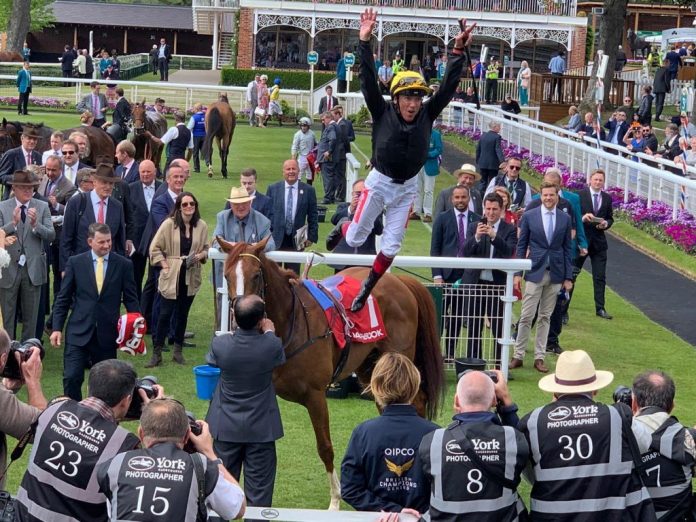 Frankie Dettori is one of, if not the most important jockey figure in racing, likewise to snooker's Ronnie O'Sullivan.
Milan born Italian ace Dettori will celebrate his 49th birthday on December 15.
So how long will Dettori remain in the saddle – as king of the turf?
"I have been privileged to be in racing – living a dream," said Arsenal fan Dettori, who lives in a £2.4m family home in Newmarket with his wife Catherine and five children.
Dettori himself doesn't know when retirement will fall, but he does have pointers, including that of his father and former jockey Gianfranco Dettori, who hung up his saddle, aged 50.
Former jockey the legendary Lester Piggott rode until the age of 56 – another pointer to Dettori's retirement?
Dettori, who has ridden 3,000 winners, plus, over three decades, is a veteran of the jockeys room, who now decides as to how many rides he will have annually.
A far cry from yesteryear – where rides of up to a thousand a year was the norm.
Dettori was pulled back from the brink, in the wake of a racing ban in 2012, after a split with Godolphin Racing, when a six months riding ban was imposed after being found guilty of taking a prohibited substance, reported as cocaine.
After 18 months in the dark – snubbed from racing's hierarchy – Dettori was thrown a lifeline by lifelong friend and trainer John Gosden.
Dettori's Godolphin career ended at the age of 44 – Dettori going full circle in returning to the Gosden fold – having been under his wing early in his career in the nineties.
Dettori spends luxury time with the family, in contrast to fellow jockeys riding seven days a week: "A jockeys workload has expanded", said Dettori, worth a reported £14m.
With all the luxuries that Dettori has worked tirelessly for during a star studded career, in riding for top owners and trainers, Dettori said: "It's not all 'rosey' in the garden".
Dettori has been successful, whereas many jockeys continue to work seven days a week, to pay the mortgage.
Jockey wages are not in comparison, to that of top big money earners in the world of football.
Dettori, champion jockey three times, riding in over 500 Group races, will be forever remembered when going through the card, in winning all seven races at Ascot in 1996.
Pocket rocket Dettori, all 5ft 4in, survived a plane crash in 2000, with fellow jockey Ray Cochrane, when crashing at Newmarket, killing the pilot.
Having worked himself up from his boyhood days as a junior member of the jockeys room, to that of veteran, Dettori sees any additional years over his 50th birthday as a 'bonus'.
The odds of Dettori retiring reduce each year, with more time with his wife, and children Leo, Ella, Mia, Tallula and Rocco, beckoning.
The post Jockey Feature: Frankie Dettori appeared first on Horse Racing Tips and News.