CD Murada (pictured) gained promotion to the Preferente over two legs after defeating La Eliana 2-1 (first leg) and drawing 3-3 (second leg) in the play off Ascenso Preferente (Vuelta) to make club history, having finished second behind champions AC Torrelana in the Valenciana 1st Regional Group 8.
FISHY 'own goal'. A former foreign international and English club goalkeeper was concerned of a fishy taste in his mouth. When asked by his manager if he'd taken any daily health capsules, the goalie revealed he'd taken Cod liver oil. To which the manager and members of coaching staff burst into tears at the nonplused stopper!
RACING San Miguel are awaiting news from the Valenciana FA in the wake of players being allegedly unruly poached away from the Vega Baja town's club by opposition clubs, during the 2018-19 campaign.
ACADEMIC. An English football club manager told me the story when a player was wanted on loan by a club across the border in Scotland.
The manager made a telephone call to the teenage player's mother, telling her of the interest in her son joining Scottish club Hamilton Academical.
There was however concern by the player's mother, who replied: "I'm a little worried about him going there – as he's not very 'academical'!".
PAUL Gascoigne, the former England, Newcastle United, Spurs, Gers and Lazio star, is set to visit Spain this summer in an 'evening with' event.
Gaza, who celebrates his 52nd birthday on May 27, capped 57 times, who is appearing at Orihuela La Zenia Costa Resort on June 24, said: "Looking forward to Spain on my hollies. Love Gaza xxx".
CD MONTESINOS will hold their AGM at Bar Casa Pepe, Los Montesinos, on May 27 at 8.00pm. The club are interested in hearing opinions at the meeting, with an announcement being made following the appointment of a new President and Committee.
The club also announced there may be alterations to the team and management staff for the 2019-20 season. A new astro turf pitch has been completed at the Municipal Stadium, following support from Los Montesinos Town Hall.
It is understood most of the existing 'Full Monte' Committee will retain their posts. However every position is open for election or re-election, underlining votes being of upmost importance.
PAUPER footballers will be going 'cap in hand' this summer in the wake of hundreds of players from the lower echelons of English football being released by their relevant clubs in a players' annual clear out.
Players average wages in the EFL League 2 (not including appearances and bonuses) are £1,300 to £1,500 a week. In League 1 average players wages are £1,700-2,500 PW; with Championship average wages £7,000-8,000 PW.
In contrast Premier League average wages are £50-300,000 PW, with top earners earning weekly pay packets reportedly of £400-500,000.
RAISING The Coffin (pictured) is a traditional burial/resurrection procession undertaken by fans of  Blackburn Rovers and Preston North End, with a coffin lowered into a pub vault, when relegated; and risen again, upon gaining promotion.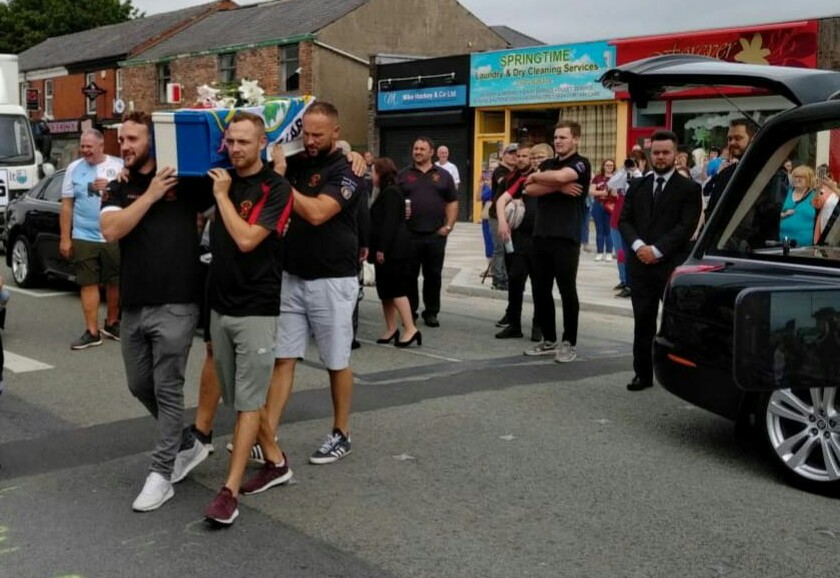 The Raising of the Coffin dates back to 1948 following Blackburn Rovers relegation from the old division 2, when a local greengrocer packed a coffin with vegetables, and buried it.
The last 'raising' took place in 2018 at the Trades Hall cellar, Bamber Bridge, Preston, when Rovers were promoted back to the Championship.