As Pedro Sanchez starts the decisive week of his electoral campaign it seems that he is now the clear favourite to win the national elections which will be held in Spain next on Sunday, but he will need the support of the nationalists to forge an absolute majority if he is to provide a stable government, given the refusal of Ciudadanos to join his alliance, according to the results of a major opinion poll.
The PSOE would achieve 28.8% of the votes and 129 seats, improving on a poll held a month ago, providing it with an even bigger advantage over second (the PP, which would get 17.8% and 75 deputies, its worst ever historical result).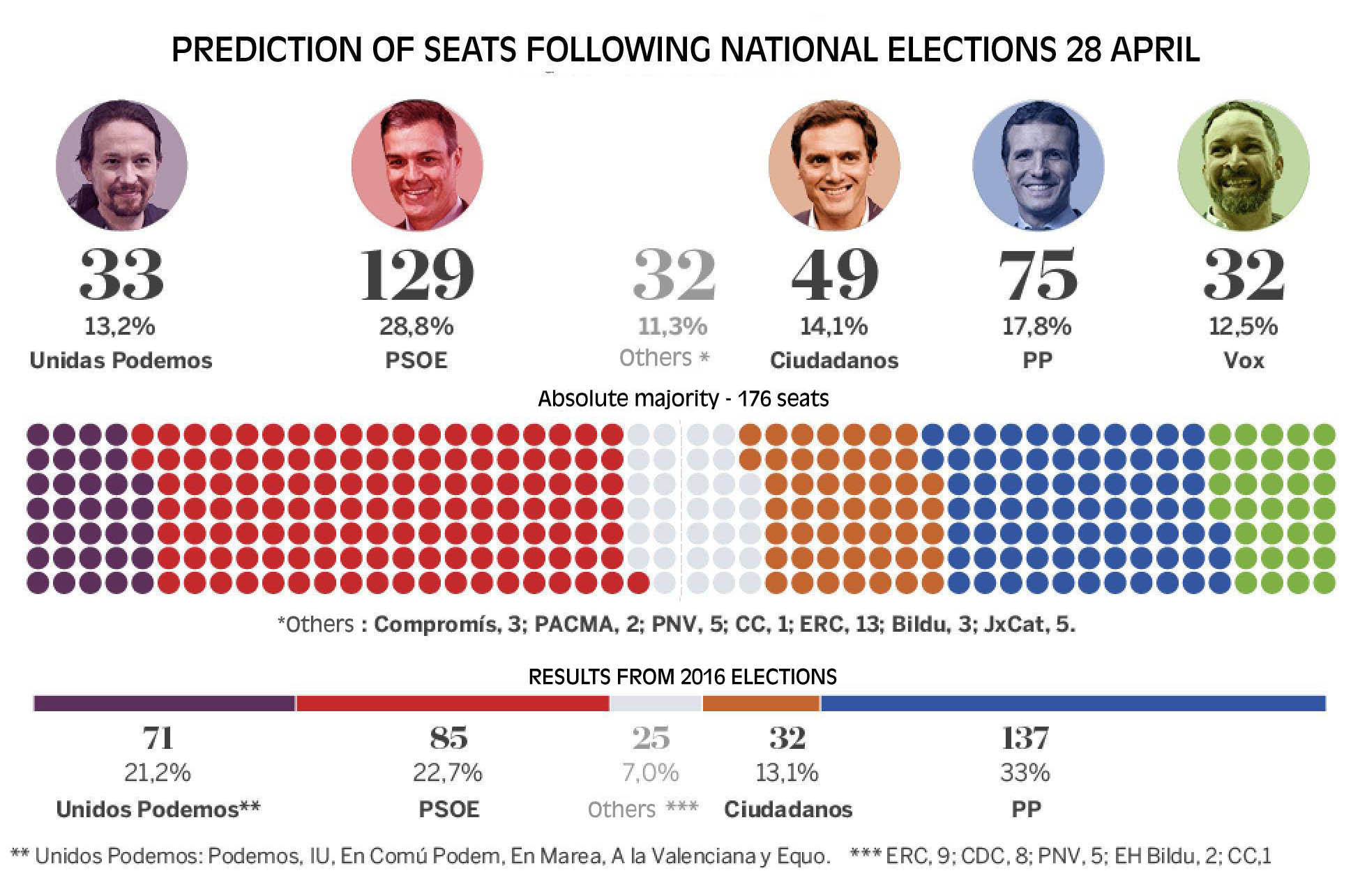 Sanchez will gain more seats than the PP and Cs together and their improvement would move them close to an absolute majority, despite the emergence of Vox which is projected to get 32 deputies.
The 28-A campaign begins this Sunday (21 April) its final week, with two successive debates on television that could be decisive, given the high percentage of undecided voters and with Pedro Sánchez at the top in all surveys.
Almost three years after achieving the worst every result attained by the socialists in the democratic eara, Sanchez seems to have turned things around and is almost certain to lead his party the its very best showing at the polls in 11 years.
However, the landscape of governance continues to be complex. The block of izquierdas PSOE-Unidas Podemos-Compromís will gain 165 deputies according to the survey (results from 2,000 interviews conducted between Monday and Thursday last week). That will be 11 less than the absolute majority that the pact will need (176 seats in a Congress of 350).
But the poll also states that as many as 38% of voters are still undecided with many of them saying that they are likely to make their decision following the TV debates. On Monday and Tuesday a big week for Pedro Sanchez is likely to get very much bigger.