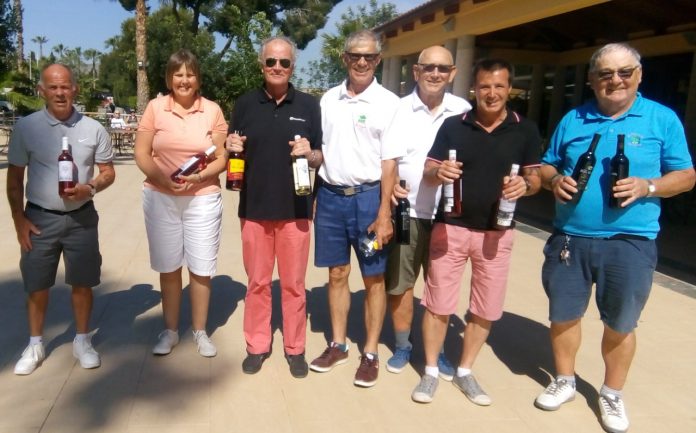 Fairly benign weather greeted the 10 members who were able to compete in a Pairs Texas Scramble. The eventual winners of the competition, Club Captain Mike Davies and Norwegian, Ronny Campbell, who has just returned from wintering in his native country, commenced their round with a pretty disastrous two double bogies in the first three holes. However the next fifteen holes were completed with twelve pars, two birdies and one bogie.
Ronny also managed to claim one of the nearest the pin prizes. In second place, completing a good day for the Scandinavian contingent was Dane, Benny Jorgensen with his partner Alistair Douglas, who carded the same total shots as the winners but lost out due to a lower handicap deduction.
Nearest the pins – Hole 1 Ronny Campbell and Hole 4 David Swann.
Third Place – Handicap 8.1, Helen Beddows, Paddy O'Brien – 51.9 shots
Second place – Handicap 7.1, Alistair Douglas, Benny Jorgensen – 49.9 shots.
First place – Handicap.7.5, Ronny Campbell, Mike Davies – 49.5 shots.
If anyone would like to join our Society, we play at El Plantio Golf Club every Tuesday, Friday and Sunday. We use both courses – the Par 3 nine hole course and the main 18 hole course, so we cater for all abilities. The membership rates are very competitive, so call for more details. Anyone who wishes to play in the Society as a guest or join as a new member, contact David Swann on 865 779 983 or 648 476 752.